Free Yourself!
Hello again fellow investor!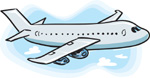 If you're like me, you crave freedom. And that's why you chose to become a real estate investor. You wanted the time and money to do what you want, when you want.
A big part of that freedom is having the ability to go WHERE you want, for however long you want! But one drawback to travel is that the costs can really add up.
I travel often, and I've become a big fan of accumulating and using airline miles whenever possible to offset the those costs.
That's why I perked up when a friend mentioned a quick and easy way to get about three round-trip airline tickets for free.
He said that all of the details were in the "Become a Frequent Flyer Master" eBook by Unconventional Guides.
I went online, bought the eBook for $79, skimmed through it, and walla! After an hour's time, I had enough miles to buy three round-trip tickets valued at about $900! (on Delta, United/Continental, and US Airways)
In addition, I learned how to get hotels at 50%-60% off by using secret bidding techniques that Priceline doesn't want us to know about.
Listen, I can't promise that this eBook will make you rich. But it will certainly save you hundreds, if not thousands, of dollars on your future travel and hotel costs. (Not bad for $79!)
To order your eBook now, just go to the following page and scroll down. On the right side, you'll see the "Become a Frequent Flyer Master" eBook. That's the one you want.
Order now, save big, and free yourself!…
www.myhousedeals.com/freeflights
Best of all, order the Frequent Flyer eBook and the Travel Ninja eBook together  using the link below, we'll rebate you $10!
To get your $10 rebate, just email your receipt along with your name and mailing address to heather@myhousedeals.com, and we'll mail your check within 10 business days.
www.myhousedeals.com/freeflights
Until next time, happy (and profitable) investing!
Doug Smith
Real Estate Investor
Founder of MyHouseDeals.com