Let Your "Favorite" Banner Fly!
We have news for you! You should try the new Premium features we've just released. They were created with productive investors like you in mind! Here's the scoop…
1. New Deals – Now every time Premium Members login to view properties, recent deals that were posted since their last visit are displayed with a red banner that says NEW. This is to help our special members stay organized and know exactly what new activity has happened on the website since they last visited.
2. Favorite Deals – Now when Premium Members mark a deal as favorite, a blue banner with the word FAVORITE displays on the corner of the deal. This will help Premium members identify deals that they've already seen and liked when sifting through our property list. This feature was designed to help our best investors save time and stay on top of their game.
Below is a screenshot of how the banners look…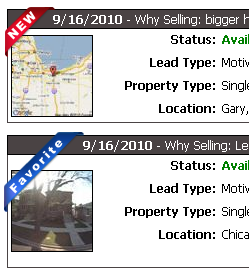 We want you to experience those features for yourself! And after you've used them, leave a comment below and tell us what you think!…