Congrats to Katie Woolam!
Hello fellow investor!
Last year, I gave a college scholarship to a deserving student from my old high school. I found it very rewarding to give back, so I decided to do it again this year.
The scholarship criteria were that they are nice, likable, and a good student. I know, very simple requirements. But one person really stood out in all three categories. Her name is Katie Woolam, and I named her as the recipient. You'll see from her email below that she's nice and likable. But what her email doesn't say is that she was the class valedictorian, so she was clearly a good student!
I gave her the scholarship late last month, and she'll use it to help pay for tuition at Texas Tech University this fall. I wish her the best of luck in college, but with a track record like hers, she won't need it!
Below are some pics of Katie…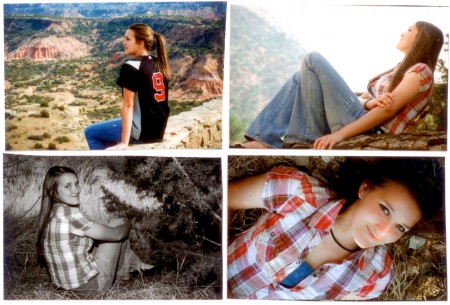 And here's what she sent me when I asked her about herself…
The foundation of my life is God and my faith. I attend Holy Spirit Catholic Church with my family every Sunday, and I attend daily mass at St. Elizabeth's. I also volunteer for an hour of adoration every Saturday night at Holy Spirit.

I have also been a varsity softball letterman for four years. I play third base, and our team went undefeated in district play this year. I have been first team all-district third base, I have received leadership awards, and I have also been selected for academic all-state.

I have been a member of the varsity band for four years as well. I play the flute! I sit first chair, I am a section leader, and a band captain. I have made the All-Region band all four years as well as All-State Solo and Ensemble. I have also been involved in the Area band.

This coming fall semester, I will attend Texas Tech University and will begin studying to become a nurse. I love science, especially anatomy and physiology! I know this next part is a cliche, but I really mean it when I say that I enjoy helping people. I feel like my interest in the studies necessary for the career, my affability, and my knowledge in faith make a great team fit for having a career as a nurse!

I like taking long moonlit walks on the beach. Just kidding! Although, it does sound nice… In my free time, my childish side comes out. I have quite the collection of markers, crayons, sidewalk chalk, coloring books, and sketch pads. I love to doodle and use color! In fact, my backpack is covered in my random little sketches and the silly contents of my brain. I also like to go the the park. I spend most of my free time outside, thus acquiring extreme tanlines. (Those "extreme" tanlines are something I'm actually infamous for!)
She's very happy and enthusiastic, isn't she? I love peeking into the world of optimism and possibility that's often found in young people like Katie. That's one of the reasons I choose to give back through scholarships.
Well, I need to get back to rounding up those deals for you. But before I sign off, I'd like to encourage you to use your time or money go give back to a cause you believe in. I'm confident that you'll find it to be extremely fulfilling for you and the recipients. And I encourage you to do it now rather than later because later never seems to come! 🙂
Until next time, happy (and profitable) investing!
Doug Smith
Real Estate Investor
Founder of MyHouseDeals.com