Back in Vegas! Lessons from CEO of Zappos.
Hey there!
Hope you're doing well. I was in Vegas in January for softball, and now I'm baaaaaack! But for a web conference this time. It's actually just as fun as softball. After all, I was a computer geek once upon a time. Ok, maybe I still am! LOL.
I've already picked up several tips that will help take MyHouseDeals to the next level. (I'd tell you, but it's top secret!) I'm also hearing from business leaders, such as the CEO of Zappos (the leading online retailer of shoes). Heck, I'm even "shooting the breeze" with him. This pic was taken yesterday morning…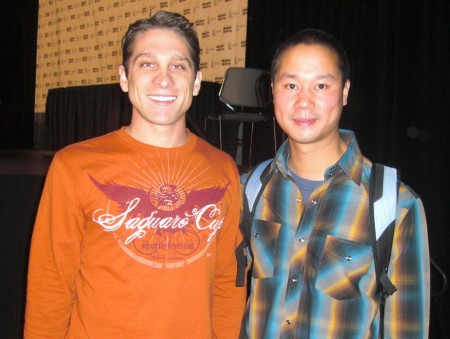 Tony sold his first company, Link Exchange, to Microsoft for $265 million. And he recently sold Zappos to Amazon for $887 million. $214 million of that went directly to Tony. Let's just say that he's  not hurting! LOL. (Not shown above, my hand is reaching into his backpack as I dig for a small slice of his fortune. Just kidding!)
Tony was the keynote speaker, and among other things, he talked about the "Keys to Happiness." After all, that's what we're all searching for. He suggests that you and I spend 10% of our productive time learning about happiness. That's what he does, and it's what I'm going to start doing, too.
Here are the main lessons that he's learned in his search for happiness. Happiness is about:
1. Perceived control
2. Perceived progress
3. Connectedness
4. Vision/meaning
And the three levels of happiness, from least effective to most effective are:
1. Pleasure-seeking – Always looking for the next high. Temporary happiness.
2. Engagement – Being so interested in what you're doing that "time flies."
3. Meaning – Being part of a bigger purpose. Long-term happiness.
Which of the 4 keys to happiness do you possess? Which of the 3 levels of happiness have you obtained? Learn more about where you are and how to reach a higher level by reading the book that Tony recommended. It's called "The Happiness Hypothesis" by Jonathan Haidt. It's now on my "to read" list.
Well, I've gotta go to the next web session. Be sure to buy and read that book! All the riches in the world won't mean much if you're an unhappy person! And yes, you can be happy BEFORE you become rich.
Until next time, happy (and profitable) investing!
Doug Smith
Real Estate Investor
Founder of MyHouseDeals.com
P.S. Almost forgot! Today is Veteran's Day. A special thanks to all of the veterans who have served our country. You've made our freedom possible, and we will always be indebted to you for that.
P.P.S. Guess who I just bumped into at Planet Hollywood? None other than the 2009 winner of America's Got Talent, Kevin Skinner! He's the country boy from Kentucky that most of us were pulling for a few months ago. Here are a couple of YouTube videos that'll jog your memory: Kevin Sings in First Round (sound kicks in at the 6-second mark) and Kevin Wins! And here's the pic I took with him about 2 hours ago in the casino. EXTREMELY nice guy. 100% genuine! …