Nothing Beats Hard Work
Hello again fellow investor!
When trying to succeed as a real estate investor, or anything else for that matter, nothing beats hard work. Back in 2002, I was a lowly entry-level computer programmer for ExxonMobil. To some, that may sound like a sweet gig. To me and every other co-worker who was brave enough to admit it, it was a prison.
We would huddle in our offices, shut the doors, and spend up to two hours at a time plotting our escape. We all planned on leaving the corporate world behind for good, and we all had different means of accomplishing that goal.
I was interested in the world of residential real estate investing and the big paydays it promised. William wanted to build up a nice cash flow through a health-related MLM business. And Jeff wanted to get involved with imports and exports. I still don't know where he got that idea. (Possibly from Seinfeld … for those who watch!)
Regardless of our chosen paths, we knew that someday we would all break free of those shackles, leave the rat race behind for good, make our millions, and spend the rest of our existence reclining in the lap of luxury. Our lives were miserable for the time being, but the future shined bright!
Fast forward to 2009! So what happened?
I busted out within six months from plotting my escape. They still work in Corporate America. That's good news for me. But it's a highly unfortunate situation for my buddies. Actually, I feel sorry for them because I know they're not happy. (I still get the occasional update.)
And I also wonder why I was able to bust free while they remain chained? We all seemed so motivated during those discussions! I've always wondered this, but I've really thought hard about it for the last week. And I've finally come up with an answer. It's one you probably won't like. The secret? …
HARD WORK
While my friends hit happy hour, played volleyball, watched TV, and then hit happy hour again, I worked on my real estate business. I "dialed for dollars". I called FSBOs, MLS fixer uppers, and wholesalers. I also called up other investors and spent hours quizzing them for the best ways to find houses, the names of the best contractors, the best negotiating tips, the best parts of town to invest in, and more.
I dialed so many people that the digits started wearing off of my phone's keypad. But I still knew where the keys were, so I didn't let that hold me back. I kept dialing. And each time I dialed, I'd keep an Exxon business card next to me to remind me of why I was dialing in the first place. To escape the slavery!
I'm not normally sentimental, but I did manage to hold on to that phone and that business card to this day. Here's a pic I just took of them. Ah, the memories!…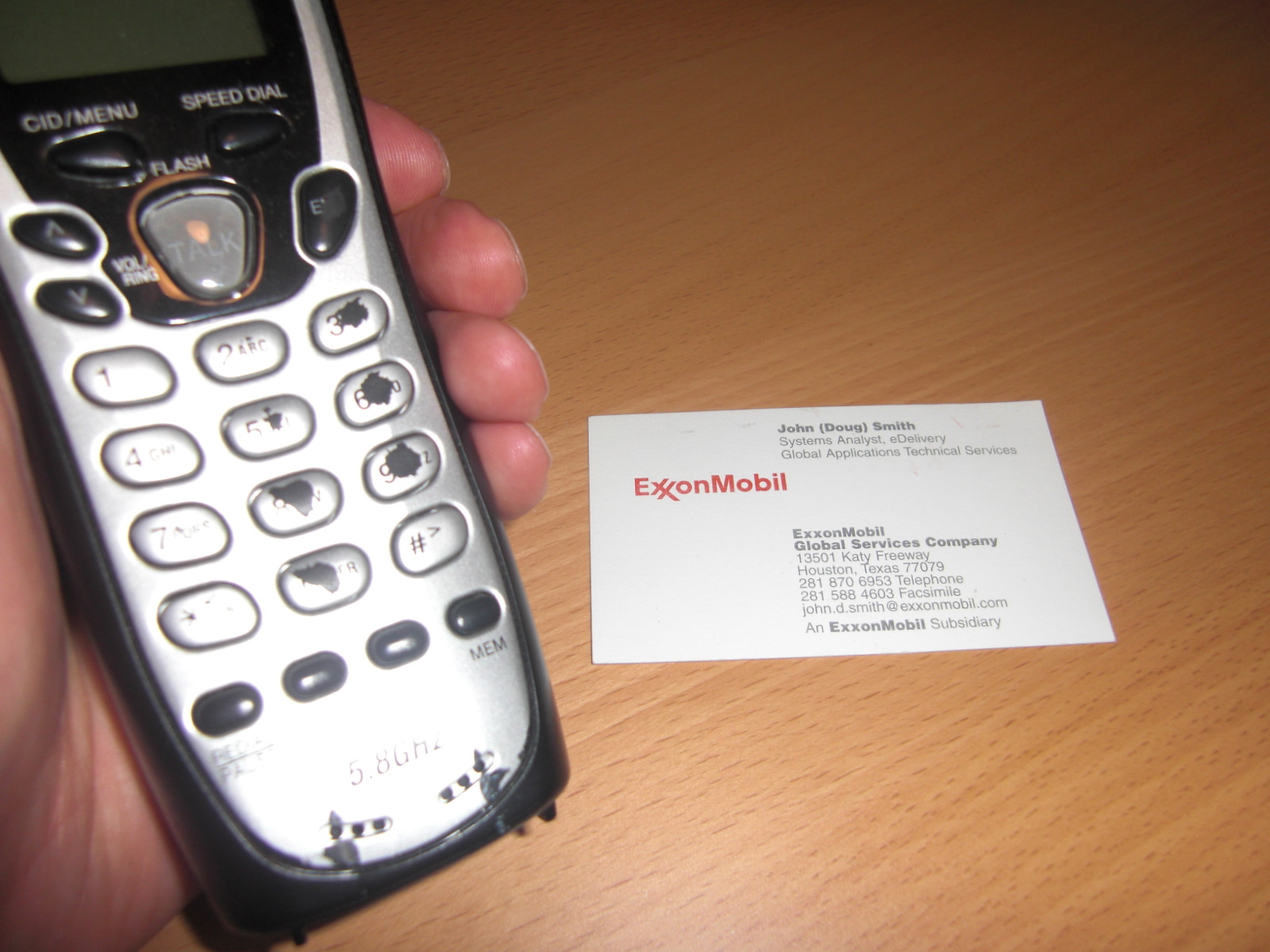 Would I want to put in the long, hard hours again as my buddies kicked back and had the time of their lives? No. But was it necessary to get where I am today? Absolutely! I now live in a world of unlimited opportunity and maximum optimism. I've fired my boss. I've ditched the long commute. I pursue real estate investments and other business ventures on a daily basis. I spend four times as much time with my family and ten times as much time on vacation. Best of all, I'm permanently "unemployable". Life is good.
But enough about me. Back to you…
Please remember this: Whether you're like me and you're looking to get away from something (dead-end job, financial troubles, working for "the man") or you're trying to move toward something (luxurious vacations, time with family, plenty of leisure time, ability to spend like a king), there's one thing you absolutely cannot forget to do at the beginning of your journey … put your nose to the grindstone and WORK HARD. It's the best return on investment you'll ever get.
Until next time, happy (and profitable) investing!
Doug