2 Master Wholesalers, 4 Common Wholesaling Questions Answered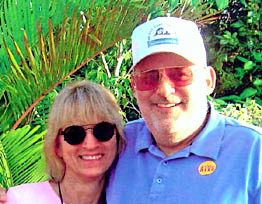 Jan and Bill Leon
I spent some time talking to Bill and Jan Leon about their high-volume wholesale investing strategies.  Since 1989, Bill and Jan (a husband and wife team) have owned and operated WJL Financial Group outside of Miami, Florida.  Together, the two real estate investors buy and sell 90 to 100 homes a year.
At one point, they traveled on a circuit across the United States teaching real estate investing; a course called The Millionaire Masters.  Bill and Jan are also the owners of the Broward Real Estate Investment Association.
We focused almost exclusively on wholesaling during the interview. Here's what they had to say:
What's a good way to find wholesale deals and motivated sellers?
Well, when we started, we used to drive up and down the street and look for homes that had overgrown grass.  Every time we saw a house that looked like it might need a little TLC, we stuck a door hanger on it that basically said "Cash for your house."  We worked real estate brokers to find deals.
We also did a lot with pre-foreclosures.  We subscribed to a pre-foreclosure service and we did a lot of knocking on doors.  We sent out postcards, we sent out letters.  I found the best was to knock on doors.  You can also have magnetic signs on your car that say 'We pay cash for homes.'  And have shirts made that you can wear all the time that advertise your business!
We now own franchises through 1-800-PayCash and 1-800-NoAgent and advertise on TV.  What they charge depends on the size of the county and where you're located, but those phone numbers can be anywhere from $700 to $10,000.  It's not for everybody.  We now run ads on national TV; we run 15 second spots and the return is tremendous, it more than pays for itself.
When investors, and new investors in particular, start getting into the details of pulling comps, a lot of them don't really know what is considered a comp or what criteria it needs to meet. When you're pulling comps, what are you looking for to even consider a sale as a comp?
You have to compare comparables!  If it's a 3/2, you really need to look at 3/2's.  Sometimes you can use the square footage because you can have a 4/2 with similar square footage.  You want to look especially at the sale date.  We generally don't go past six months, and in a changing market, you really need to look at sales no older than the last 90 days if you can find some.  Lot size also makes a difference.  If you have a property that's on a 6,000 square foot lot, you can't compare it to property that's on an acre.
On all the criteria for the houses, we look at comparables that have + or – 10% of the parameters.  Once I get a property that I think is possibly a good deal, I know where my limits are and what I'm going to pay for that property prior to even seeing it.  But when I go out and see it, I also try and look at the comparable sales to make sure what I'm comparing to the target property is similar to what I'm going to buy.
Do you think it's best to reveal to a seller that you're going to wholesale a property to another investor or not?
We do.  We tell them flat out, "We're investors.  We're not buying the house to live in it. We're buying it as an investment.  We have no intention of keeping it." But I don't necessarily tell them that I'm going to sell it to another investor or how long I'm going to keep it.  We go in and tell them it is our intent to sell the property in the future.
How do you find investors to buy your deals?
Joining a real estate investing club or going to their meetings and seeing who their speakers are and the topics the speech is going to cover is invaluable.  It's a learning process that does take some time to learn.  It also gives you a chance to network with people and talk about the properties that you're trying to sell.  Before we had Broward Real Estate Investors Association, we attended every real estate club in South Florida.  You should collect business cards, talk, shake hands, and pass out your business cards.  Once you've got a good property under contract, bring it to these clubs.  They're all investors, and they're looking for deals; it's a great place to market.
Now let's get into a concern that some investors have.  Once you get a property under contract from a motivated seller and you want to turn around and flip it to an investor, let's say you don't find anybody to sell it to.  What happens?
You need to have some type of an escape clause in the contract so you can walk away from it.  In the special clauses, you can put "subject to inspection and approval."  In your contract, you should get as much time as you can to close, at least 60 to 90 days.  That gives you time to market it.
But you have to be fast – in investing, if you snooze, you'll lose.  If you go to that house and it's a good deal and you don't write it up, another investor is coming behind you.
We have found that it's important to always leave enough on the plate for the next guy, so don't try and take too big of a profit for yourself.  If you do that, the guy will always come back to you for another deal and you'll make more money that way.
————————————————————————
Well, that's all for today.  Look for more valuable wholesaling tips from Bill and Jan soon.
This interview is part of a much large package called the Vault.  The Vault contains in-depth interviews with expert investors from across the nation and covers topics ranging from rehabbing to subject 2 investing to private money and more. Learn how you can get your hands on the Vault at a 36% discount by going to http://www.myhousedeals.com/thevault.
Until next time, happy (and profitable) investing!
Doug