Just Copy Serge's Strategy to Create Passive Cash Flow
According to Serge, you're either working for someone else or working for yourself…
Which means you're making money for someone else or you're making it for yourself.
He wanted to work for himself and create passive cash flow.
Sound familiar?
Serge read the books, did the research, and attended the local real estate investing meetings…and he was sold.
With his eye on the prize (passive cash flow!), he focuses on rental properties. And with 5 rentals under his belt, he knows exactly what he's looking for, is comfortable with his ability to identify accurate comps, and generally knows what a rehab will cost.
He knows that some neighborhoods have a high appreciation and low cash flow, while others have a lower appreciation with higher cash flow. He goes for the higher cash flow neighborhoods!
Serge found the financing strategy that is perfect for him… allows him to buy a property, do a rehab, and in the end, refinance to a conventional lender at a low interest rate.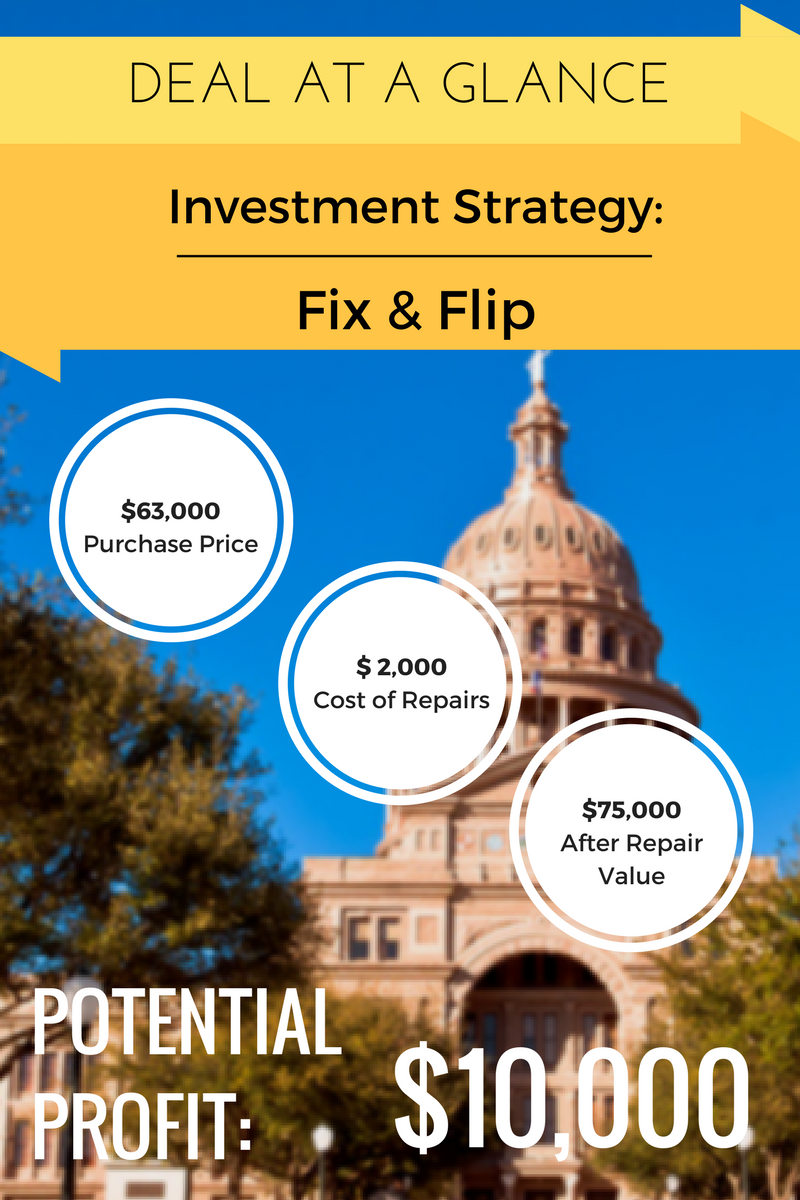 Listen to our conversation with Serge to hear about the recent deal he found on MyHouseDeals and more about how the bridge strategy works for him plus…
MyHouseDeals.com Success Stories
How to make your rental property stand out to attract better tenants

How to prep for your first hard money loan
Exactly who needs to be on your team to close a deal
NOTE: Serge Adzinets is a premium member, he received a FULL refund of his up-front membership fee for simply doing a deal! Find out more about our premium membership here.

Tell us about yourself…
Why did you begin your real estate investing journey?
It all happened a few years ago. I don't really remember the trigger but what I remember is that I read a few books, one of which was the Cashflow Quadrant, that gave me the idea to invest in real estate. So I just started investigating by reading books and going to the BiggerPockets forum. That's essentially how I got started. It was a part-time endeavor on the side and it still is now.
The Cashflow Quadrant states that every person belongs to a particular group in terms of the way they earn money. You can either work for someone, work for yourself, or you can crossover to the other side and own a business or become an investor. Working as a business owner or investor  is the way to collect passive earnings instead of actually working.
What was your jumping point to your first deal?
At some point I started going to the local REIA meetings. From there I signed up for my first training called the Big Dog Program.
I received a lot of good information and at that point I started doing my own marketing by sending out letters and postcards. One day I received a call from someone who actually wanted to sell their rental house. That ended up being my first deal, a single-family house in Austin. I decided to keep it as a rental property and it's still being rented to this day.
How did you finance that first deal?
Initially, I financed it with hard money. I did a rehab which took a couple of months and then once that was done, I did a refinance with a conventional lender so it was a bridge strategy.  The term stands for buy, repair, rent, refinance, and repeat. This has become a very popular method as investors can buy low and sell high, after value has been added through repairs.
How did you prepare for that?
It was actually pretty easy. I didn't have to put a lot of money into it because it was almost a 70% deal. I had to put a little bit of money down but not much. I didn't have any trouble financing it because I have a pretty good credit rating, so even though that was my first deal, the hard money lender said that's fine. No problem.
What are some of your primary strategies?
My primary strategy is financing properties that need some work with a bridge loan, doing the necessary repairs to bring it back to life, and then refinancing with a conventional lender. Then, I repeat the process with the profits from the previous deal. I also did a flip once, which was an interesting experience, but rentals are my primary business strategy.
What are some parameters for your rentals?
It depends on the market in a particular location. If you think about the location in any city you have good neighborhoods which have great appreciation but they have low cash flow. And there are areas that are not so good which give you good cash flow but the appreciation is a lot lower.
At this point, I'm looking for cash flow. The last couple of houses I bought were not in the best areas, so this time around I'm looking for something close to 8-12% ROI. I don't want to put a lot of money into it, but I still want to see good returns.
However, if the house is in a neighborhood that has good appreciation, I might buy something with lower cash flow in hopes that it will appreciate more.

What did you think when you first saw the house?
What appealed to me is that it didn't need a lot of repairs. It looked like a pretty clean house and the price was good compared to the comps in the area. So it was a great house to consider, even better than the 1% rule of thumb.
I think the wholesaler overestimated the ARV.
I roughly knew what the actual ARV would be, so it didn't deter me.
How do you deal with inaccurate pricing when looking for a deal?
I never trust the numbers that wholesalers give me. I always double check everything. I do my own comps because I have access to the MLS. Regarding repairs, I look at the house and most of the time I can give a pretty accurate estimate. If there's something serious needing to be done, I would bring a contractor who would write me up an estimate.
What repairs did you decide to do to the house?
The main thing I changed were the floors. There was old carpet, so I tore that out and replaced it with laminate throughout the home. I also did some plumbing repairs because the drain was blocked so I had to fix that. Otherwise, all it needed was a simple cleaning throughout the house.
The repairs I do on a house depend on the neighborhood. I usually invest in San Antonio where there are a lot of rentals and the landlords don't bother doing too much work. Make sure there are windows, there's some kind of floor and the plumbing and electrical system works. I like to offer good quality repairs because I think if you have a better quality product, then you bring in customers who are willing to pay a little more. I try to make mindful cosmetic repairs like paint and flooring, as well as some decent lighting.
The best source of information for what to repair on a house is your comps, right?
You should look at other rentals in the neighborhood. You don't even have to have MLS access for that—you can find it all over the place like Zillow, Trulia, and even Craigslist. You can study other rentals and see what the condition of the houses are. You could even drive to those comps directly and see for yourself. That's how you know what kind of houses are in that area.
What other advice do you have for a new investor?
For a new investor, it's very important to have your team assembled before you do your first deal. You need a good agent who will give you accurate comps, especially if you can't access the MLS. Next you'll need the title company or an attorney who will help you close the deals.
You also have to remember the insurance company because that's important to have in case something breaks. Otherwise, there's a lot of information that might work in some markets but not in others. So the best way to know what works in your market is to go to your local REIAs network with other investors and see what's currently working for them.
I hear a lot of advice that may work in other states or cities, but it wouldn't work here in Austin.