Wholesale Real Estate Contracts: A Guide to Create the Best Contract
In the business of real estate investing, there's one element that might make investors queasy: contracts. Especially for newbie investors, contracts can be new territory. They're often lengthy, technical, and time-consuming for non-lawyers. Luckily, wholesale real estate contracts don't have to be any of these things! In fact, the best contracts are concise and easily digestible so that the involved parties know exactly what is expected of them. Let's break down what wholesale real estate contracts are, what they entail, and how you can use them with confidence.

What Is a Wholesale Real Estate Contract?
We're glad you asked! Essentially, a wholesale real estate contract is a legal document between a wholesaler and a property owner. Once the contract is signed, the wholesaler acts as a middleman between the property buyer and seller to make a profit. Seems simple enough, right? Well, that's just the bird's eye view of the process. We took the liberty of breaking down the most common themes that you should be familiar with, plus a few bonus tips to really make your contract stand out. If you still have questions after reading this article or just want to learn more about the wholesale process, we highly recommend going here for dozens of additional resources and content that are sure to bring your wholesaling dreams into a reality.
Wholesale Buyers List
Are you wondering where to get started? The wholesale buyers' list is a great place to start. To even begin wholesaling, you need to find prospects and leads. This can be done by networking with people you know personally or implementing solid marketing strategies to find new people to add to your wholesale buyers' list. One way to do this is by taking advantage of social media—you can easily draw more people to your brand with a few posts on popular sites such as Facebook, Twitter, Instagram, and LinkedIn. Worried about reaching leads who aren't on social media? No problem. Old school methods such as mailing (both direct mail and email) or passing out business cards can be equally effective forms of marketing your brand and finding the perfect leads.
What Should My Contract Include?
Now that you have the people necessary to begin wholesaling, you can create a contract. Below you can find our favorite free templates to get you started. If you want to start a contract from scratch or you have additional information to add that these templates don't include, here are some pieces of information that you want to make sure you add:

Purchase and Sale Agreement: The name of this one pretty much gives it away; the purchase and sale agreement (or commonly referred to as the P&S agreement) documents the final terms and conditions of the purchase, including the sale price. Our biggest tip is this: read the fine print! Since the P&S agreement is the last step before closing the deal, it's important to make sure that you are satisfied with the document's conditions and you fully understand the transaction before finalizing anything. The terms of your contract may differ slightly based on the state, but you can expect to find each of the following:
Closing Date: This is the date that the purchase is completed and the seller can collect the money for their property. While the P&S agreement is firm, the date is typically more flexible and you can always adjust it accordingly with an attorney (if your state requires an attorney) if you want it changed.
Legal Description of Property: This section should include important information about the property such as the size, location, property lines, and often a map of the property.
Contingencies: Contingencies are vital to the P&S agreement because they protect the buyer—think of them as insurance policies. Common examples of contingencies include title searches, appraisals, home inspections, and financing contingencies. This may seem like a lot of work to include, but it's better to be safe than sorry at the end of the day.


Final Sale Price: This is the sale price that is agreed upon by both the buyer and seller. However, going back to the previous point, the final sale price may be subject to change if one or more of the contingencies are not met. Again, read the fine print!

2. Parties Involved: Be sure to include the names of all of the parties involved and their signatures listed on the title.

3. Deed Type: Is your contract using a general warranty deed? A quitclaim deed? A special warranty deed? Be sure you clarify which type is to be conveyed.

4. Buyer and Seller's Default Clause: Defaults on a real estate contract are rare, but they are extremely important to have in a worst-case scenario. Essentially, default occurs when one of the parties breaks the terms of the contract or agreement. Similar to contingencies, this is important to include to protect the buyer or seller from potential financial and legal risks.

5. Addendum: While this is totally optional, an addendum can be added to the contract to update or change any relevant information, terms, or conditions. Once the addendum is signed by both the buyer and seller, attach it to the original purchase contract and you're all set.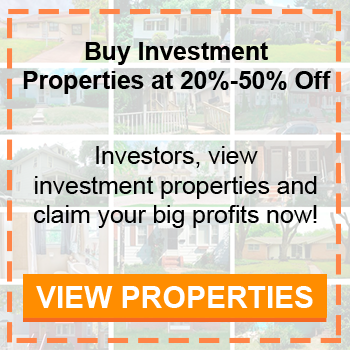 Wholesale Contract Templates
If your head is spinning after reading the previous paragraph, you can always rely on a template instead of creating your own contract. As promised, here are a few of our favorite free templates to help you get started:

Pinterest: Simply type "wholesale real estate contract template" into the search bar and hundreds of free templates will appear. Be sure to follow MyHouseDeals there too!
Why Should I Wholesale?
Now that you have a solid foundation to create a wholesale real estate contract, you may be asking yourself why you decided to wholesale in the first place. While it is indeed an intimidating process, there are thousands of benefits to wholesaling in the beginning. We will only be touching on a few of these benefits in this article, but we encourage you to check out our blog further for more information regarding wholesaling, real estate, and other investment opportunities, all for free. Want even more information to give you a leg-up on competitors? Upgrade to Premium to gain access to new wholesale deals 14 days early, among other perks!
First and foremost, one of the biggest advantages of wholesaling is the little amount of personal money required to be a wholesaler. Since you aren't actually purchasing the property with your own money, but rather under a contract, you can expect to earn profits much faster than other forms of real estate investing since all you need to do is sell the rights of the contract. Therefore, not only can you earn a profit quicker, but you can also significantly mitigate the risks that come along with any real estate investing strategy.
Another major benefit of wholesaling real estate is the convenience that it offers geographically. In the renaissance of a new era with COVID-19, working remotely has become increasingly lucrative as it offers more flexibility and saves both time and money. In the wholesaling business, you don't have to worry about commuting to the property that you're selling or relocating to a new market if your current one becomes overly competitive; you can wholesale right from the comfort of your own home. This is the perfect solution for those of us with families or full-time jobs who still want to take on new real estate opportunities.
Finally, wholesale real estate is the perfect segway into new, more complex real estate investment strategies. Especially if you're new to real estate and just looking for a way to get a taste of the industry and then expand later, wholesaling is perfect. Many states don't even require a real estate license or any other special type of license—just a little confidence and determination will do!
Trust the Process
Patience is key! Becoming a great wholesaler comes with time, experience, and a lot of trial and error. However, we are confident that you have everything you need to succeed, including the resources to create a stellar contract. We'll catch you next time for more articles to help you chase all of your wholesale real estate dreams. Happy, and profitable investing!