Real Estate Comps: An Investor's Key to Success
If there's one thing any savvy real estate investor knows that makes or breaks a deal, it's the price of a property. A question investors often ask is "how does this price compare to other properties in the area?" Real estate comps are the key that investors use to unlock a property's potential. Finding out how other properties in the area have performed is all a part of the due diligence process.
MyHouseDeals is committed to providing members of our tribe with resources to make their deals a success, and we'd like to introduce our new comps service! Let's dive into the world of comps.

What Are Real Estate Comps?
Real estate comparables, or comps for short, are a list of three to five similar properties that have recently sold in the same housing market. In order to find accurate comps, investors should consider the following characteristics when comparing properties:
The age of the property
The size of the property
The number of bedrooms, floors, and bathrooms
What amenities the property has
The condition of the property (has it been renovated or is it outdated)
These are the key elements used to start a comps analysis. The properties in the comps report should match the criteria listed above because they will be similar to the original property. This is the only way to get an accurate comps report. And preferably, the properties that make up the comps report will have been sold anywhere within the last three to six months.
How to Find Real Estate Comps
Traditionally, homebuyers and investors alike turned to agents or appraisers to get real estate comps. As part of their day-to-day responsibilities, real estate agents and appraisers regularly pull comps. Because they have access to a multiple listing service (MLS), they are able to find more properties than a non-licensed investor.
This option is certainly one that many people take, but because it's through an agent or an appraiser, it can be an expensive route to take. That's where MyHouseDeals comes in to provide affordable, on-demand custom comps reports.
Let Us Find the Comps
In order to give members of our tribe all of the tools they need, Premium members will have access to an allotment of comps for free each month. Free members will have access to custom comps reports at any time at $18 per report. Members that upgrade to a Premium or Premium Elite membership will have comps reports included in their subscription. Note that reports run by an agent or an appraiser can run as much as $400–$500.
Every month, Premium and Premium Elite members will be allotted two credits per month during the lifetime of their subscription. These credits will allow members two complimentary comps reports. If members need more than two comps reports per month, MyHouseDeals will offer additional comp reports at a 25% discount, for just $13.

How It Works
On our homepage, we've added a new section titled "Get Comps Reports." You can find it by hovering over the "Services" tab in the header.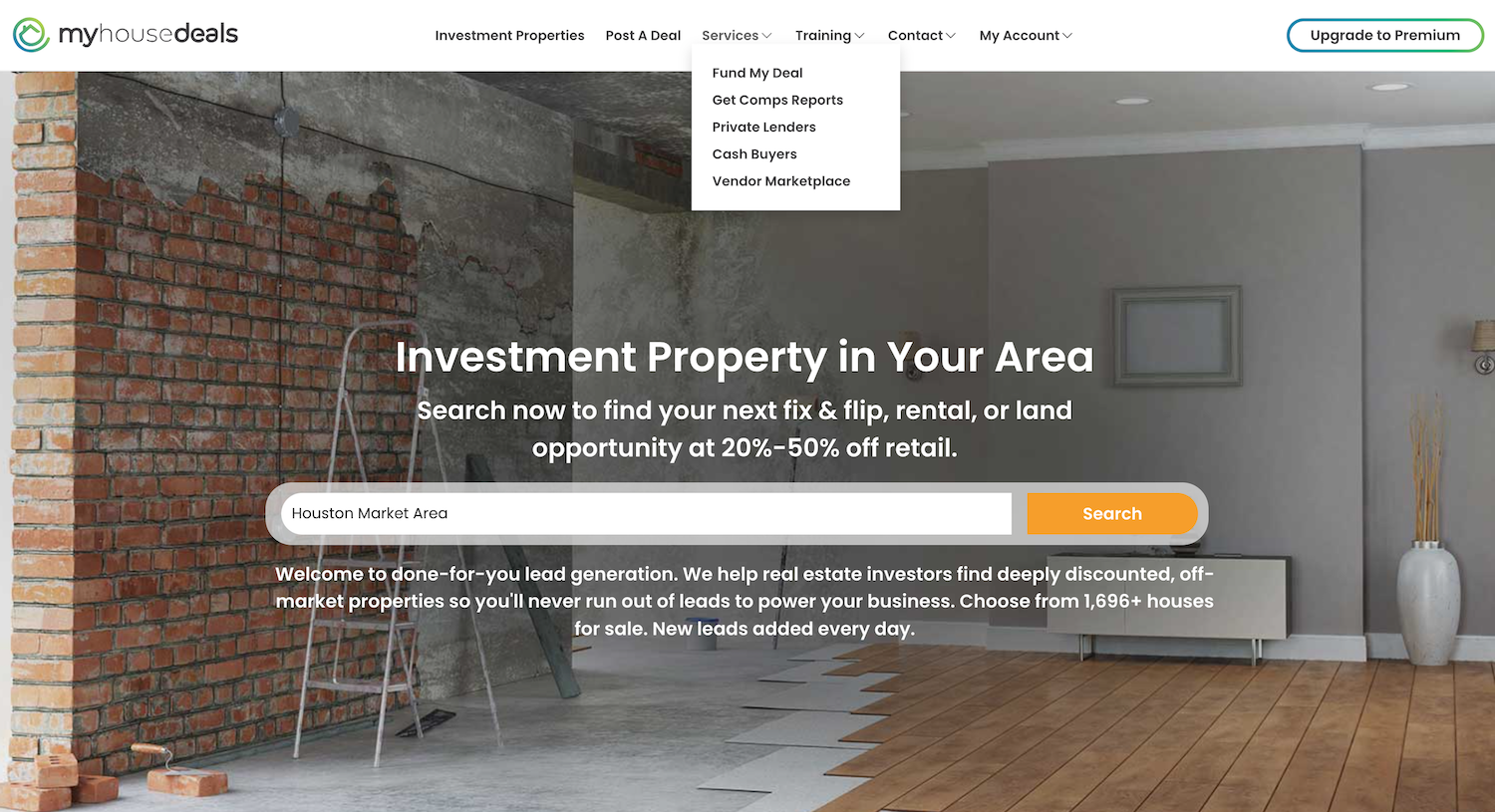 As you go through the process, you'll be asked for your card information. If you're a free member, the comps report will be $18. If you're a Premium or Premium Elite member with credits available, you will not be charged.
From there, one of two things will happen—the first scenario is that comps will be available for the address entered.
In the event that comps are not available for the address, you will not be charged. Oftentimes, comps are not available when comparable properties do not exist. Make sure to check back periodically to see if things have changed.
If comps are available for your property, we will email the receipt and the comps report to the email address associated with your MyHouseDeals account. Go here to order your custom comps report now!
The Importance of Real Estate Comps
Properties are only worth what other people are willing to pay for them. Knowing how similar properties in the area have performed guide investors on how to price their properties or know how to negotiate a purchase price with a seller.
Comps are also a great way to analyze the market area around a property. Knowing how houses are selling in a given neighborhood could indicate whether or not that neighborhood is worth finding a house to invest in.
Investors looking for rental properties will also have rent prices listed, so investors can accurately price the monthly cash flow. Too high, and the investor will scare off potential tenants. Too low, and the investor will make a negative cash flow. Comps are a great tool that can help investors avoid these mistakes.
For buyers, due diligence includes the estimated after-repair-value (ARV), the seller's asking price, and the estimated cost of repair. Investors shouldn't rely on these estimations unless they do the calculations themselves. Real estate comps show sale prices for other properties, so investors can plan and calculate accordingly.
Start Unlocking Great Deals with Comps Now
As we've established, real estate comps play a vital role in making accurate and informed deals. Investors can use real estate comps to analyze how well a location is performing. Or whether or not the price of rent is going to deter tenants or create a negative cash flow. Buyers and sellers alike need to make sure they are making a fair price while also maximizing their profit potential.

We're always looking for ways to make the buying and selling process easier on members of our tribe. Our new comps service is just the way to do that.