It's Finally Here! Saved Property Searches!
It's certainly nice that there are so many search parameters for filtering the property list. However, having to re-enter all your favorite parameters every time you want to search was a drag. Notice we said was a drag.
We have officially released our "saved search" feature. This means you can enter all your favorite search parameters, save them with a name of your choice, and then return at any time to get the updated results of your previously saved search. Very efficient!
Here is how saved searches work…
Using the new saved search feature is easy as 1-2-3… just follow these simple steps!
Step 1: Setup a Custom Search
First, select all the parameters you want in the saved search using the search form. Then click the "Search Properties" button as you normally would. Now, click on the "Saved Searches" link at the top of the search box. Click the picture below see an enlarged version of this.

Step 2: Save the Custom Search
After clicking on the "Saved Searches" link a window will open showing you all of the parameters used in your search. Below this, in a yellow box, you can enter a name for this custom search and click the "save this search" button. Your custom search parameters will now be saved together with the easy-to-remember name you chose. Simple!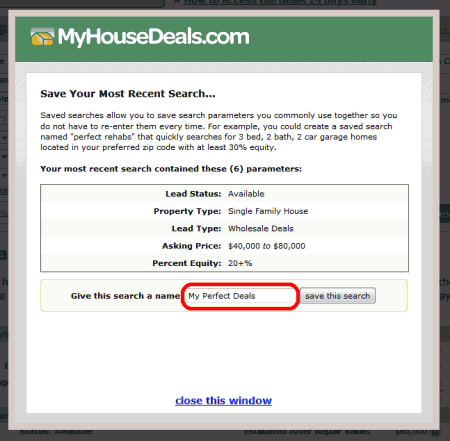 Step 3: Using a Saved Search
Now, anytime you want to search the list using the custom saved search you just click the "Saved Searches" link at the top of the search form. At the top of the window will be a drop-down box with a list of your saved searches. Just click the saved search you want to use and click "search." The window will automatically close and refresh the property search with the newest results for your custom search. Magic!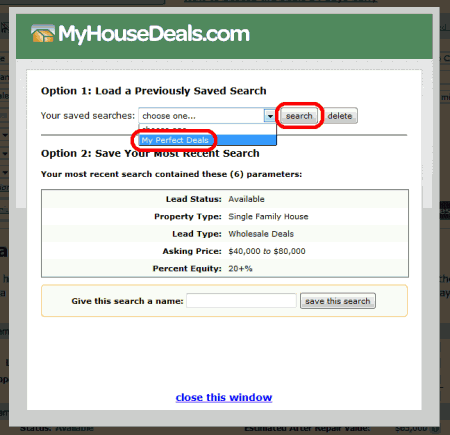 This has been a long-awaited feature on MyHouseDeals.com, so we hope you're excited by it's arrival… and use all the time you'll save to buy more properties!