Motivated MLS Deals
Since its inception, MyHouseDeals, at its core is a marketplace for investors to find investment properties off the beaten path at deep discounts. All of our listed properties are meant to be solid investment opportunities for our members, so investors can do what they do best: close deals and get paid. For years, we've offered three property types: wholesale deals, investor-ready foreclosures, and motivated seller leads. In 2020, we introduced a new property type: the motivated MLS deal. What is a motivated MLS deal, you ask?
Let's dive in.
What Are Motivated MLS Deals?
Motivated MLS deals are houses for sale from a multiple listing service (MLS) most suited for real estate investors. We've hand-selected these deals for MyHouseDeals tribe members based on a few different criteria.
First and foremost, we've taken into consideration the profit and negotiation potential of these houses. Other key factors include days on the market, instant equity, and price reductions. Sellers with these types of properties are more motivated to make a deal, and are much more flexible on the price negotiation. We've done so with you in mind—giving you the best resources so that you can find your next lucrative deal.
These types of properties are only found on MyHouseDeals. We do the legwork for you, and list the contact's information for you to reach out to seek additional information, make an offer, or set up a showing (in person or virtual).

Motivated MLS vs. Other Deals
Now that we've explained what a motivated MLS deal is, let's take a look at how these deals differ from other deals on our website. The Dallas/Fort Worth market area was the top-ranking market area for 2020, so let's look at the DFW area as an example.
As you look on our market search page, notice the difference between each of our property types.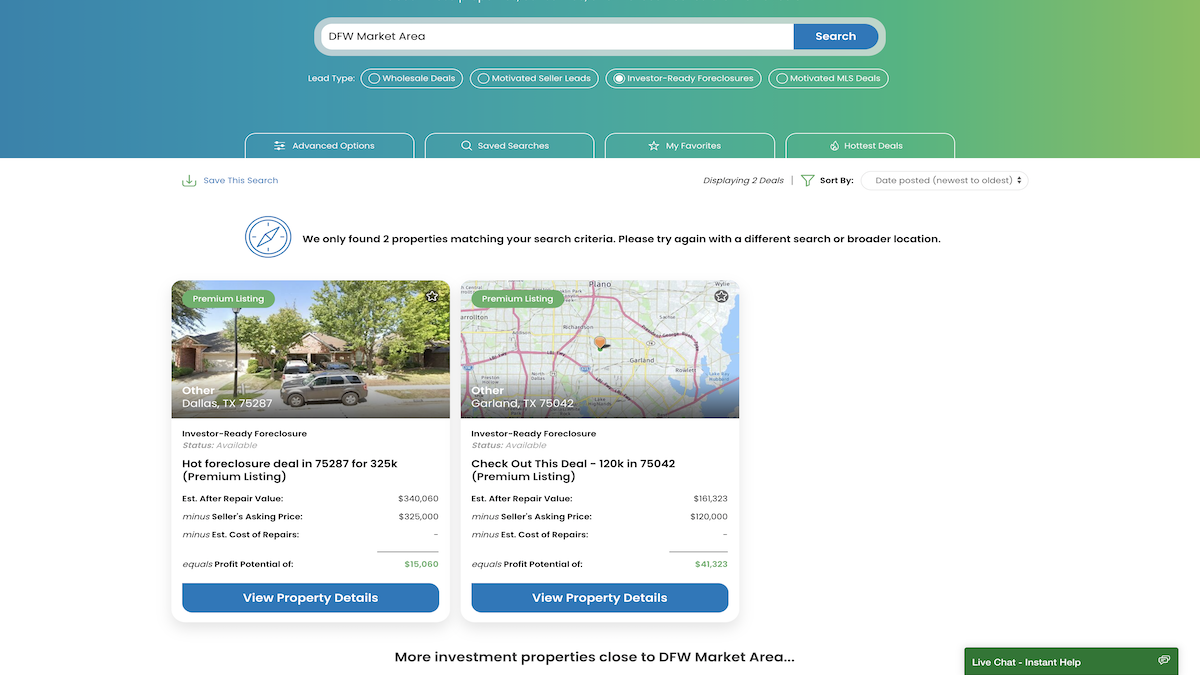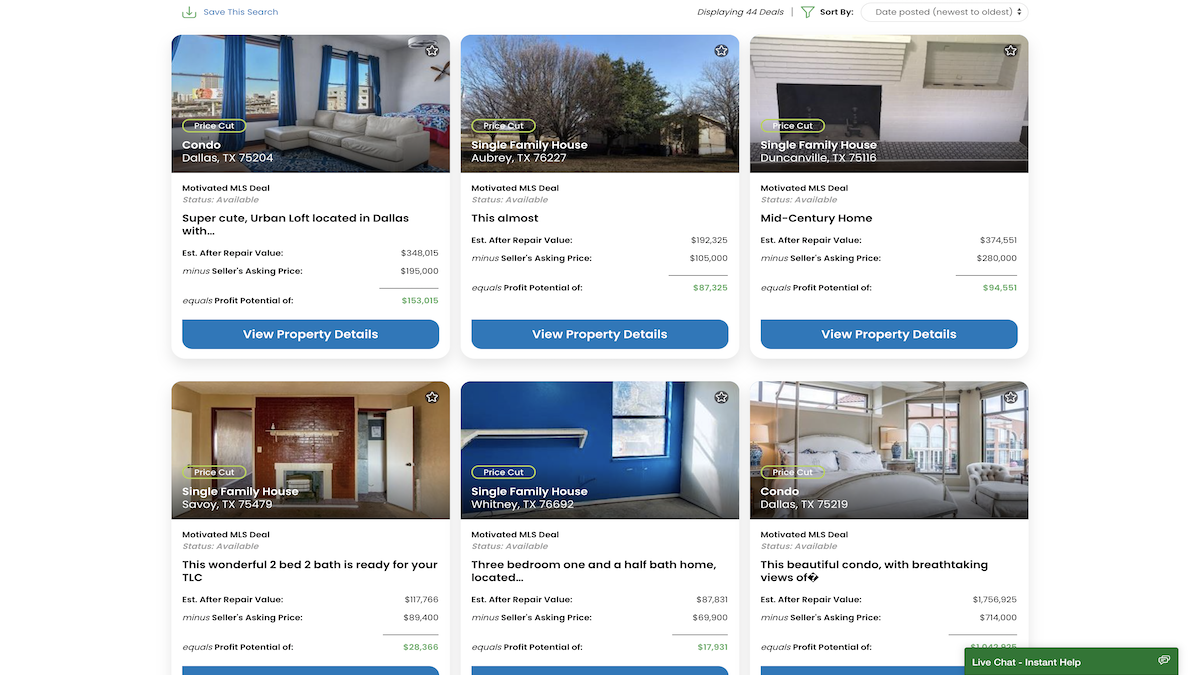 In the DFW area, motivated MLS deals are the second most abundant property type, just behind wholesale deals. Profit potential varies, but most, if not all, of the motivated MLS deals have had a price reduction. While other property types can receive price reductions, this is a key characteristic of motivated MLS deals.
Where are Motivated MLS Deals?
Because motivated MLS deal properties are a new property type on the website, they aren't available in all markets just yet. If a market does have some, there may only be a few to choose from. We're expanding the motivated MLS deals inventory on MyHouseDeals on an ongoing basis.
MyHouseDeals members already have access to the largest list of wholesale deals, motivated seller leads, and investor-ready foreclosures. But, in the name of constant self-improvement, we knew this deal type would bring more value to you and your investing business.
Motivated MLS deals are our way of making an even larger number of properties available to our members. And rest assured, we are working to make these property types available nationwide.
In 2020, 3.5% of all properties posted on MyHouseDeals were motivated MLS deals. This number will continue to grow.

Multiple Listing Services in Real Estate
A reason we thought it necessary to add these new deals was in part due to the nature of what most MLSs are. What is an MLS in real estate?
Multiple listing services are databases with listings compiled by real estate brokers and agents. These databases allow brokers to network with one another and see what properties other people have found. There are hundreds of regional MLSs across the country. These services have been around for a while and they do have their value.
However, there's a catch.
Only real estate professionals such as brokers or agents are able to gain access to the listings found in the MLS. Meaning, an average Joe would have to work with a broker or an agent in order to see these properties found in the MLS. Which is absolutely fine, especially if you're just an average person looking to buy a home.
But the MyHouseDeals tribe aren't average people looking for a home to buy. You're investors looking for a great deal on an investment property. And if you don't have a real estate license, then the properties found on an MLS are not available to you.
Why Motivated MLS Deals Are Important to YOU
Because listings on an MLS are only for brokers and agents who pay into the service, real estate investors without a license don't have access to these listings. And if you are working with a broker to see these properties, making the sale also means paying your broker or agent a commission to get the deal done.
But say you want to cut out the middle man. That's where MyHouseDeals comes in.
As mentioned, MyHouseDeals has access to MLS listings, and we can cherry-pick properties for our members. For members who do have their license, our deals save you a lot of time. No longer will you have to scour your local MLS for deals because we've already done it for you. After all, your success is one of our highest priorities. We don't call ourselves the investor's MLS for nothing.
Make Your Next Deal a Motivated MLS Deal
Are you ready to jump into this new exciting new property type? Many motivated MLS deals have been posted on the website in the last year, and many more will make it to the site soon. We recommend that you take a look and see if MyHouseDeals has a motivated MLS property that meets your investment goals.
If you'd like to see more motivated MLS deals in your area, let us know and we'll get to work immediately!
Happy (and profitable) investing.