Brenda's House Flipping Tips For Saving Costs On A Home Renovation
If you're looking for ways to save money on your next fix and flip or home renovation project, this is definitely the investor story you want to read.

Brenda enjoys the home remodeling process and over the years she's learned tricks for saving money on interior and exterior rehabs. She usually doesn't skimp on quality, but still finds ways to save and add to her profits. 

Using MyHouseDeals, she was able to find a HUD home in a great area of town at a great price that just needed some renovation work. Read on as Brenda goes into detail about her home renovation experience including kitchen remodels, painting projects and staying within budget. 

Read more the learn from her tips about:

Buying remodeling products and supplies at a discount
How to make the right choices for kitchen renovations
The importance of inspections
The below graphic shows a summary of the deal she found on MyHouseDeals.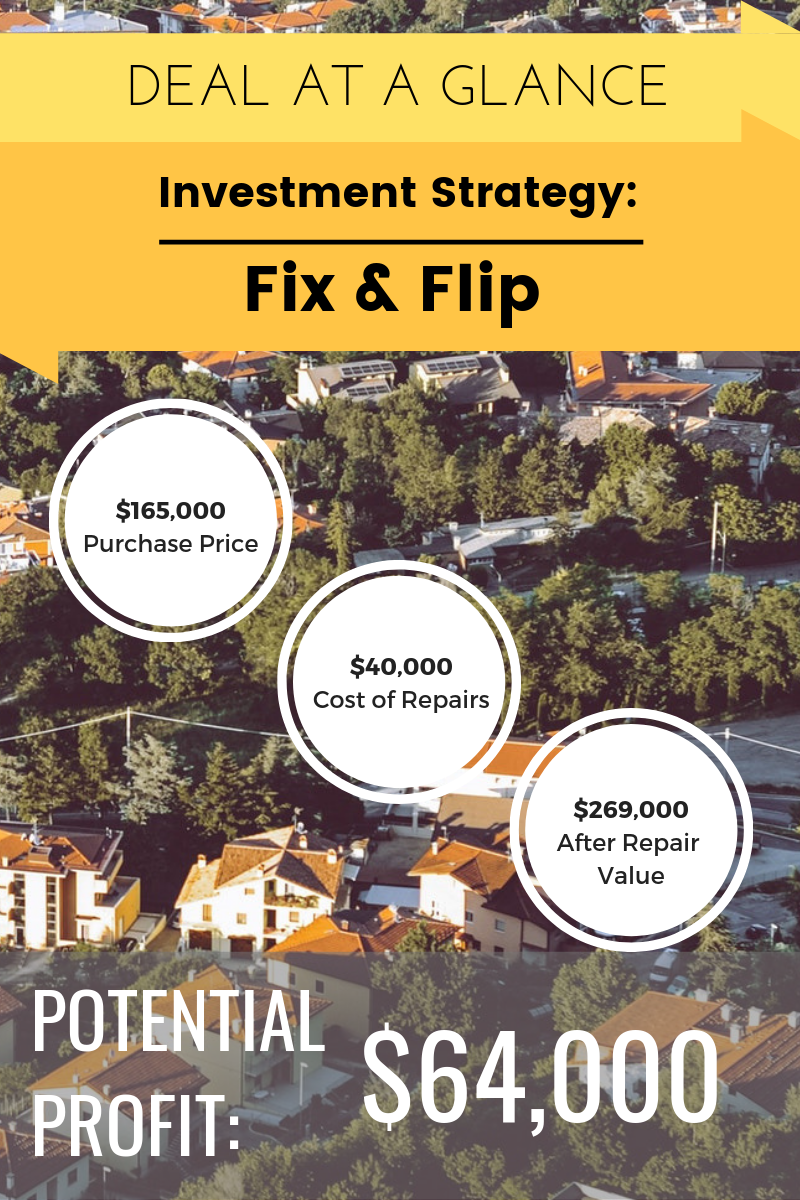 Listen to the audio of the full interview here:
MyHouseDeals.com Success Stories
What made you interested in real estate investing?
We've always done our own renovations when we bought a house, and we've always enjoyed it. My husband had an uncle that was an electrician and a good friend that was a plumber. He's always learned and enjoyed doing that type of work himself. He's recently retired so he wants something to do.

Was it easy to take your first step in real estate investing since you already had experience doing rehabs?
Yeah, it was pretty easy. We actually now have a Realtor that's on top of everything. Whenever you're making an offer you have to have somebody that's on top of it.

How did you guys build up your real estate investing knowledge?
We actually did take some classes and that helped. Now we have a list of phone numbers for mentors, so if we have issues or questions we can call them. They also have an asset protection department and they have other departments for example if you have legal questions. It's very, very helpful.

Would you consider yourself a part-time or a full-time real estate investor?
I'm definitely part-time because I still work, but my husband's more full-time since he's retired. 

We've been investing for 3 years now.
What made you pull the trigger to get into real estate investing?
We've talked about it for a long time and we happened to have a friend of a friend that was looking to sell a house that needed a lot of work. 


It was in a good area and they were willing to sell at a reasonable price. We knew that if we fixed it up we could actually make some money on it. That was the first house that we bought. We didn't even need the Realtor for that one. It paid off.

How has the move into investing affected your career and your lifestyle? 
It hasn't really affected our lifestyle that much. Since he's retired, he's able to spend a lot of time working on the houses, so he treats it like a job. 

When I help out, I'll paint and do whatever else is needed. I mostly do it on the weekends or after work and I enjoy it. I wish I could retire right now and just do that full-time with them. But that's not in the cards yet.

When buying from a wholesaler or a motivated seller, how do you convince them that you're a serious buyer?
With the house we found on MyHouseDeals, it was definitely price oriented for the seller. As long as we could meet what she needed, she was good. There really wasn't an issue since the price worked for us. 


The second house was a foreclosure and really needed a lot of work. We weren't dealing directly with a bank, but with their representative. 

They accepted our initial offer, but then came back with all these odd stipulations. So I was like, "Nope, we don't want it." 

We backed out and about a month or so later they still hadn't sold it because it needed so much work. Then we went in with a very, very low offer and at that point they just wanted to get rid of it. 

That worked out really well because I didn't want to deal with their funky stipulations… "Yeah, we'll accept your offer, but then you have to pay for this, this and this." That wasn't part of the initial advertisement and all of a sudden they were adding these other stipulations. 

At first they acted like they didn't really need to sell the house. But then, after a little more time went by, they decided they really needed to get rid of it.

So you ended up making a greater profit because you weren't desperate to buy the house?
Oh yeah. We got it for a really, really low price. It was a nice little brick house on half an acre of property out in the country. It did have a lot of issues, which we worked through until we found a buyer. 

A young lady actually came to us, asked how much we'd sell it for unfinished and accepted our price. In that case, it worked out really great, because we actually sold the house without needing to finish the rehab. 

She was a first time home buyer, and she went into it knowing that she had work to do on it. I guess her father and her boyfriend were in construction, so they could finish the rehab. That really worked out wonderful for us.

Have you made any big mistakes so far in real estate investing that you can share with newbies getting started?
I recommend always getting a house inspection before buying. With that second house in particular, I'm really glad we got an inspection because we learned there were structural issues in the flooring. 

Then when we started working on the house, we found more severe issues than what even the initial inspection showed. 

It's key to get the inspection because there's just so many things that you don't even realize can be wrong that the inspector looks for. 

In this case there were more severe issues than we thought. But it worked out because we still made a little money on it and somebody got a nice home. So it was a win-win all the way around.

How was your experience with the deal you found on MyHouseDeals?
Normally we try to get a foreclosure or something that needs work that's reasonably priced. We try to monitor what kind of area it's in. If you buy a house in an area that's not the best and you pay too much for the house, you're not going to make anything. You're going to lose money. 

We try to especially pay attention to the area and the price, and what kind of work it needs. 

The house we got through MyHouseDeals was a HUD home. It's in a popular community in the main town area with all nice houses around it. We knew the area. 

Of course we went in and looked at it. We had an inspection, so we knew the roof and structure were good. The house was built in 2005, but we knew a lot of things didn't work. 

The air conditioner didn't work, the water heater didn't heat the water, the jetted tub needed repair. We knew it needed all new bathrooms because the bathrooms were destroyed. The kitchen cabinets were not taken care of. We went in, knew what we needed to do, set a budget and then we started working on it. 

So with all the rehab needed, how do you plan to stay within your budget?
We know the outside of the house needs some work. It's vinyl siding, and we're going to paint it. There's certain types of paint that allow you to paint on vinyl and it holds up. 

We spent some time investigating that. We know we can change the color without having to change the vinyl. We'll repair what needs to be repaired and go from there. 

I mean a gallon of paint is a heck of a lot cheaper than having to change a whole house of vinyl. You kind of have to know what you can and can't do. 

Did your previous experience helped with that decision?
The first house we bought was half aluminum, half vinyl because they had added on and we could see the difference in the color. I investigated the different kinds of paints we could use with vinyl and aluminum. 

We painted the whole house and now it's all one color and all looks the same. To redo a house in all vinyl, you're talking a few thousand dollars versus a couple hundred dollars in painting. We definitely learned from that experience.

What about rehabbing the inside of the house?
For the kitchen renovation, we found an auction in a small town in South Carolina that sells building materials and they had some awesome deals on kitchen cabinets. You can get a 10 x 12 kitchen, if you know how to bid, for like $2,000. 

For the house we bought with all of the structural issues, we paid $1,850 for a kitchen. The cabinets are solid wood with dovetailed cabinet drawers plus closing doors. Really, really well built cabinetry. You have to know your pricing. 

We went into the auction knowing that prices of nicer cabinetry at big box stores would be a minimum $2,500 to $2,800. Instead we paid $1,850 at the auction. 
Countertops
For countertops you want to get something that will appeal to your target house buyer. 

Formica is okay for a less expensive home, but for a home like the one we're working on now, formica countertops are not what people are looking for. They're going to be looking for granite. 

We are going to put granite in the main part of the kitchen and in general just use higher quality products. For example, we went with a higher-end fan. But we watched our pricing and we waited for sales. 

Kitchen Remodel
It was a challenge because the kitchen itself was very small and there wasn't any room for storage. We installed some cabinets and made it into more of a serving area with a drink refrigerator, wine cabinets and a butcher block. Then it connects right to a bigger dining area.

You have to be careful about what you put in. You don't want to spend money on something that the new owner is just going to rebuild. We've tried to make some smart choices with things that are going to be more appealing to a buyer. 

For example, stainless steel appliances cost more, but are higher quality with more appeal in a nice kitchen. At the same time, we've always tried find products when they're on sale or find ways to save a little money.
Do you recommend getting home renovation materials from auctions rather than big box stores?
Definitely check out the auctions if you can. Just do your research on prices. By going to the auction, we actually get better quality and better priced cabinetry then by going to the big box stores. 

Before the auction, we had already priced out the stores' higher-end products which were more expensive and lower quality than the cabinets at the auction. So we think we got a win-win. 

I definitely recommend that everybody research whenever making purchases for renovations. Make sure you find the best deal. 

If you do go to a big box store, and you have a business name, a lot of times you can open a business account. Then you get special deals.
For example, you might get coupons in the mail that say, "Hey, if you spend up to $2,000, you can get 10% off or free financing for 24 months." Free financing over a two year period is quite a savings if that's the way you go.

You also recommend using store credit cards to lower rehab costs?
Exactly. With some stores, if you use their credit card, you might automatically get a percentage of 5% or 10% off. You might have to pay it off right away, but if you're saving that money up front it adds up. So researching that type of thing enables you to find some deals and some savings.

Any other tips for lowering rehab costs?
To save on paint, we've used Valspar, the brand that Lowe's sells. You can put coloring in it or you can just use it as white paint. We spent $35 for 5 gallons which is cheap compared to $80-$100 for that five gallons normally.

We use that as the base underneath the main color. You can save a lot of money by sealing your walls with something that is less expensive but is still a good brand. 

There's a lot of little tricks you can learn.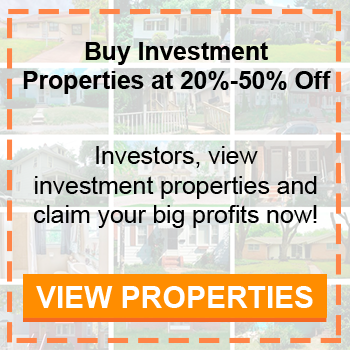 Investor Story Recap
Brenda provided some great tips for anybody looking to fix and flip or rehab properties. She urges everyone to always get an inspection when buying a property. She also demonstrated how holding your ground on foreclosure negotiations can pay off over time. Last but not least, she detailed ways to make a house more appealing on a budget by buying high quality products at a discount through auctions and in-store credit accounts. Thank you Brenda!