House Flipping Calculator: How to Best Utilize This House Flipping Tool
House flipping has become increasingly lucrative in the real estate industry for quite some time now. After all, it's a relatively simple and quick way to earn a hefty net profit with the right tools and a little elbow grease. However, if this is your first time flipping a home, there are a few questions that you need to ask yourself before you begin. How much does it cost to flip a home? How do I begin budgeting or how do I secure funding for my first home flip? How can I make sure I'm accounting for all of the project costs and not just the house flip itself? These questions are vital for success in flipping and getting the most bang for your buck. Our solution to answering all of these questions in one simple tool? Allow us to introduce you to the house flipping calculator! In this article, we'll give you the full rundown of the house flipping calculator and how you can effectively utilize it for success. Once you fully understand how to finance a house flip and everything it entails, you're more likely to identify and mitigate any roadblocks you may face along the way and, in turn, maximize profits. Keep reading for our personal guide to effectively calculate house flipping costs and become a pro in no time!

What Is House Flipping?
Before we get into the logistics of house flipping, let's define what exactly it means to flip a home. Essentially, flipping a house is when someone purchases a property (usually one that requires some sprucing up) and then sells it for a profit. The goal of flipping is not to purchase the property for personal use, but rather to hold onto it for a temporary period of time until the updates are complete and it can be sold for more than you paid for it, plus any other renovation costs. Of course, how much you make on the property can vary based on how much money you put into the renovations, the market, and the overall time you put into the project. With the right planning and budgeting, flipping yields extremely rewarding results. Curious to hear other people's stories from flipping before you give it a try yourself? View our success stories hub to find. listen, and watch dozens of our member's success stories from flipping homes and how their Premium membership helped them find the perfect home to begin an exciting new journey.
How Do I Get Started?
Good question! Getting started can cause some jitters, especially if you're a newbie. Of course, you want to begin by researching properties that will make good flips and yield the best results. Once you've found the right property, you're going to want to do a little math. If math isn't your strong suit, no need to fret; there are hundreds of house flipping calculators available to you online! We'll share a few of our favorite resources with you in this post, but if you want to start from scratch, let's explain the budgeting process in a little more detail so that you know exactly where your money is going.
House Flipping Calculator Guide
Purchase Price: This is pretty self-explanatory; the purchase price is the dollar amount of what you paid for the property and the attached land. This number is where you want to begin before you estimate how much you plan to earn from selling the property at the end of the flip.

Renovation/Repair Cost: How much money will be repairing this property cost you? That depends entirely on the property itself and what you plan to do with it. Be sure to budget accordingly! Little things add up in this case, especially for older properties that need to be fixed from the ground up. Be sure to include everything here, from basic things such as rewiring the electricity lines, updating the foundation (if needed), and final adjustments such as repainting or installing new and updated appliances. You may find that you have extra money leftover at the end of your renovation to spruce up the property even more, but if the property is older and needs more basic renovations, you're going to have to sacrifice some of the plans you made before getting started. Don't worry, it's impossible to estimate costs to the dot and this is something that you will only improve on in time. Patience and preparation are key! With each renovation, you will want to balance the likely cost to the impact it will have on your ability to increase the asking price when you sell the property.

Interest Rate: If you're using the funding to finance this project, then the interest rate will be the amount associated with how much you're borrowing, and the terms you agreed upon with the lender, to fix and flip the home.

Length of Time Estimated to Complete the Project: While there is no way to predict exactly how much time your project will take to complete, it's a good idea to make a rough estimate and try your best to stay within this time frame. If you need more time, you can adjust your plan depending on how much wiggle room you have. We recommend affording a realistic measure of time to help you stay organized and transparent with whoever else is involved in the project.

Loan Amount: Most people, especially during their first flip, require a loan from a lender to make adequate renovations. Make sure you know exactly how much money you owe overall for that loan and the monthly interest payment associated with the loan.

Miscellaneous Costs: Be sure to keep track of other random expenses such as utility expenses (water, gas, electricity, etc.), monthly insurance, property taxes, marketing costs, and any other expenses that you expect to incur throughout the duration of your project.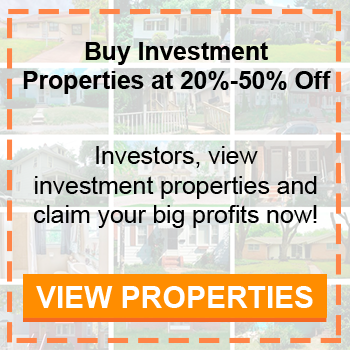 Once you have accounted for all of the expenses above, you can make a quick calculation to estimate your net profit:

Post Repair Value – Total Expenses = Total Profit

It's that simple! However, as promised, we'll share a few of our favorite free online house flipping calculators with you to make the process even more simple or serve as an additional tool to double-check the calculations you made on your own.
Why Should I House Flip?
House flipping is a lucrative business because of the large profits that can be earned in a relatively short period of time. Compared to other real estate investment strategies, house flipping is one of the most reliable methods to build wealth and even help gentrify old neighborhoods. Additionally, using the house flipping calculators we mentioned above makes house flipping a more organized and predictable form of business than other strategies that require more gambling of expenses. Finally, aside from the monetary payoff, it's pretty rewarding to see the before and after of a once distressed and shambly property into a new, beautiful home that can be enjoyed once again by new inhabitants. There's nothing better than seeing hard work pay off!
Keep Trying
If at first, you don't succeed, keep trying! House flipping is by no means easy, but it's one of those things that can bear a lot of fruit. Additionally, the more mistakes you make in the beginning, the more you have to learn from them for your future flips. We'll catch you later for more content to help you kickstart your house flipping career and continue making strides. As always, happy, and profitable, investing!