Rental Property Investing – Edwin's Success Story
In this success story interview, Edwin Skepple shares details of his experience investing in a rental property. He contrasts his first rental property investing experience versus his second, and highlights the lessons he's learned in his journey.

Edwin shares a very important tip about being open to new opportunities and connections, and how MyHouseDeals played a key role in his success. Enjoy this very enlightening interview.
Topics include:
Do Your Homework – Know Real Estate Investing
Use Resources like MyHouseDeals – A Powerful Shortcut
Stay Open to New Opportunities and Connections
The image below shows the details of the deal Edwin found on MyHouseDeals: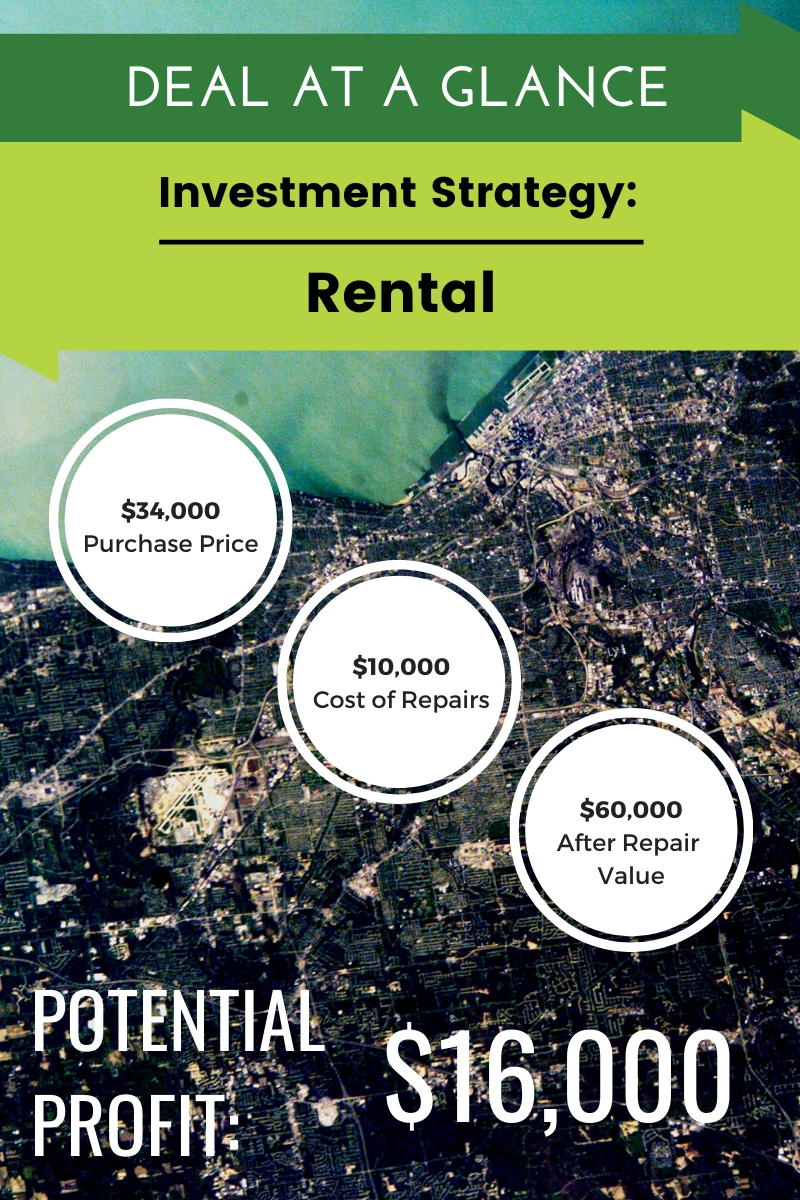 So to get started, what got you interested in real estate investing?
The fact that I have about five years to retirement. I have 15 years working with the city of New York correctional officer. So I'll have a 20 year pension and I have five years to retire. So I was thinking on something that I could do to supplement my income. And the first thing I thought about was investing in real estate.
What has your experience been thus far with COVID-19?
I think the lenders are a little bit more free to lend. I think a couple less houses are on the market. I think it's just been a little bit more difficult. Also with the tenants that I have, I have tenants in this property, so one of the tenants has his own section eight system government assistance and they pay half, the section eight pays half. They pay maybe a quarter, maybe.

The rent is $600. They're only responsible for 30 but because they're not working, we didn't, you know, take $30 that they normally pay. So it was definitely a difference. You know, a lot of people have hardships and out of work and things like that. So it is challenging times, but it's getting better now.
How did you get your knowledge up on real estate investing?
Well, I had a broker who I met. I met him online. He introduced me to real estate and deals and things of that nature. And he just kind of educated me on couple of things, you know, a couple of markets. And he told me about the Cleveland market, the Detroit market, some areas that are like really hot with deals and things like that. So I started just taking a lot of his advice and then I started just reading up on some things and following up on some things.

And then that's what piqued my interest into doing it. You know, something you learn every day dealing with contractors, dealing with contracts, tenants, managers, property managers, things like that. So there's always a lot to learn. As long as you have a good team around you, and then good resources, it makes it easier, much easier.
How long did it take you to get comfortable with taking the steps needed to acquire a property?
Probably three to four months. He started showing me deals and showing me how things work and how closing works. And he showed me he had a deal that he did with someone else and he basically put me through the whole process with the person who's making the deal.

So, you know, just to show me what the process looks like and as far as qualifications and things that the banks look for, and title companies and everything so that when it was my time to get in, I was pretty comfortable with the process.

Since you've started rental property investing, how has it changed your life?
It helps you with the mindset of being organized for sure. When you're doing these deals and you research these properties and check out the neighborhoods and check out the prices and things like that, you have to really follow steps and follow it and be very organized, and really focused on what you're doing to make the right decision. There are so many properties out there to focus on. But you know, you have to break it down and take out the negatives and positives in each one and zero in on the one you want. It helps organize you and make you more focused on other things that you want to do.
Was this your first investment property?
No, this was my second. But this property I bought off the site [MyHouseDeals].
What's one of the biggest mistakes you've made thus far in real estate investing and what have you learned from it?
Go back to hiring my first property manager. I didn't really get too much info on who they were. I didn't really do too much background on them. I was just so fixated on getting somebody, because I was after my first deal, I just got really excited and you know, I just wanted to start bringing in the money and getting everything signed. I just tripped up on somebody that I really didn't do too much research on.

I would say that was my biggest mistake. But I think in every sense of the real estate game, you're going to make some mistakes. It's always good to make a couple mistakes because then you can learn from it and then you'll never do it again.

What was your vetting process like this time?
I haven't vetted anybody else because he gets all of my properties. He's managing every single property. I only have units in the Cleveland, Ohio area, so I haven't really had to get another one. This guy's so good that he has all my properties. He has all four.

What kind of property were you initially looking for when you hopped on the site?
Initially I didn't really have a focus. I just wanted to get something that was going to be beneficial, whether it was a three family, two family…but I was looking at more of the deal and the cap rate, turn around rate, to make my money back, and I was looking at a house in good enough condition where I didn't have to put too much rehab money in. That was my initial goal and a the house that I found on the site fit perfectly. And the closing was smooth and like I said, I met the manager so everything was perfect with this deal. Everything was so smooth.
What about the rental investment property, besides the numbers, sparked your interest?
I just didn't want to spend too much money on rehab because another thing I wasn't too versed on was contractors and how they work and the timeline, things of that nature. I like the idea of tenants because even if the house needed a little work, you could be collecting income with the tenants there while you're getting the house up to par.

So the ideal of having a place with tenants was a good ideal for me, which is what the house that I bought on the site offered me. It just need about $10,000 worth of work, and now that that work is done, the house looks immaculate. And, I was collecting rent and now the tenants are very happy.
Did you have a strategy when it came to negotiating the price or was everything just like set and ready for you?
I wanted to sign it because I just liked the deal. I loved the offer and I just looked at the cap rates. I didn't bother negotiate and I took the offer because I felt like I was getting the deal.
How did you finance the rehab portion?
I had some money saved on the side for rehab purchases, but I also factored that in to the total price. The second deal was $34,000 and I had about $10,000 of rehab, so I didn't really want to go over $50,000 total. So when I factored in buying the house and the rehab, it was under my target number, so it didn't bother me at all to add that into the rehab.
And did you get a loan to finance the house itself?
I just had the cash saved!
What advice would you like to give to new real estate investors?
Definitely to do the homework, but also use MyHouseDeals because the resources there are plentiful. If you contact enough people on the site, the people that you contact also have contacts that can help you in other areas.

For example, like I said, the manager that I met. I also met other people who we're selling other homes. I might not have bought their home, but I might have met a contractor there. I might have somebody who gave me insurance over the house. Things of that nature. So always keep your options open, even if it's not just towards getting a deal for a specific house.

Always link and always meet people who might be the stepping stone to helping you in the future. You know, never turn away a helping hand or turn away someone.

So it's always good to do your homework and reach out and make contacts, talk to people, get information. Like I said, you have to put your feet in the water and get a deal and then learn about it, sit on it and master it. And then once you're comfortable, you move on to your next one.
Summary:
Edwin moved on a deal quickly once he realized that the numbers made sense and that he would have an immediate revenue source – the property was already occupied by tenants.

He recommends using resources like MyHouseDeals because you'll get immediate access to a network or sellers, contractors, property managers, and other connections that you may need today, or sometime down the road. He shared the benefits of shadowing an experienced investor as you learn the rental property investment business. He also urges investors to do their homework and to stay open to opportunities and connections.

We'd like to thank Edwin for taking the time to chat with us and share his experience and advice. We wish Edwin continued success and happiness!