Rental Property Investing: Allen Tayler's Story
In this success story interview, Allen Tayler recounts his first experience with MyHouseDeals. He talks about his return to real estate investing, his rental property investing deal, and how a Premium Elite membership helped him find the right deal.

Allen shares how his return to real estate investing reminded him how much he enjoyed fixing up places for tenants, and how real estate investing allows him to be his own boss. Enjoy this enlightening interview.
Topics include:
The right deal: Seeing the value of properties with tenants
Finding passion again: Allen's return to investing and why he enjoys it
Independence: Being your own boss
The image below shows the details of the deal Allen found on MyHouseDeals: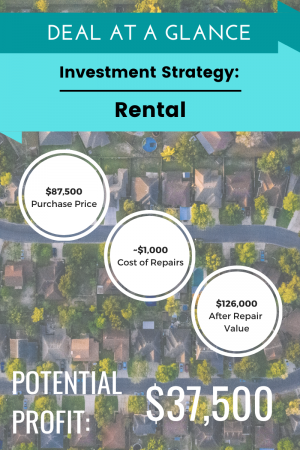 How long have you been a member of MyHouseDeals and was this your first deal?
Oh, it must have been about six or eight months, something like that. And yes.
What kind of properties or what type of deal were you looking for? Did you arrive on the website open to see what you would find and structure a deal based on what you saw there?
Well, beginning with, I was not a member and I was just getting the deals after the premium members had looked at it. I was noticing that the premium members got the cream of the crop of the house deals. I decided, well, I'm going to go ahead and join. And when I joined, I was looking around. I was in the market for just about anything that would of strike my fancy, either a single-family residence or maybe a duplex or triplex or something like that, that I think I could make some money on.
When you were looking at the deal, what about it jumped out at you that made you think this is something I need to follow up on?
It was a duplex and one side was rented out already. I could make some instant money immediately. When I had gone to view the property, I talked to the tenant and he said that he was very happy with where he was and he was planning on staying there. That made me very interested in it because I could make some money immediately. It has a monthly cash flow of $600, which will double when the other unit is filled.
The other unit of the duplex was vacant at that point and was your plan to find a tenant to put in place?
Yes. I went in and I was going to make some changes. There was a little maintenance to be done, like patching up some tiny holes in the wall and putting in some Venetian blinds. It had a tile floor and some of the tiles were cracked and so I replaced them. And, of course, the grass on that side of the duplex had not been mowed. I had to do some yard work and trim some branches on that side. It's looking better right now. I just went over there yesterday. And the tree that's in front, which is a real nice tree, I think the wind caught it or something and it had broken some branches out of the tree and they got hung up in the tree. I'm going to have to go back probably tomorrow or the next day and cut them down and bring it down and haul it away. Making most of the fixes just cosmetic ones.

About how long did it take you to find your deal?
I was looking at all the premium member deals and all over the greater Houston area and it took me, I would say, several weeks. I would log on and view them on my email, I would say daily. The pictures really help a lot. I would look at the price and the pictures and view what area of Houston it was in. This one caught my eye since it was a duplex and it was already income producing. And I guess after I first became a member, it was probably, I guess, several weeks.
How much was the seller asking for, how much was the after-repair-value, and how much did you end up buying for?
They were asking about, I think, about 95 or $96,000. The after-repair-value was about $126,000. I made him a low-ball offer and they came back and said it's way too low. So the one we ended up with was $87,500.
And how much have you put into repairs?
I would say, right now, probably about 500. I'm thinking the total would probably be about a thousand dollars total. So, we're looking at about a $30,000 profit.

How did you finance the deal and what are your long-term goals?
I did a cash deal on it, and so I'm free and clear. As for goals, I'm looking at holding onto [the property] right now for maybe about five years. I know the pandemic has caused the real estate market to have the jitters. Hopefully, in about five years or maybe less when it gets to be steady, I may sell it. It'd be nice to see some appreciation on the investment.
Is this your first deal that you got done as an investor or have you bought and sold properties before?
I have bought and sold properties before, but I haven't done it in, I would say, about 10 years. I had bought and sold several properties and owner-financed some of the properties. And I was contempt with, well, that's about it. I'm not going to do it anymore. Then I got the itch to do it again. That's when I joined the MyHouseDeals and started looking around.
What made you come back to investing?
I don't know. This may be silly, but I enjoy going to a property and doing maintenance and repairs on it. Then, at the beginning of the month, get a rental check. That makes it all worthwhile.
You've bought and sold before, so what's the extent to your background?
I had several different jobs. But the last one, I was working with a realtor. He and I were joining together and we were looking at properties and we would purchase a property and within two or three months, we'd flip it. I went ahead and got my real estate license so I could look at different types of properties, especially like HUD properties. I think one of the nice things about that is I could go look at HUD properties whenever I wanted to. I had the access to get in to look at the properties. And I just went from there. I had invested in several different properties and I quit doing it, probably, 10 years ago. I enjoy doing it. It may sound silly, but doing the painting and some of the maintenance outside and just general things like that and being your own boss, too.
Were you always focused on flipping? Is this your first rental? Or did you always do a mix of both?
Oh, I did a mix of both. I was with a realtor and we would join together and get a house and remodel it and then we'd flip it. Then I started buying properties on my own. I would buy one and fix it up and flip it. Then several of them I had bought and did some owner financing on it and I thought that wasn't too bad. You get a check every month and you get interest on your money. It's a combination of everything. I just don't want to stay in one area.
When do you think the unit will be ready and how do you plan on finding a tenant?
Right now, some of the neighbors in the area, it's in a cul-de-sac and some of the neighbors have approached me and asked me if that side was available for rent. I said, "No, not right now." They said when it is let them know, that they may have someone interested in moving in, which was great. But I'm not ready right now. I'm still working on it. Maybe by the end of the month, I'll let them know that it's going to be just about ready to rent out. I won't even have to look for tenants, I don't think.
What's next for you, Allen? Are you going to take on more properties or will you wait for this one to rent and take it one at a time?
I'm probably taking it one at a time. I'd say if I get it finished by the end of the month, which I'm pretty sure I will, then I'll probably go back online and look and see what else is available.
Finally, what's some advice to other MyHouseDeals members who haven't made their first deal yet or haven't found their next deal?
It's kind of scary, I think, the first deal that you make. Buying a house involves a lot of money. It can go up. The sky's the limit, I suppose. But it is kind of scary and you just have to take that leap and try to find the best deal that you can, the best condition of the house, and what needs to be done in terms of maintenance and financing. Then when you're sure, take the leap.
Summary:
Allen is a seasoned investor, who, after some time away, found his first MyHouseDeals deal for some immediate cash flow with a rental property.
He saw the value in a Premium Elite membership that allowed him to see properties a lot sooner. Allen finds joy in visiting properties and taking care of them, making sure that they are in good shape, and of course, seeing those checks at the end of the month. The pandemic has made people apprehensive, but Allen encourages everyone to take the leap if they find the right deal. He's taking deals one at a time, but he'll keep making those deals.
We'd like to thank Allen for taking time out of his busy schedule to chat with us and share his experience. We wish Allen continued success and happiness!