70,000 Deals is Reason to Celebreate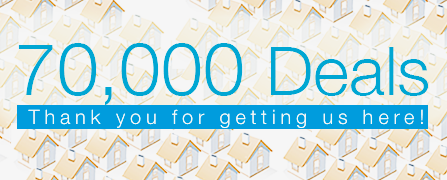 This month we celebrate deals. The reason? MyHouseDeals has just reached a milestone that we think you'll like…
70,000 deals!
In little more than eight years we've brought you over 70,000 wholesale deals and motivated seller leads. That's an incredible average of 8,750 deals per year, 729 per month and, get this, over $4.4 trillion in equity (whoa, that's a big number!)
In addition to being an all-around impressive milestone, the number of deals we've posted represents something even more important to us – the countless investors that, like you, have benefitted from the features and services we provide and the numerous checks they've earned from deals they found on our website.
Thank you for supporting MyHouseDeals.com and taking advantage of all these posted deals. As we see it, your success stories are our success stories.
Happy (and profitable) investing!
Team MyHouseDeals.com
P.S. Want to have first dibs on new deals? Upgrade to a Premium membership and get unlimited and unrestricted access to all deals, leads and features on the website.