Anne Shares How Flipping Houses Can Lead To Retirement
Anne is now on her fourth single-family property and she already feels that flipping houses will allow her to retire from her job and become a full time investor within the next 5 years.  

When she started investing, she learned that finding properties was the most difficult part of the process, and initially spent up to 9 months searching for houses before making an investment. Now that she's using MyHouseDeals, she's gained hope that she can flip many more properties and build wealth for her family.

She's used hard money loans to finance her properties and stresses the importance of budgeting for unforeseen rehab costs since they will not give you the rehab money until they've performed an inspection of renovations completed.

Keep reading to learn more about her real estate investing tips as well as mistakes to avoid.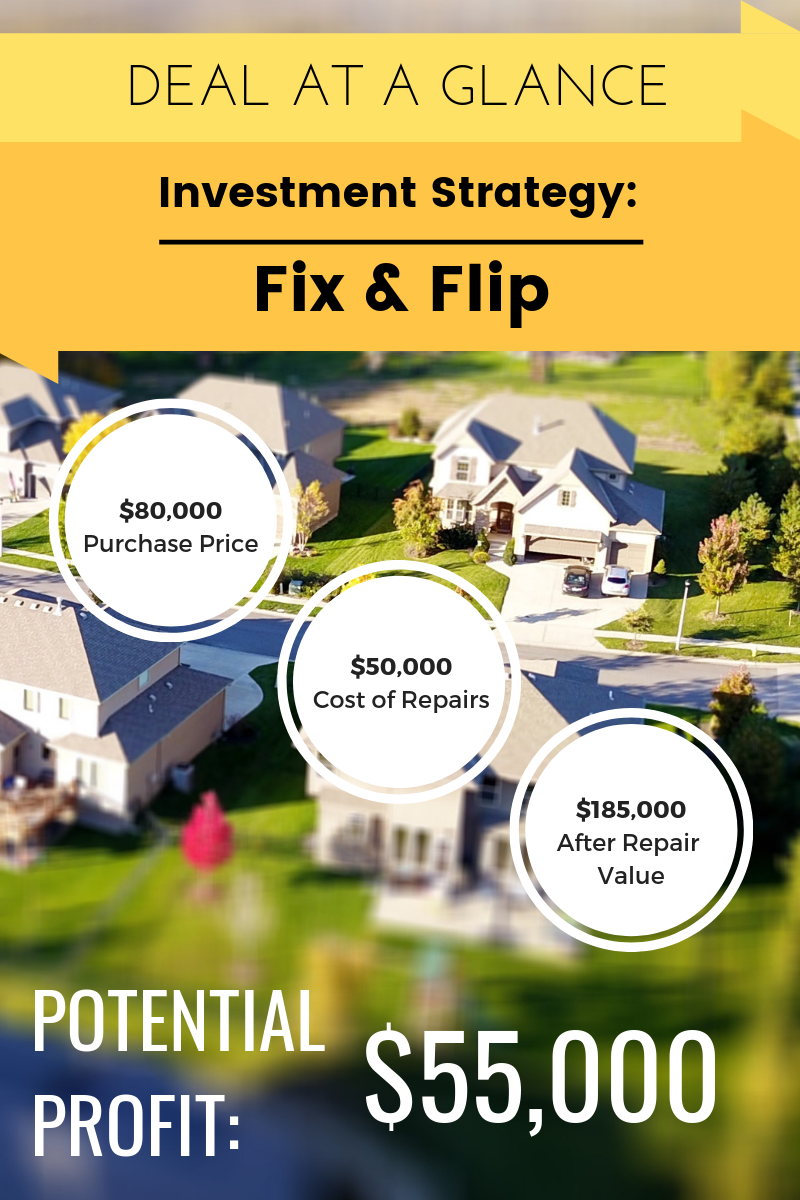 Listen to the audio below to hear all about her house flipping adventures, plus…

Mistakes to avoid when rehabbing
Tips on raising funds and working with lenders
Advice for first time investors
NOTE: Anne is a premium member. She received a FULL refund of her upfront membership fees for simply doing a deal! Find out more about our premium membership here.
MyHouseDeals.com Success Stories
Tell me a little about yourself…
How did you get started in real estate investing?
I had a rental that I had to turn around after my renters trashed the place. I didn't want to continue renting, so I renovated the property and then sold it. After making the money from that home, I decided I wanted to try to flip more properties.

Was it difficult to take your first step in real estate investing?

You know, it was interesting. I knew the first big challenge would be to get funding, but it turned out funding was the easiest thing to get. It's finding the houses, the properties, that's hard. It took me probably six to nine months before I could find a property that I could even purchase.

What techniques did you use to find properties?
I did a whole bunch of different things. Initially, I searched Craigslist for a while and found a wholesaler in my area, in New Jersey. That's who I've been getting the properties from locally in New Jersey, but the place where I struggled was Delaware. We tried looking for wholesalers. We tried connecting up with real estate clubs. We tried everything. We really had trouble finding properties down in the Delaware area until I hooked up with you guys and became a member of MyHouseDeals.

What other features of the MyHouseDeals website did you use besides searching for a property?

Actually, I found a contractor on your vendor list that I'm using on my next house.
What was one of your biggest mistakes you've made in the real estate investing business?

One of my biggest mistakes was putting too much into a house, not realizing how much things were going to cost, overdoing it, and paying too much into the rehab.

I made up a budget, but I didn't stick to it. We put marble in the bathroom because I felt like I just had to have marble in that bathroom. Why did I need marble? Marble was so hard to work with. I never used marble before. I'm like, "Oh my god! It took four hours to drill four little holes to put the shower doors on!"

For this next house we're going with the simple tiles that work. They're easier to work with. The marble was really hard. People minded working with it too. They charged me a lot of money. Then, we had trouble dealing with it later.

With each house, you learn something else. Like, "Oh, okay. You don't have to go crazy on the kitchen. You can just make it look nice." People are going to spend the same money, whether you go with marble or whether you don't go with marble.

Besides personal experience, what resources have you used to build your real estate investing knowledge?

A big part of it is the networking with different people, finding out, "How are you doing it?" Like I said before, I've tried a lot of different ways to find properties. I tried sending out letters to distressed owners. I've tried all of that stuff and I didn't get anywhere with any of it. All I did was pay $50 for postage each time and didn't get one house. Maybe it's a little easier if someone else does all of that for you, but it didn't work for me personally.

What advice do you give to new investors trying to get funding for their deals?

The issue with the funding is that you have to have money to put in for them to give you the funding. No one will give you 100% funding. That we found out. You have to have some skin in the game. You have to have some money, somewhere, for them to give you any money at all.

Hard money lenders are the best. If you have a good credit, then they'll give you decent rates. If you don't have good credit, you could pay 15-16% on the money that you're borrowing. It's interest only payments.

When I sought out the private lenders, they wanted more money down on the properties, whereas the hard money lenders take less money down, depending on your credit score. I only wanted to put 15% down on a house, rather than 20%, and they were willing to do that. Where the private lenders would not do that.
How has real estate investing changed your career and your lifestyle?

I am currently still working a job. This is my exit strategy for retiring. This is my fourth house, the house that I'm buying with you, that came from MyHouseDeals. It's giving me the hope that I can move out of my job and retire and do this. I could possibly retire within the next 5 years.

What do you want your real estate business to look like in 5 or 10 years from now?

I'm hoping that it will be a full-scale family business by then. My son is starting to work with me and ideally this can build wealth for the next generations.

What made you choose this property that you found online on our site?

It was in my price range, and it was in the county that we wanted to work in. They were asking $80,000 for a three bedroom house.

How did you guys pull the comps? What resources did you use?

I used a site for free realtor comps, I don't know the exact name of it, but it was something like ABC Realtor Comps. The comps that we came up with were about right. There's a flip down the street from the one that we're working on, and it's in the $180k range. Other comps were up to $190k. We probably can get $190k with the garage, if we make the garage.
Was it the type of property you were looking for initially, or were you open to multi-families and townhouses and things of that nature as well?

We were primarily looking for single family homes. We didn't really want to go with the duplexes or the multi townhouses, or anything like that, at least not right yet.

Were there any hurdles you had to overcome at closing?

Yes. The people living in the house. They weren't renting, it was a friend of the owner. They needed a little extra time which was the huge hurdle, and you really couldn't work around them.

I also have another flip property in New Jersey that has no heat in the middle of the winter and I need to get the gas setup. What a nightmare. I won't be buying a house that doesn't have gas service again. Learned that lesson.
Do you have any advice for first time real estate investors?

I suggest that people watch some of those online videos to get a handle on what you need to know and the resources that you can tap into around you. I didn't know where to look for the houses, number one. They gave you a whole list of places that you could go for houses. I found it really hard. Paying for a service like MyHouseDeas was quite helpful in finding a house.

Do you have any specific advice based on your rehabbing experience?
When you do your rehab budget, put some money in for the unknown. If you go over budget, you have to pay for it, which eats into your profit. You might as well budget it in there.

There isn't a lender out there that will give you all of your rehab money upfront. They won't. The private money lenders don't do it. No one does it. I looked everywhere.

Some lenders promised me that I could have the money upfront. When I actually went with them, the money wasn't upfront. They all go by inspection reimbursement. They actually send somebody out to the property and look at what you've completed, and then decide how much money they're going to give you.

I kept changing lenders because they were promising that I would have access to all the money upfront. They put the rehab money in escrow. But you have to actually have money to start the rehab. Then, you get reimbursed based on the projects that you've completed.

So how did you pay for the initial rehab costs?
A zero percent credit card will give you the ability to pay upfront. I usually try to do three payments. For a $50,000 rehab, I want about $18,000 in repairs done before I get my money back from the lenders. Then, I use that money for the next stage. Then, the next round for the third stage.

Another lesson… I funded my very first project all myself. I would never do that again. It tied up too much money. It tied up all my assets in this one house. Then, you have to wait for it to sell. I'm not doing that anymore. Now I put 20% or 15% of the money is down, so then I can buy another house before this one's even done. Try to not tie up your assets in one place.
So you've found that real estate industry, in general, is a great place to invest?

Yes, exactly. For the house we bought with you guys, we'll probably put $130k in and get $180k out. We'll make $50,000.