Now It's Even Easier to Find Your Next Deal [BIG Announcement]
I am so excited to share this news with you! Our number one priority at MyHouseDeals is to find you deals off the beaten path that offer a solid investment opportunity. We do this so you can focus on what you do best: Closing deals and getting paid.
We've been working for months on a new feature, and now it's finally here…
You already have access to the largest list of wholesale deals and motivated seller leads, but we didn't think that was enough. We wanted to make even more deals available to you…
Say hello to Investor-Ready Foreclosures!
Foreclosure auctions can be a waste of time, especially for beginner investors. The auctions have become crowded with investors driving prices up, making it hard to find an actual deal. That's why we never bothered with offering foreclosures on our site.
But…
What about the properties that didn't sell at auction? Most of those are put up for sale by the bank and many of them are deeply discounted. The banks want to sell them fast so they can recoup their loss. The more discounted they are, the more attractive investment deals they make. We see huge opportunity in those properties.
So we decided to bring them to you.
We call these deals Investor-ready foreclosures. And starting today, you can find them on MyHouseDeals!
Investor-ready foreclosures now show up on the property list along with wholesale deals and motivated seller leads, so searching them is easy and convenient. Just type in your investment area's zip codes on the search form and you'll see what deals are available close to you.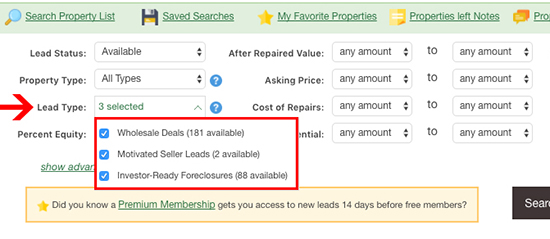 Only want to see deals with a 15% equity spread or more? Just select the percentage from the Percent Equity drop down in the search form and target only the best deals in your area…
And if you want to stick with wholesale deals and motivated seller leads only, you can customize your search to exclude investor-ready foreclosures.
Over 10,466 Investor-ready foreclosures are now available to you at NO cost starting today! That's a total of $372,862,987 in profit potential just waiting for the right investor to snatch them up. That's you!
Ready to see investor-ready foreclosures in your area?
Go Here to Find Your Next Deal
And we are adding an average of 1,306 new investor-ready foreclosures each week, so there are many more deals to come.
Happy (and profitable) investing!