On Your Mark. Get Set. Go!
It's been a busy but exciting year for me! So far, I've been to Grand Cayman, Orlando, Boston, and now Dallas. I was in Dallas this weekend to run in a marathon relay with my brother, uncle, and cousin. It was our 6th time to run in a marathon relay as a team.
We keep doing them because it's a chance for us to get together and catch up on old times. Another reason is that the race really isn't that tough. Since we each do one leg of the marathon, it's about 5 times easier than a marathon. But it's still quite a trot by some standards. For this race, my leg was 5.5 miles.
I guess you could call me the speedy one of our group. My fastest time ever was two years ago in Dallas when I ran 6.1 miles at a pace of 6:45 per mile. My slowest time ever was in Corpus Christi where I ran 5 miles at a pace of 7:30 per mile. (The humidity down there is a killer!)
My goal on this race was to finish under 7:00 per mile, and I'm happy to report that I did! My pace was 6:55 per mile, which I'm very pleased with. But it wasn't all run, run, run! We relaxed and drank a few beers, too. Follow me through the weekend by viewing my pics below! Just click on the image to open them…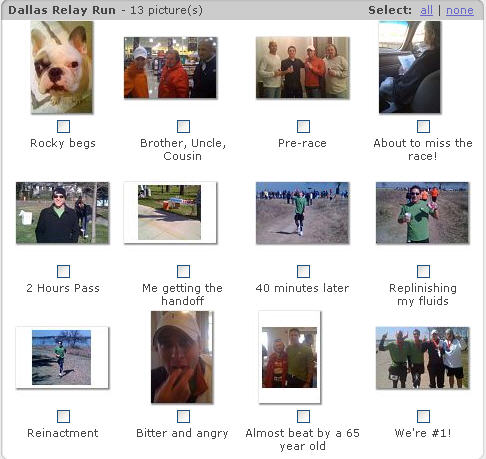 Until next time, happy (and profitable) investing!
Doug Smith
President
myHouseDeals.com
P.S. Have you started your 30-day FREE Trial and secured access to hundreds of wholesale deals and motivated seller leads in your area, PLUS $1,253 in FREE Gifts? If not, do so now by going to www.myhousedeals.com/freetrial. We have big-equity deals in Boston, Chicago, DC, DFW, Houston, LA, and NYC. See you there!