Charles Leverages Networking to Build a Repeatable Investing Strategy
Now that Charles has built a successful network of real estate experts, he sees his business model as cookie cutter. It's just a simple process of rinse and repeat as he builds on his portfolio of properties.

He's new to the investing scene but used MyHouseDeals to find his first property within just 4 weeks. His years of contracting experience helped him quickly determine the experts needed for all aspects of his investing business. These relationships help him avoid risks and move quickly.

New investors and experienced investors alike can learn from Charles tactics for building a network, raising money and rehabbing homes. Keep reading to learn more about his real estate investing tips as well as mistakes to avoid.

The below graphic shows a summary of the deal he found on MyHouseDeals.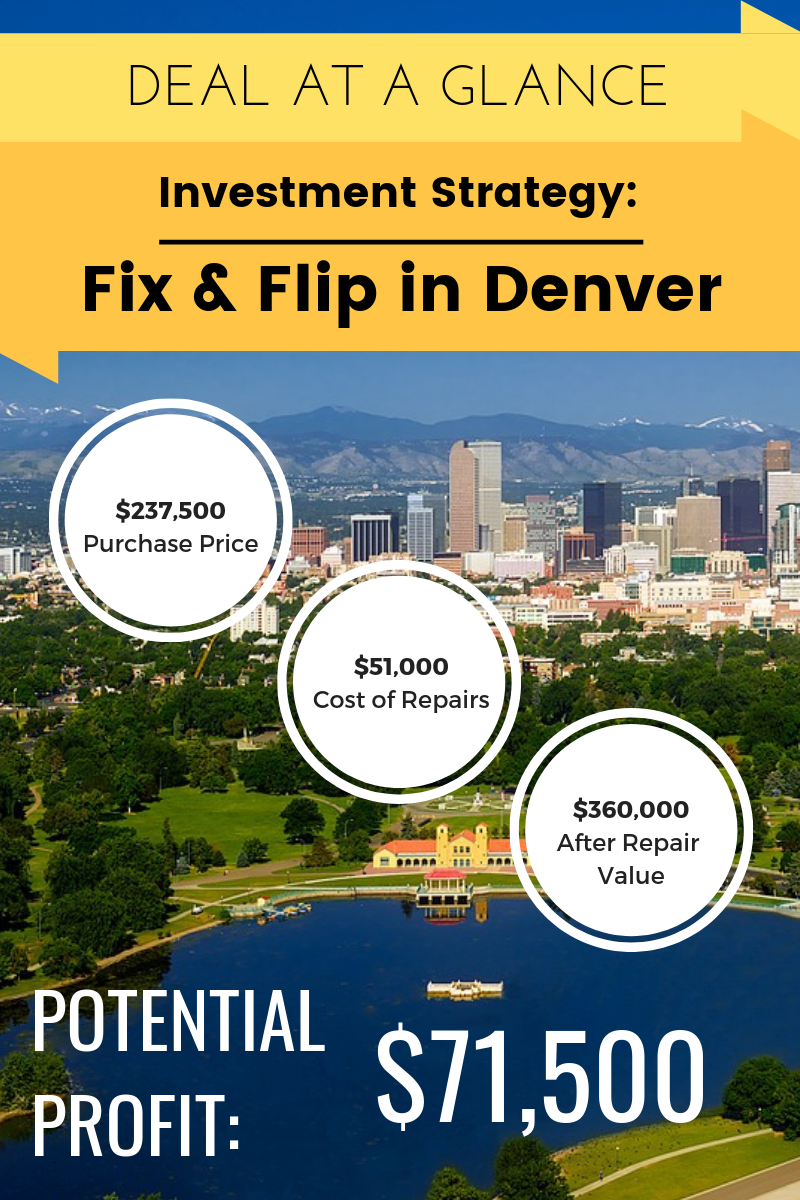 Listen to the audio below to hear all about his real estate investing adventures, plus…

How strategic networking leads to successful investing
Advice for working with hard money and private lenders
How pull comps and estimate repairs
NOTE: Charles is a premium member. He received a FULL refund of his upfront membership fees for simply doing a deal! Find out more about our premium membership here.
Click below to listen to the interview:
Charles Lee Interview
Tell me a little about yourself…
When you initially started real estate investing, what piqued your interest to jump in?

I've been a contractor for about 14 years and I've done some real estate investing in the past, but it's been about 25 years, so I was getting to the point where I needed to do something other than contracting. I looked at real estate as another area to develop a different business for myself.

How did you gather your knowledge on investing?

I've gone to some seminars. I've actually done some investing in the past. Done a lot of reading on the subject. I've got a bachelor's degree in business, and I was a former CPA and tax accountant. I used my education and research to inform myself on investing.

I've got a lot of business and construction background and it seemed like this would be a good business for me to start up.

Was it difficult to take your first steps?

It was. I had been thinking about this for the last year and a half and just always hesitated to get out and start looking for properties. You know, maybe because that first one would then mean I'm committed to it and have to go forward from there at that point.

But, once I finally made that final decision that this is what I wanted to do, it took me about three or four weeks from that point to find my first project.

It seems like you prefer to fix and flip, but have you thought about doing rental investments?

I'm actually going to be doing both. I'm starting with the fix and flips because I want to take the capital that I do have and hopefully grow that with the fix and flips. Then I want to use some of that growth to build up a real estate portfolio for rental properties that will help generate my retirement income for myself and my wife.


Tell me about your biggest mistake you've made so far in real estate investing?

Well, so far I haven't made any real big mistakes, knock on wood. What I've done to help avoid that is that I've got a network that I've started to develop with real estate brokers and other fix and flip people. I've been reaching out and bouncing ideas off of them as I'm going through this process to try to get a knowledge base, and avoid making big mistakes.

But even with that, there have been some things that I've overlooked in properties, but fortunately I didn't end up buying them. When I've gone back to look at them a second time there's some things that I've missed. It would have cost me thousands of dollars had I not done a better job of doing the inspections and bringing in a couple of experts for areas that I thought maybe I knew enough on my own.

You've learned that it's probably best to get an expert's opinion?

Absolutely. Using their expertise to figure out the cost and the time needed to do the improvements. Because when you're doing a fix and flip property, everyday you hold the property you're incurring more interest expenses that chews into the profitability on the project. So all of those are very important decisions when pulling together projects.

How did you begin creating your network to gain their input on real estate?

Actually, a lot of it has come from your website, MyHouseDeals. I went out and got a membership to your website.

The property that my wife and I just purchased, was actually listed on your website and I started working with the broker that had that listing. Then he introduced me to a couple of contractors that specialize in areas that I don't have any knowledge in. And then, again, networking through those contractors, they introduced me to some other real estate agents in the area.

So it's just been a lot of networking and putting together a group of people that can help be a big support and help out whenever I'm making decisions on a property.

In what ways has investing affected your lifestyle?

Well, I'm still pretty new to this. It's only been about four weeks, and it already looks like it's going to be a viable business for me to grow and develop over time.

So I'm looking for the freedom of continuing to be my own boss. I've been that way for the last 14 years having my own construction company. It'll be nice to be able to invest full-time rather than having to go out, get a job and work for somebody else nine to five.

Also just having the freedom to go out and find properties and be involved in developing something for somebody else in our local economy. Putting together a nice house that some family can afford to move into. So there's those benefits, as well as just providing for myself.

When you were on our site, what kind of property were you initially looking for?

I'm looking for what I would deem "percent home buyer properties". So they're not the high dollar properties.

In the Denver area, that's going to be something that's in the $300k to $400k range when you put it back on the market to sell it to the ultimate buyer. Once I get them fixed and ready to sell, they're going to be $400k/$450k tops.

It's nice to have your website where I can go through and I can sort for just those specific kinds of properties. I can tell it the area that I want to look in, which is the Denver metro area.


Then I can tell it the dollar value of the properties I want to look for, and start scanning through the search results to find properties. It's been a real help to have that kind of the search tool available.

How are you able to pull the comps?

I do a lot of work with Zillow, and I have a couple of real estate agents that I work with to help pull comps for me. Those are the folks that are in my network that I'll be listing properties with, so they're happy to help me try to get a good property to purchase and fix up. We'll be working together on the backside selling the rehabbed property to an end user.

It's developing that network and having those folks available so that I can pull upon their expertise to gather the information I need to be able to make a decision at that point.

What type of strategy did you use to negotiate the price?

Since I was a contractor for so long, I'm able to do a pretty good job of figuring out what the costs are going to be to remodel. Then I put together my best and final offer the first time going through and don't waste a lot of time negotiating back and forth.

I've got hard money lenders and also private money lenders that I've been able to develop relationships with. I just make an all cash offer for the price that I think is fair and reasonable for the current condition. If the sellers are willing to accept it, great, if not, I just move on the next one and keep on going through the list.

Did you use both hard money lenders and private lenders for this deal or it was just private lending?

On this one, it's private lending. I've already set up a credit line with a hard money lender, and I'm out looking for my second deal right now.

How were you able to find a private lender?

What's interesting is it's somebody that I've known for quite a while and I've helped for a while. They were actually a customer of mine from my construction business, and we've talked over the years how it would be nice for us to do some work together if I ever were to get into the real estate world.

I've developed that trust with them and they were comfortable with me, so then it was just about finding the right property, showing them the numbers and then moving forward from there. It worked out great.

With hard money lenders, it's just a matter of trying to find who is lending in this area, what their requirements are, filling out their pre-app information and getting pre-qualified. So it's no different than being a home buyer looking for a retail property.

After you get pre-approved, then you'll have a funding letter, and when you go out to look at future projects, you'll have that funding letter that you can present with your offer. That way the seller of the property knows that you're a viable buyer, you're not just trying to tie up the project and cause them headaches.

Do you have any advice for new investors?

Try to reach out to experts. Real estate brokers are great resources and there really are some good ones. You'll know it when you talk to them. Do the interview process as you would anything else in your life, and develop a business model with all these experts working with you.

And the same thing for contractors. You just have to pick up the phone and talk to a lot of people. I spent probably two months just making contacts and developing a network that would eventually turn into my real estate investment business.

I actually was doing that before I was even looking at properties. That network helped me go out and search for properties and then helped me fix them up once purchasing them.

So your advice is just to commit, then build your network up and use experts to make smart decisions?

Yeah, exactly. For me, the first one was the hardest one. Making that first commitment to go out and get the first one took me 18 months. But now that I've got the first one, I'm already looking for the second one.

You do all the groundwork you need to, and at that point you've got a repeatable business model in place. It's cookie cutter. You just rinse and repeat. Do it over and over again.

And it's been a great help having MyHouseDeals as a tool. I'm looking forward to continuing to use the site from here on forward.