Real Estate = The Easiest Path to Being A Millionaire [Derek's Story]
Derek researched and found out that real estate investing was the most consistent way many Americans became millionaires…
He spent three months doing about 40 hours of research every week—reading and researching, listening to speakers and going to networking events.
He's going to make about $300,000 or more on his very first deal. He'll also share the unique financing method that saved him thousands of dollars AND put money in other people's pockets.
After rehabbing the property, Derek decided to do this deal as a turnkey rental instead of holding it for himself. (Find out why…)
Listen to our fantastic conversation with Derek to hear more about his investing experiences, the deal he found on 'MyHouseDeals' and his tips for new investors plus…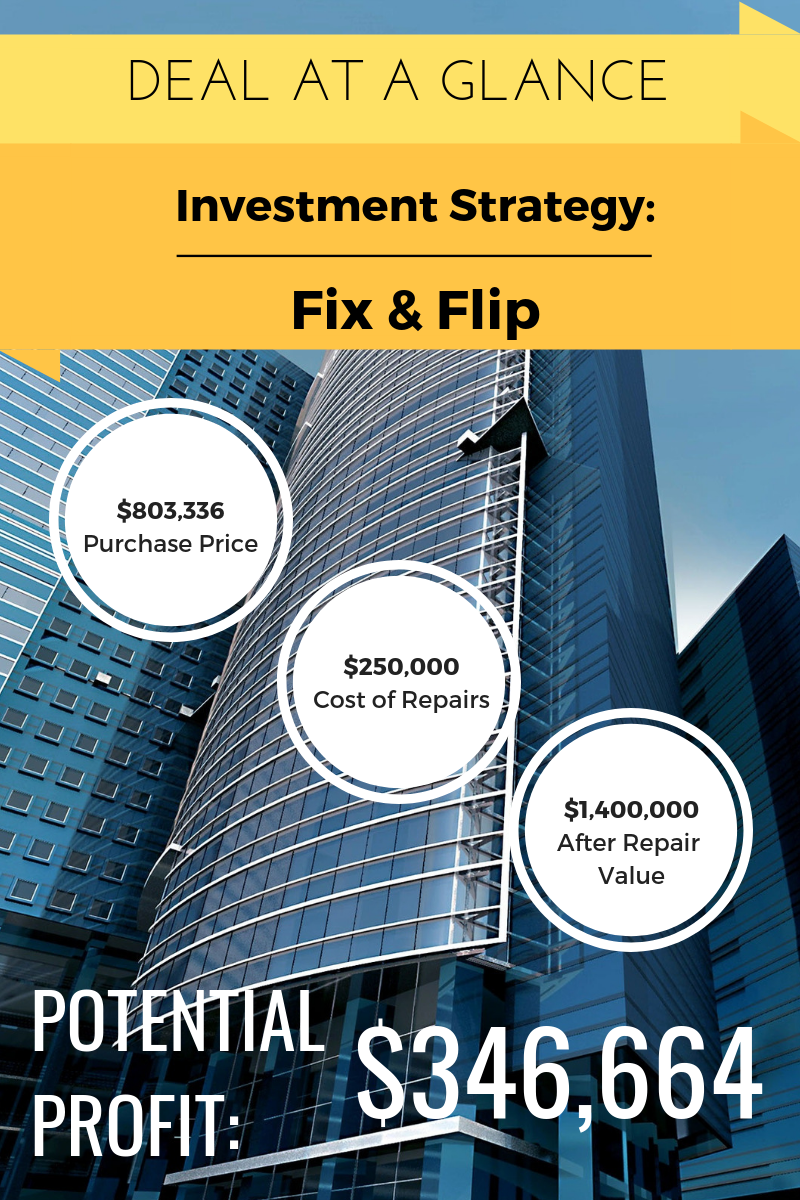 How to raise money for mega multifamily properties
Best strategies for managing multifamily turnkey units and properties
Why you should choose a niche target market
NOTE: Derek is a premium member, he received a FULL refund of his upfront membership fee for simply doing a deal! Find out more about our premium membership here.

Tell me about yourself…
What made you interested in real estate investing?
Ever since I was a teenager, I've always been interested in entrepreneurship. I took a finance class back when I was in high school that solidified the importance of financial management and diversification.
As I grew up, I realized that having one stream of income was not the best way to plan for my financial freedom. So, I started looking into other forms of investment like stock markets, online stores, and e-Commerce.
I looked at the history of the wealth of the United States of America, and it all boiled down to real estate. Real estate has always made the most millionaires in the history of the United States of America.
For me, it only made sense to invest.
How did you educate yourself on how to invest?
The Internet is an amazing thing. I spent three months diving deep into other success stories and learning exactly about real estate market, what the risks are and how to manage those risks.
I did a lot of research. It was like taking a 'full-time-job-worth of research'.
Within those three months, I attended lots of local real estate meetings, met with other real-life real estate investors, got a mentor and learned as much as I possibly could.
I never took an official course but much of my knowledge came from a lot of online deep dive research.
What specifically were you looking for in your search?
The broader spectrum of what I did was looking into real estate investment, 'fixing and flipping', studying mistakes of other people and an in-depth study of the Southern California market: Los Angeles County and surrounding counties in Southern California.
How did you finance this deal?
During my research, I discovered two new terms: 'hard money lending' and 'private money lending'.
I contacted some private money lenders to know what they looked for in a deal. That was the point I knew the time was right to invest.
Did you decide to go with hard or private money lending?
I did a mixture of both.
A hard-money lender covered 85% of the deal. Then, I went to my family for the rest. I and a few of my family members created a 'small' private money-lender group.
We incorporated the company. I did all the legal work for the registration.
This is the strategy we used to raise the down payment and rehab costs.
Can someone get the same result as you did?
Yeah, and that's the best part. It is actually easy. For me, getting my family together to create the little private money fund was actually the easiest part in the entire process.
My family is big into the traditional real estate method. They would buy, hold, rent and sell. They did it in such a way that the property ended up paying off its value over a few years.
But after the 2008 market crash, some of them stopped being active.
How did you get them on board?
I educated them on the modern real estate technique of 'fixing and flipping'. I also ran the numbers to them. Numbers never lie. Simply showing them the numbers that we will be able to get by remodeling a property and selling was enough to get them on board.
I also let them know that those funds would be secured by the title deed of the property.
Knowing those facts, it was easy for them to pull the money together confidently. Everyone came up with $15,000 each. And we raised $150,000 for the down payment.
Anyone can use this model!
How much money did you make on this deal?
This is my first ever deal.
We're still in a working process. The numbers are great and strongly supports this specific type of multifamily units in that area.
When we are ready, we expect that within 30 days of relisting it, we will close the deal with a buyer.
We have received offers from many investors. One specifically wanted to buy the property from us for about $100,000 more than the initial payment for the property.
But we will continue with the process of rehab and remodeling.

What is your selling strategy?
After this rehab process, we will have new tenants come in at a new rent rate.
We are pricing the individual units 'less than fair market rent' in order to rent it quickly. Once it is turnkey, we will turn around and sell the property with all the tenants in place to an investor that is looking for rental income.
Is this your strategy moving forward?
Initially, I steered away from multi-family properties because they are a bit more complicated. They are harder to finance and the projects involve helping the tenants to move and resettle.
But, thanks to MyHouseDeals, we found a property that was perfect for us. The numbers were great. I couldn't believe they were selling the property for that amount: it was impossible to look or walk away from this deal.
Our hard money-lender appraised and found out that we purchased it for $200,000 under the appraisal price.
We like this model because investors are usually played by the numbers. As long as the numbers are good, you'll always be able to sell quickly. It has worked out beautifully for us that we are considering using this model again in the future.
How are you going to split the profit?
We actually intend on making more.
The $950,000 offer for the property at the moment is if we sell it today without construction. That means $100,000 without doing any rehab. But we've decided not to do that.
There will be much more value in remodeling the property and selling the property turnkey come January. In that case, we expect that we'll be selling the property around $1 million or $1.4 million which is about $150,000 below the market value. We are looking at about $450,000 in profit after closing costs and realtor commissions.
After shared, it comes to about $6,700 per person. They will get the $15,000 plus $6,700 back. This is about 50% return on a three months investment.
$450,000 minus the $67,000 leaves us with about $300,000 which will be used to invest in another project.
Is doing a turnkey rental better than being a landlord?
I believe that doing it this way will allow me to do more deals in a year. When I rent this out, we will be receiving a great rental income for the long-term.
But, at the moment I am not interested in long-term streams of income. I would rather receive a lump sum of $300,000 and move on. It will be more profitable for me to do three or four deals in a year than to just to have a buy and hold.
Do you have any advice for investors?
I have realized that investors love numbers.
Investors that buy multifamily properties are purchasing it solely based on the numbers. As long as you calculate the numbers and they are fair, held up and supported by real evidence, an investor will certainly buy it.
The Recap.
Derek had an in-depth research on 'American wealth' and discovered that real estate and real estate investing was consistently the best way to get wealth.
For three months, he spent time researching, reading, listening to speakers, going to networking events, and finding a mentor.
He honed in on a specific market in Los Angeles and realized that it would be a good practical market to invest in.
He creatively combined private and hard money lending to finance this first deal. After incorporating his private money lending group, ten family members made equal contributions to give funds for the down payment.
Derek believes getting the numbers and timeline right are critical to a successful multifamily real estate investment. He smartly included a buffer in the holidays to help with project planning, execution, and an attainable timeline delivery.
Last, he decided to focus on turnkey rentals over 'buy and hold' strategy at the moment. This is because it helps him with a quick turn over for other deals.