Flipping a House Checklist: Here's What You Need to Know
Don't leave it up to Saint Nick—are you making your house flipping list and checking it twice? Whether it's your first time flipping a house or your hundredth, it never hurts to check, double-check, and check again to know you're hitting every step of the process. Today, we're going to share our top-secret flipping a house checklist that will cover all of the details you need to successfully flip the house of your dreams. So, what are you waiting for? Let's dive in!

Getting Started
Getting started should be your first step. But, how exactly do you begin your flipping a house checklist? Well, you probably want to start with your budget, because that's what's going to determine what the rest of your checklist will comprise. Basic house flipping finances consist of ARV (after-repair value), estimated repair costs, contractors, hard money lenders, etc. This list is not exhaustive, but it's a good starting point for both basic and more complex house flipping projects.
Finding Property
Okay, you've created your budget. What's next? Good question, because this is where the real fun begins! Now that you know your price range, you can begin searching for that perfect property you've been dreaming about all of this time. Finding properties that meet your criteria and your budget can be tricky, but we're here to help. MyHouseDeals Premium does all of the work for you; that's right, simply type in the city or state you're interested in and we'll provide you with access to properties 14 days earlier than free members. It's that simple!

Another important step to take while finding the property is researching the local real estate market. Consider things like the school system, property values nearby, home trends, and the neighborhood in general. Also, remember who you're aiming to sell to. A family with several children versus an elderly couple versus a young adult is likely going to have different priorities, budgets, and expectations. Don't worry, this information is easy to find and will most definitely pay off in the end!
Negotiate
If the thought of negotiating makes you feel queasy, you're not alone. However, a simple negotiation could be the difference between securing your dream property and simply settling for what you can afford (And let's face it, nobody wants to do that!). First, you want to follow a rule called the 70% rule. Millionacres has a great, detailed article where you can read all about it if you're unfamiliar with this rule. However, here is a basic description: the 70% rule says that you can't spend more than 70% of a home's ARV, or after-repair value if you want to make a profit. This rule ensures that you will stay on budget and, in the long run, secure a solid return on investment (ROI).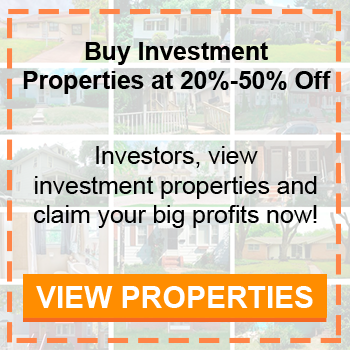 So, you know what the 70% rule means now, but what does this have to do with negotiation? Well, if the property you have your eyes on doesn't quite make the 70% rule, you can always negotiate on a cheaper purchase price, especially on a fix and flip type property. It's pretty common for sellers to bring the price down if you just ask, and oftentimes they will set the price a little higher at first because they expect buyers to negotiate it down. Sellers' main priority is getting that property off their hands and having a simple closing process, so definitely don't be afraid to face your fears and negotiate away!
Plan Ahead
Once you've budgeted and know that you are following the 70% rule, you can start planning what exactly you want to do with your property in terms of renovation. Things such as reparations (both essential and non-essential), upgrades, changes, and other projects should be planned ahead of time and each area should have its deadline. That way, costs don't sneak up on you and you'll have ample time to reassess if costs do become an issue. We recommend utilizing an Excel spreadsheet or a physical planner/calendar to keep track of projects. Like most things in real estate, organization is key!

Final Checklist
Fast forward to when your project is complete and you're ready to start listing your shiny new fix and flip on the market. But wait, not yet! There are a few things you want to be sure are done to maximize your chances of selling at the right price and verify your home is in tip-top shape for that perfect buyer. Here are a few of our suggestions:
Turn on Utilities: There is nothing worse than getting your utilities shut off right before you plan to show off your new project. The easiest way to plan that this doesn't happen is to set up an autopay system that guarantees your utilities will stay up and running even if you forget to pay a bill. Another reason this is so important is that say your home is in Texas in the middle of summer. A couple of weeks without AC could be detrimental to all of the hard work you just put in and potentially cost you hundreds of dollars to repair the damage. So, with that being said, turn on your utilities and stay cool.
Get a Second Opinion: Even if you've triple-checked your property and it looks ready to go, it never hurts to get a second pair of eyes. Scheduling a quick walk-through with contractors or a real estate agent could be the difference between landing a sale or potentially missing something major that could cost you big time (literally)!
List Away: Now for the most exciting part: it's listing time! However, before you get too excited, don't forget the final touches that will get buyers excited. Small things such as professional cleaning, staging the home with aesthetic furniture, and hiring a professional real estate photographer make all of the difference, especially in a competitive market. You're also more likely to get the most bang for your buck if the house looks sparkling clean and move-in-ready, so don't be afraid to devote any leftover budget to make these final touches as nice as possible!
Summary
We've covered quite a bit of ground in this post, so let's recap our flipping a house checklist. First, you need to get started by defining your budget. Next, before you find that perfect property, make sure you're putting thought into the property you're flipping regarding your market and prospective buyers. Once you narrow down which home you think will make the best project, consider negotiating! The only thing better than getting your dream house to flip is getting it for a good price. Finally, plan and go over your final checklist. This includes jotting down every renovation and addition you plan to make with proper deadlines and then, lastly, have yourself and a professional pair of eyes take one final look before you list away. While this process may seem tedious, we're confident that this checklist will allow you to flip with total confidence and impact your bottom line. Stay tuned for more helpful articles like this one and, as always, happy, and profitable, investing!