How Dario Creates Passive Income in Retirement
Dario started his investing business with a simple question…
How do you flip houses?
Now retired and residing in Florida, this former New York City resident of about 40 years was looking for a way to make some extra cash.
He knew real estate investing was the answer.
As a self learner, Dario researched and read everything he could online about flipping houses. He quickly found MyHouseDeals and started seeing deals he was interested in.
Dario decided to upgrade his membership to be the first to see the best deals. And guess what…it worked!
He found his first deal. The seller needed to sell the property quickly, so Dario acted fast. He partnered with a friend to help fund the deal and within a few days…the property was theirs!
The property required no major repairs and was already occupied with tenants. Dario went from not knowing much about real estate investing to doing a deal and becoming a landlord practically overnight!
He feels fortunate about finding his first deal and as he grows his business he is looking to do more fix and flip deals.
Listen to our conversation with Dario to hear more about the deal he found on MyHouseDeals, the experience of doing his first deal, and his investing plans for the future plus…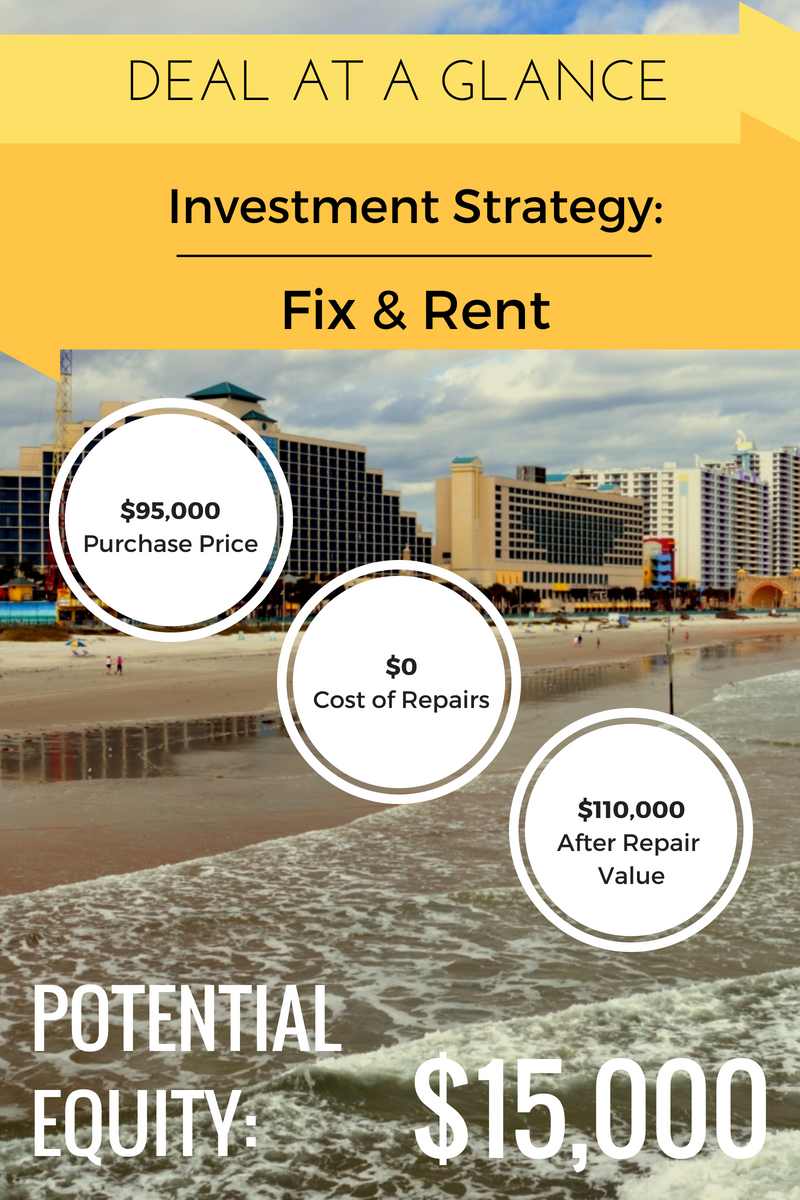 MyHouseDeals.com Success Stories
Benefits and challenges of being a first-time landlord
How to find a good partner on a deal
Advice for new investors who've never done a deal
NOTE: Dario is a premium member, he received a FULL refund of his upfront membership fee for simply doing a deal! Find out more about our premium membership here.

Tell us about yourself…
How did you find out about and get into real estate investing?
First, I looked online. By chance, I came across MyHouseDeals and started to look all over the place. I liked the stuff I saw: the properties, the pricing and what not. That was basically my introduction into real estate investing.
Were you already aware of what real estate investing was?
I became curious about flipping houses, so I just went on the internet. I knew I was interested in learning more, so I started looking around on different websites.
What made you interested in learning more about house flipping?
I'm retired and once you retire, you look for other ways or means to make a buck here and there. I live in Florida, so there's a lot of good opportunities for house flipping here. I wanted to explore my options.
What were some of the resources you used to teach yourself how to flip a house?
First, I started by researching tax lien certificates and passive income topics. Then, I moved on to looking at websites, and I came across MyHouseDeals. I liked the content I saw.
I looked at other businesses offering information like MyHouseDeals, but it just wasn't the same. MyHouseDeals has the prices and choices of properties that I want. Overall, the tools on the website are great.
How did you find a flip deal on MyHouseDeals?
When I wasn't a member, I was only seeing the leftover deals. Whatever I saw was already posted for at least two weeks.
I found the MyHouseDeals membership to be attractive and decided to pay for it. Then, once I started to see deals and prices first hand, I immediately saw the property that I ended up purchasing. I saw the opportunity but was a little short on cash. After getting a bit of help, I got started doing my first deal.
How did you buy the property?
My first property was a little bit over my budget. I have a friend, and he had done deals like this before. He didn't have a membership of any kind and just did things by himself. I told him about the deal I found, and he thought it looked nice. We went for it together. We called the seller, and two days later, we were in.
Did you pay cash for the house?
Yes, we paid cash.
How did you go about the next few phases? Tell me what it was like figuring things out for the first time.
My experience was a little different from average. We found this deal where the owner had purchased the property, and he was a fixer upper as well. He already rehabbed the house, so we didn't have to do much to the house once it was in our hands. It was already done.
Why did he decide to flip it and then sell it to another investor?
We asked him the same question. He told us that something happened in his family, and he needed money right away. He didn't really have a choice. The house had tenants, and he was collecting rent money from his investment already. But because he had some financial pressure and we offered cash, he went for the deal.

How did you and your partner make decisions about splitting the workload and sharing revenue?
The good thing is we live five minutes away from each other. We are pretty good friends, and once you have a good relationship, the rest is easy.
For example, the property is about half an hour away from where we live, and we took turns going. One day, I'd drive and go to the closing with my car. Then on another day, he'd drive and go to collect rent.
As with revenue, my friend receives the checks and gives me a fifty percent share. With purchases for the home, we also go 50/50.
Do you have any advice for people looking to partner with someone on a deal?
You have to trust the other person. If money's involved and you don't trust the other person, you may run into conflicts later on. If you want to partner with someone, you better make sure that person is honest. The two of you should always be on the same page.
If you have any doubts, look for someone else or do things yourself. You will be better off working as an individual because you know yourself well. The key is making sure your partner is trustworthy if you decide to work with one.
Are you managing the tenants of your first rental property yourself?
Yes, I am.
Tell me what that's like as a first time landlord.
Having tenants can be tricky in the sense that tenants may have a big family, a small family, or pets and that they may not care about the property because it's not theirs. Your experience as a landlord really depends on the situation you're in.
In my case, it just happened that the tenants were two men with no pets. My partner and I introduced ourselves as the new landlords, and these guys even told us not to worry. They promised to take good care of the property (the investment). I lucked out, but my friend had been in bad situations with tenants before. He explained to me some of the problems that he had encountered, and it's amazing that he went for a rental deal again.
Do you think you'll continue to manage your own rentals or would you ever consider property manager?
We plan to hold the property for at least a year and then flip it. Right now, we have tenants because we got to know them and saw that they are good people. We used renting out the property to start making some money as the house catches more value. At the end of the day, our plan is to continue buying, fixing, and selling.
So you want to focus on flipping?
Exactly.
How is retired life so far?
Beautiful. I lived for forty something years in New York City. It's a big and complicated city; I just got tired of the rushed lifestyle. I live in a private community now. It's a big change, but I was looking for a peace of mind. I wanted to slow down a little.
Have you done any more deals since your first one?
My friend and I are planning to do more, but we are waiting a little to get some more cash together.
What advice do you have for the guy who's done zero deals?
If you're going to follow my footsteps, just do your homework. Do a lot of research and work with companies that have good reputations. Compare all your options and offers and go for the best one. You got to be smart about your decisions.
Once you do find a good company like MyHouseDeals, you stick with it, and it becomes your family.