What's Your Excuse?
I've been active full-time in the world of real estate investing for over five years now. And during that time, I've seen dozens of investors go from dirt poor to filthy rich. But I've also seen dozens of investors who, well, stayed dirt poor. And what I came to notice over time was that those who never accomplished their dream of financial independence had one thing in common…
EXCUSES … PLENTY OF THEM!
I've heard 'em all. "I don't have time." "I don't have money." "I have lousy credit." "The savvy investors pick up all the good deals before I can get to them." "Everyone just wants to take my money." "I can't find a mentor." "I don't want to make a big mistake that will make me and my family even poorer than we already are." "Now's not a good time to invest." I could go on, but those are the most common.
I want you to take a good look at the list of excuses I just mentioned above. Do any of them resonate with you? If so, now's the time to admit to yourself that you're letting an excuse hold you back. And now's the time that you start working each day towards finding a solution or a work-a-round to that problem. Over time, you'll come to realize, just like I have, that there really isn't a problem that can't be overcome. There is ALWAYS some sort of solution. It just may look different than you initially anticipated.
Successful people don't make excuses. They find solutions.
This fact of life isn't just true for real estate investors. It's true for all people, regardless of what they do. I was reminded of this a couple of weeks ago when a few buddies and I went to see Ronnie Milsap in a live concert just outside of Houston. For those of you who don't know, I'm a HUGE classic country music fan. And an even bigger Ronnie Milsap fan.
Did you know that Ronnie Milsap has had over 40 #1 hits in his career? Some were on the country charts, and a good chunk of them were on the pop charts. He's known for is vibrant and powerful voice and his excellence on the piano. He's truly one of the legendary performers of all time.
But did you also know this? … RONNIE MILSAP IS BLIND! And he's been that way since birth. Yet, in spite of this, he accomplishes more in a year than most people do in their entire lives. So next time you encounter an obstacle in your real estate investing career, keep Ronnie in mind. If he can overcome blindness to become a country music legend, surly you can find a way to buy your next property.
I'll leave you with some pictures from the concert. My friends and I bought our tickets early, so we ended up getting the best seats in the house … front row, right in the center. Best tickets ever! These pictures were taken with no zoom. It felt like we were actually on stage. Ronnie, you rock!…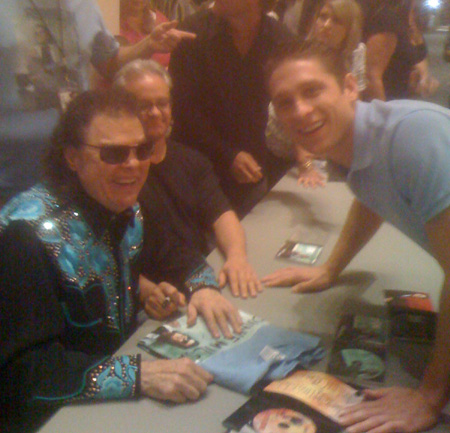 Click on the image above to veiw the pictures.
For all of you who want to read more about Ronnie Milsap, just go to http://en.wikipedia.org/wiki/Ronnie_Milsap.
Until next time, happy (and profitable) investing!
Doug Smith
President
myHouseDeals.com
P.S. Want to take a short cut to real estate riches? Then let us deliver the hot list of "under the radar" bargain-priced properties to your computer screen each day. Start your free trial today by going to www.myhousedeals.com/freetrial and get access to $1,253 in free bonuses.