The Teacher Becomes the Student
The whirlwind year continues! Alex (a manager at myHouseDeals.com) and I just got back from Orange County, California. We were there to attend an intense two-day seminar, which was put on by the legend of all legends and the teacher of all teachers, the 50-year real estate investing veteran … Jaaaacccck Miillllleeer. The topic was "Surviving and Thriving in the Real Estate Bust".
Jack doesn't put on your typical real estate seminars. There's no motivational pep talks, no hype, and no beginner stuff. It's advanced. Very advanced. So advanced, in fact, that the room was filled with 200 students (most real estate millionaires), and almost all of them were taking notes the entire time. Even to them, much of what he taught was either brand new or older but with an interesting twist.
Like I said, the crowd was laced with millionaires. You probably know a couple of them from The Vault (www.myhousedeals.com/thevault). They are Tom Conway from Palm Springs, CA and Michael Jake from Colorado Springs, CO. Also in attendance was Dan Doran, The Marketing Man. Many of you may know Dan from his articles, presentations, seminars, and his business partnership with Richard Roop.
I took pages of notes, but this blog isn't big enough to contain all of them. So I'll share a few key points with you. Then we'll get on to some fun pics!
FACTS:
* Only 2% of all loans are in default.
* But 7% to 9% of sub prime loans are in default.
* 78% of markets are appreciating. We just hear about the other 22%.
7 QUICK TIPS ON THRIVING IN TODAY'S MARKET:
1) If your immediate neighborhood is depreciating or has slow sale times, look outside of it. Be willing to drive farther.
2) Pay to stage your property. If it costs $2,000 to stage your property, and it speeds up your sale by 2 or 3 months, then it's worth it.
3) Be open to trades. For example, do they want you to take over their property Subject 2, but they don't have enough equity? Then offer to take their 4-wheeler, their boat, their car, etc. in return for taking over their payments. Then sell that stuff on eBay or CraigsList.
4) Fix every last thing in the house. If you have to apologize about something or you have to say "I'll fix that after you sign the contract", then you're not going to sell it at all.
5) Sell for 80% of fair market value to pay off worrisome loans, but carry back a re-purchase option at the sale price to capture the remaining 20% of your equity. Later, either hold the option as a long term passive investment, sell it to the occupant, sell it to an investor, or wait until the house sells and capture your profit at that time.
6) Don't wait for tenants to come to you. Go get them! Attract rent-to-own buyers for your houses by offering apartment dwellers a credit against rents and deposits that they have paid to their current landlord.
7) Lease other investors' vacant properties and re-lease them to tenants on what's called "cash flow sandwich performance leases". You make the difference in what you pay the landlord and what you collect from the tenant. The owner of the property is at risk if the property declines in value, not you. Do enough of these, and you become a cash flow king.
There's a lot more we could get into, but that's what the actual seminars are for. And now for the pics! Just click on the image below to view them…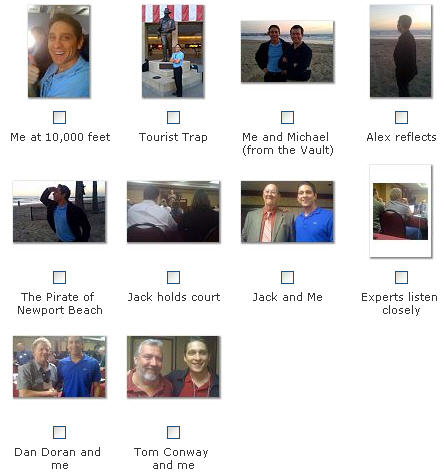 Until next time, happy (and profitable) investing!
Doug Smith
President
myHouseDeals.com