The Best Zip Codes for Investment Property Right Now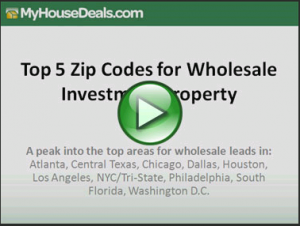 With the economy in a slump and the real estate market slowly beginning to show signs of recovery, knowing the area in which to purchase investment property is more important than ever. There is no substitute for conducting your own research as to which market area and/or neighborhood you wish to purchase in…
… But we sure can help you make an informed decision about the location of your next deal. Want to find out which are the most active zip codes for wholesale deals in the top US Markets? We just released a special report with the Top 5 Zip Codes for buying and selling investment property and you can be one of the first investors to access it!
Click here to access the "Top 5 Zip Codes for Investors" special report
These zip codes have been pulled from our own database. Only the zips with the most wholesale deals posted over the last 90 days in each market made the cut. This means that this report gives you an accurate, up-to-date picture of where the most wholesale activity seems to be happening within your market area.
Why should you check this out? These zip codes are more likely to have motivated sellers and/or properties in disrepair, which can lead to greater discounts and profits for investors
This is a great resource to have when researching your next deal. Feel free to share it with your network of sellers, buyers, and fellow investors. Just send them to http://www.myhousedeals.com/top-zips-2010 to view the list.
Until next time, happy (and profitable) investing!
The Team at MyHouseDeals.com