The Best Ways to Find Short Sale Deals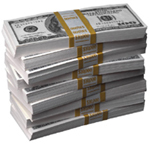 Before I reveal the best ways to find short sale deals, let me first explain what a short sale is.
A short sale is the process of getting a mortgage company to accept less on a mortgage than is due as "payoff in full". This process is best described through a hypothetical scenario. Let's say that a seller wants to sell their property to you so that they don't get foreclosed on. And let's say that you want to buy their house for $70,000 but they owe $100,000 on their mortgage. The short sale process allows you to get their lender to accept $70,000 as "pay off in full" without holding the seller responsible for the difference between the $70,000 and the $100,000.  And it keeps a foreclosure off of the seller's credit report. Short sales allow investors like us to reap large profits from "no equity deals" by CREATING equity.
Now on to the good stuff! The best ways to find these deals…
If you don't have any money to spend on marketing, the best place to start is by getting referrals from other investors.  Regularly attend your local real estate investing meetings, and let other investors know that you do short sales. Ask them to refer "no equity" deals to you, and tell them that if you get the short sale accepted, you'll pay them a referral fee of $500 to $1,000. This strategy is attractive because you don't have to come up with any money out of pocket. You pay the referring investor AFTER you get paid.
If you have a little money to spend on getting these deals, you should buy the pre-foreclosure list from a local list provider.  And you should call these people one-by-one to see if they're willing to sell their property to you. If their phone number isn't listed, get it from whitepages.com, anywho.com, or zabasearch.com. Almost all metropolitan areas have one or two local companies that sell this list. To find that company, go google.com and search for "YourCity pre-foreclosure list". They compile this list at the courthouse, and they sell it to investors for a small monthly fee. If there is not one in your local area, two of the more popular national providers are RealtyTrac.com and Foreclosure.com.
You can also find plenty of short sale deals under the Motivated Sellers tab in the Members Only area of myhousedeals.com. The sellers on this list recently filled out an online form saying that they need to sell NOW, and they're willing to sell at a discount. A large number of them are behind on their mortgage payments and willing to let you work a short sale. We get emails from investors like you every week who tell us about their latest successful short sale deal that they found in this section. (Get access to these Motivated Seller Leads by starting a FREE Trial here.)
Now, if you have at least $500 to spend on getting short sale deals in your pipeline, then pay attention closely. Your best bet is to send out thousands of direct mail pieces to people on the pre-foreclosure list. Get the pre-foreclosure list from one of the sources mentioned earlier, and mail out one or two different types of high-response direct mail pieces. There are two direct mail pieces that have worked extremely well for me.
First is the "check letter". To pull this one off, you need to buy a box of Versa Checks from Office Max or Office Depot. The first third of each paper you mail is the check, and the bottom two thirds is a white space. I suggest that you put a few thousand dollars as the check amount.  I personally put $11,000 and on the signature line, I type, "Please call me now to get this check signed." And I put my phone number nearby.
On the white space below the check, you should put a marketing message that encourages them to "Please call me for free consultation on how to stop foreclosure."   Some people call because they want to get the check signed, and some call because they want the free consultation. Once they do call, let them know that they may or may not qualify for that money.  A lot of times they don't because they have no equity, and you shouldn't give them $11,000 when you have to do a short sale.
The other excellent way to get people to call is through another direct mail piece, the post card.  I send what appears to be a yellow hand-written post card.  I choose yellow because it grabs their attention and handwritten for the same reason. But the neat part is that you don't even have to handwrite your message. You can actually get handwritten fonts from myfonts.com.  You can download these fonts and put them in a word document and type away. Then email the document over to your mailing service, and have them mail it out. You just sit back and wait for the calls to start pouring in.  Believe me, with the "check letter" and the "yellow hand-written postcard", they will.
If you want more ideas for effective direct mail pieces, you can get them from the pile of letters on the dining room table at the seller's house. These letters, of course, were sent by other investors. Often, there will be two or three pieces that stand out from the crowd. For the most part, you can copy those and integrate them into your next mailing. Just be sure to avoid the pieces with plain white envelopes and/or plain white letters. The sellers will likely put these boring pieces in the garbage can before they even read your message.
So how many direct mail pieces do you mail to each person? And what do these pieces say, word for word? All of this and much, much more is covered in my Advanced Short Sale System. Go to this page to learn more and to place your no-risk order. The system comes with a 100% money back guarantee, so you can't lose.
Until next time, happy (and profitable) investing!
Doug Smith
President
myHouseDeals.com