Tap Into The Internet Goldmine
The Internet is growing by leaps and bounds … whether you're onboard or not. Ten years ago, there were 36 million Internet users world-wide. Today, there are almost 1.5 billion users. And that number is still growing at a rapid clip.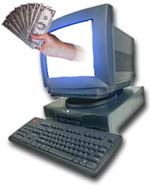 A specific trend has emerged in the real estate investing community over the last three years. More and more motivated sellers are using the Internet to sell their houses.
They go to search engines such as google.com and yahoo.com to search for terms like "sell my house fast", "we buy houses", "quick house sale" and more. They find an investor website, type in their info, and wait for the investor to call them back. Simple as that.
The top investors know about this trend, and they're already tapping into it like crazy. The Internet has become the #1 deal source for several of them. And some of these top investors are even hesitant to reveal their specific Internet strategies, hoping that other investors like you won't catch on.
But regardless of what some investors DON'T want you to know, it's your job to be in the search results when motivated sellers search for home buyers on the Internet. If your website is showing up, you're missing out on hundreds of motivated seller leads.
With that in mind, how exactly can you tap into this growing source of leads? Well, here are 3 steps that will point you in the right direction…
1. Hire a computer programmer to create a web page for you. The page should ask the seller for basic information about his house. And it should offer something for free like a free cash offer within 48 hours, for example. Or a free report about selling in less than 7 days. When the seller presses submit, their house info should be stored in a database or emailed to you. You can find a programmer at a website such as elance.com.
2. Since Google is the top search engine right now, hire a Google Adwords guru to generate PPC traffic for you. PPC stands for Pay-per-Click. These are the ads on the right-hand side of the screen when you search for something on Google. Each time someone clicks on your link, you'll be charged for it. You just have to make sure that those clicks are worth more in motivated seller leads than you're paying to Google.
3. Hire a SEO expert to get you to the top of Google's "organic search" results. Organic search pertains to the results on the left-hand or middle part of the search results. It does not cost you when someone clicks on your link here. Your cost comes from paying the SEO expert. Let's just say that most aren't good and most aren't cheap, so do your own due diligence.
I know these 3 steps aren't easy. I initially had a tough time finding the right people to implement them. But I have since "cracked the code" as they say. So now I have an unstoppable stream Internet leads flowing into my email inbox daily.
So why should you care? Because my team takes ALL of these leads and puts them in the Members Only area of myHouseDeals.com. You get access to these leads as part of your membership. They're under the Motivated Sellers section.
All of these leads are sitting in the members area waiting for you to act on them. The bottom line is that I spend well over $6,000 dollars per month on online advertising to generate these motivated seller leads so that you don't have to. 🙂 To access these motivated seller leads, just sign up for a free trail at www.myhousedeals.com/freetrial.
Oh, and I almost forgot, you get your very own website when you sign up for the 30-day free trial. It's part of the 9 free gifts. Motivated sellers will now be able to fill out the info on your site, and the seller and property details will automatically be emailed to you. No more stuttering "uh, uh, I don't have one" every time someone asks you for your web address.
I had a graphic designer create the layout, so it has a nice clean look and feel. In fact, it has the same layout as the website that has generated over 3,600 motivated seller leads for me in the last year alone. Oh yeah, and it cost me $2,800 in computer programming and design fees to have it created. That's what I paid. But you pay $0 as a member of myHouseDeals.com.
Until next time, happy (and profitable) investing!
Doug Smith
President
myHouseDeals.com
P.S. Be sure to get your 30-day free trial, which includes 9 free gifts valued at $1,253 and access to 150+ wholesale deals and motivated seller leads, at www.myhousedeals.com/freetrial.