Pics from Thursday's Live Event in Houston!
We had a fantastic turnout for the live event in Houston last night, and I want to thank everyone for attending!
Folks got there early to enjoy the trade show and network with fellow investors. Jim Goodchild spoke on "The near-term and long-term outlook for the Houston and National housing markets" and Brant Phillips revealed his "Lazy Man's Real Estate Investing System." Then it was on to more networking with our "speed networking" session!
The feedback was extraordinary! Almost everyone rated the event 5 out of a possible 5 on their evaluation forms. Here's what some of you had to say:
"These guys are great – very knowledgeable." — Jaymie
"Doug – You da best" — Dean
"Do it again! It's motivating to see actual doers in my market" — Antonio
"I had a chance to talk to people who could help in many ways." — Richard
"Speed Networking was great!" — Ricardo
"So much useful information that I can utilize in my investing!" — Michael
"Educational, informative, and entertaining." — Terry
We took some pics, and I'm sharing them below. Enjoy! … Can you spot yourself in the crowd?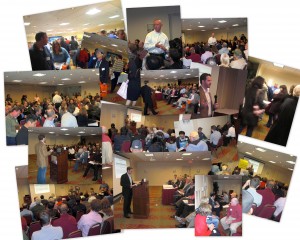 Again, thanks to everyone who attended, and thanks for all the love. I had just as much fun as you did. Many of you asked me when the next one will be. We're already planning to have another event like this soon, so stay tuned for the announcement. As long as you guys keep coming, we'll keep having them!
Until next time, happy (and profitable) investing!
Doug Smith and the team at MyHouseDeals.com