No Fears, No Regrets
Perhaps you saw the USA men's gymnastic team competing in the Beijing Olympics.  Sure, we all liked them because they are the Americans, but the rest of the world saw them as the stragglers, the Johnny come lately team, the ones who brought up the rear.  Actually, because of injuries to team members who were scheduled to compete in Beijing, two men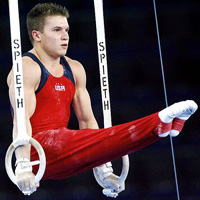 were added at the last minute.  One of them was told to suit up the day before they left for China.
Come from behind or not, they surprised a lot of people when they took the bronze medal in all around competition.  I remember watching the night they competed.  China's team was polished and performing to a very high degree of athleticism.  Japan was right behind them taking no prisoners on the way to the podium. 
Just before the Team USA was to begin, they huddled up and got into a squatting position.  They put their hands together in the center of the huddle and the media tuned a microphone in to eavesdrop on the conversation.  22 year old Jonathan Horton, 5 foot 1 inch all 126 pounds of him looked into the eyes of all his team members and said; "No fears, no regrets".  With that they threw up their hands in a cheered and went on to make history as the come from behind team with only a slight chance of winning.  Horton later went on to win the silver medal on the high bars in a stunning performance.
We can learn a lot from athletes, even if we don't play a sport or are not particularly interested in sports.  They know a lot about determination and focus.  They know a lot about not giving up.  They know a lot about bringing everything they have got inside to bear on their goals and not giving up until they reach them.  They know that you only lose when you quit, and the only person who can make them quit is themselves.
Interesting technique for getting what you want, don't you think?  A lot of getting what you want in sports or in real estate or any kind of investing is not giving up.  We all get knocked down and trampled by ponies from time to time.  The whiners limp off to the sidelines and make excuses.  The winners pick themselves up, dust their britches off, put their hat back on their head and continue to move forward to their goal.  There is magic in not giving up.  There is magic in keeping fear from running your life.
Everyone gets timid or afraid from time to time.  It's like a five year old child who is jumping up and down when you get in the car to go someplace.  The child wants attention, the child wants to drive, and the child wants to be in control of everything.  Fear is like that.  It comes in and gets to take over because it is screaming and distracting you and drawing you away from your focus and your goals.  Like the child, it can make getting to where you are going a nightmare.
But let's think for a minute.  The child is a part of us, and we care for them as being a part of us and we want them to be safe, but they will not be allowed to drive.  They will be along for the ride, but they will be in the back seat buckled up and WE are driving.  We are the ones in charge.  We're in charge of the child or the fear, we're in charge of the ride or the focus on the goal, and we are the ones doing the driving.  You can be afraid and still do it, you can be afraid and still go for it.  You can be afraid and still get what you want.
If you are going to do something, then do it.  If you are not going to do it, then why spend your time, your money and your resources playing like you are doing it?  It's a deception we use to justify not trying hard enough to prevail.  "Oh, I tried and tried, but the market wasn't right." Or "If it hadn't been for old so and so, I would have gotten that deal."  Any excuse will do if you aren't doing it.  Trying.  Like Yoda said; "There is no try, only do."
When you look back on your life today, I think you'll find that the list of things you regret is heavily populated with the things that you did not do.  The things you postponed, the things you didn't go for, the things you let your own fear talk you out of.  How would that list look, how many entries would you have on that list if you were driven by possibility of success rather than fear of failure? 
By the way, Horton won his silver in a daring routine that he had never done in competition before.  When asked why he took the risk of bombing in the Olympic competition with an untried routine, he said; "I knew that if I didn't, I wouldn't medal".
How's that for "no fear, no regrets"?  Well, we can't all be Olympic athletes, but we can learn to act like them where it suits us best, right in our performance.  Don't go to your grave with your music left in you unplayed.  Do your dance, sing your song.  Go for it.
Until next time, happy (and profitable) investing!
Doug Smith
President
myHouseDeals.com