MyHouseDeals.com member featured on "Flip That House".
Big News!…
Long time member of myHouseDeals.com, Derek Lechler, was featured on TLC's Flip That House on April 6th.
Derek graduated from college in 1998 and went on to work in Corporate America for a couple of years. Then he quit his job and started investing in real estate and has enjoyed great success. He's a long time member to MyHouseDeals.com and has bought at least 25 properties off the site totaling profits of approximately $500,000.
Recently he was contacted by the producers at Flip That House and they filmed an episode about one of the latest deals he bought off MyHouseDeals.com. He purchased the property for $26,000 and put about $18,500 into the property. He recently sold it and made a little over $27,000. Not bad!
I had a chance to interview Derek at one of his latest flips. Check out the video by going to http://www.myhousedeals.com/flip-that-house/derek.
He's buying up properties and taking advantage of the current market. Don't be scared off by the negative media coverage! Check out this picture of Derek and me in front of one of his recent rehabs. It's almost done and he's already moving on to his next profitable flip.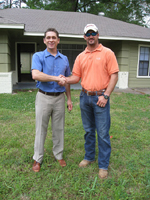 Until next time, happy (and profitable) investing!
Doug Smith
President
myHouseDeals.com