Live Event in Houston – Come for the Training and Information, Stay for the Networking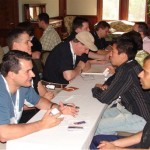 Have you registered for our live training and networking event in Houston yet? It happens tomorrow — that's Thursday, Feb 25 — so be sure to register now by clicking here.
This event will already be jam-packed with content from Jim Goodchild and Brant Phillips. They're speaking on "The near-term and long-term outlook for the Houston and National housing markets" and "The Lazy Man's Real Estate Investing System."
But in addition to the training sessions, we are going to deliver on what everyone at the last event listed as their favorite thing – Networking! And we're taking things to the next level by not only bringing back the Speed Networking session, but also adding time for informal (but powerful!) networking through the evening.
And in addition… Trade Show!
Vendors will be setup in booths that you can visit and exchange information. Best of all, they'll have special deals for you that you won't see available anywhere else. We are still reaching out to businesses that we think you would enjoy networking with, but so far we have amassed an amazing list of companies.
To attend the event and network with some of the most active real estate investors in Houston, you MUST register. We only have so much space, so register now to claim your chair. Once you register, you'll get info on the exact location of the hotel. Register for free now!…
http://www.myhousedeals.com/HoustonLive
See you soon!
Doug