James' Secret to Scaling His Business [Hint: He Doesn't Use His Own Money]
There was a turning point for James…
It was the moment he realized, "I can do so much more than this!"
James grew up helping out with his dad's real estate investing business. About a year ago, he decided to branch out on his own and build a business. He was ready to maximize his potential and build wealth. With his years of real estate investing experience, his real estate financing education, and his existing network, James jumped right in! 

To say that James is proactive would be an understatement. He looks for Houston Investment Property deals every day. If he sees a house for sale, he'll call to introduce himself as an investor. If he sees a sign for a contractor, he'll reach out to see if there is a potential to work together. James constantly works to expand his network so that it's better 5 years from now then it is today.

James looks at each phase of a deal and asks the question: How can I make the most profit in this phase? This requires him to find deals with the right numbers and contractors with the right prices.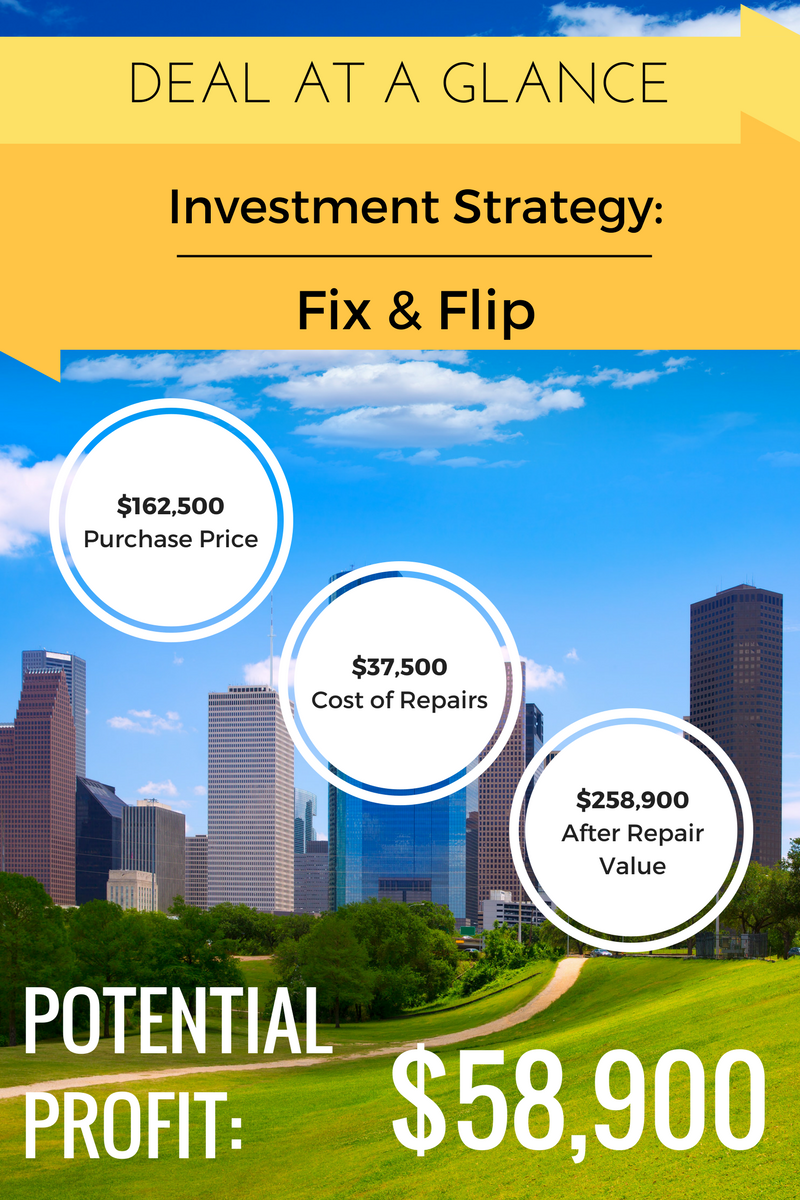 Listen to our conversation with James to learn what he looks for in a deal and the Warren Buffet quote he lives by, plus…
MyHouseDeals.com Success Stories
The key to successfully working with private money lenders

Why you should consider days on market when looking for deals

How to achieve a high-quality, low-cost rehab
NOTE: Since James is a Premium Elite member, he received a FULL refund of his up-front membership fee for simply doing a deal! Find out more about our Premium Elite membership here

Tell Us About Yourself…
How did you get started in real estate investing?
Well, my dad has been in the business for about 40 years and he's bought rentals and done flips. I was introduced to the business pretty young – I started helping him when I was 14. During the summers, he'd have me do some things for the business for him.
Because of that, I've always really liked real estate. It's an appreciating asset and I know it's going to be worth more over time than what it is now. Real estate is just an investment vehicle.
I've always been passionate about investing, but real estate is a little easier than stocks. With real estate, you know exactly what a house is worth and it's a little easier to determine what you should pay. Stocks are much trickier.
What did you do to prepare yourself for the real estate investing business?
Well, I took finance classes. I have a degree in real estate finance. In college, I took mostly real estate classes and just ended up going that way. After I started really getting into it, I did some rentals and rehabs. I worked on my dad's business and I actually ran his business for awhile. 
About a year ago, I broke off on my own  and started doing real estate investing full-time. I started looking for deals every single day and found a reliable crew.
What made you want go off on your own and become a full-time real estate investor?
I didn't feel like my potential was being maximized. My dad's not going to retire anytime soon, and I was as high as I could get in his business. I was making about as much money as he could afford to pay me.
Soon, I started thinking, "I can do much more than this." I was already doing most of the work and my dad was just collecting the checks. So, I thought, "You know what, I can handle this. I can handle more responsibility." That was really the turning point.
Finally, I decided that I wasn't going to wait 20 years to take over my dad's business. I wanted to start my own path and go my own my way in something I was really passionate about. My dad was supportive of my decision. He always says to me, "Do what's best for you." He's always been that way. He was a great encouragement in the process.
What is your current business model?
My dad and I used to do highway maintenance. We had crews that would do the mowing, litter, debris, and sweeping on 50 mile stretches on highways. We'd do these 50 mile stretches with only 15 people – that's a crazy amount of road with a very small crew. This experience taught me from a young age to be cost-conscious and learn how to operate on a low-cost budget.
I take that same attitude with real estate. I always ask myself, "How do I look at each phase of an operation to make the most profit?" That's the name of the game! I'm always thinking: How do I lower my holding costs? How do I lower my title costs? Where do I go for the best rates?
I essentially try to be on the low cost of everything, but quality is also extremely important. You have to think about quality, especially with contractors.
In terms of my business model, I really try to run my deals like a business. So when I put an offer on a house, I want to make sure that my holding costs, my title fees, and real estate fees are all accounted for. I don't want to get in there and do it all myself. It's not scalable if I'm trying to do every little thing. I don't want to be an employee of my business – I want to run the business. If I go on vacation, I don't want the whole thing to fall apart or no work to get done.
What is your business team like?
It's mostly my wife. My wife is a CPA, so she's really big on the books. I also have great contractors.
I actually have a funny habit. If I'm driving and I see a contractor's ad, I'll immediately write the number down and call him. It doesn't matter where I am. I also do this with local investors and private money people. I'll call and say, "How are you doing? I'm a real estate investor in the area. I'd like to take you to lunch or to get some coffee." I've learned a lot from successful real estate people and found some great real estate contacts by just taking people to lunch or coffee.
Something I really enjoy about the MyHouseDeals website is that it has a list of private money people and I call them. Every time a deal comes up, I call the person and meet them. I try to sit down to coffee with them. It actually results in lowering my holding costs – I can only expand so fast if I'm using my own money, but if I'm using other people's money, then I can actually scale the business much easier. I've got about six people that I've used for private money deals.
How did you finance your very first Houston Investment Property Deal?
I did a joint venture. For my first few deals, I had a partner and we just split everything. I had the cash. I'm a saver. I've been saving since I was 15 years old. So I had some money saved up. The first few deals I did though was joint ventures with my partner, and that was truly to mitigate risk because I didn't really know what I was doing. I thought that I could split the profits and also split the risk.

As I did a few of those, I got more and more comfortable with the whole process, which is what I would encourage anybody to do. Don't take it all on yourself. Do a few deals with a partner you'll get comfortable with. It's not very easy when you've got a property that hasn't sold in a month or two and you start panicking a little bit. You have to learn to become comfortable with not knowing when the property will sell. You need to remember that you've done your homework and it will sell. You've just got to give it time.

Tell Us About the Deal…
What were you looking for when you found the Houston Investment Property deal on MyHouseDeals?
I look on MyHouseDeals every day. I look at all the deals and see if any of them make sense to me. That's just the game. You've got to look through as many homes as possible and then see when the deal makes sense. For me, this deal just made sense. Luckily, it's right around the corner from me.
One of the things about this house is the back…it used to be an old golf course but now they're putting a habitat there. I really like the area because of all of the running trails and nature. But the good thing is…there won't ever be a back neighbor or a right neighbor. Since there's a nature reserve in the back of the house, you know there won't be anything built.
Are you focused on flips or rentals right now?
Flips. I'm looking to build my wealth right now. I think over time I'll add a few rentals a year for  residual income. But you've really got to build your wealth up before you can get into that.
What's your sweet spot in terms of the ARV?
Well, I look more at days on market. There's not a specific price range I look for – it's more of a specific area. I'll think, "How long are the days on market in the area?" I bought this house for about $170,000. It's on the market now for $258,000. We put about $35,000 in it and there's a good little margin of profit to be made on it.
I also try to be in a price range where there's more potential buyers, whatever that might be. Every area is a little different and I try to aim for an average number. I don't want to be too high and make it sit for six months. I'd rather it be somewhere where we're on the smaller end, in terms of square footage, and make it a lower price.
I've got one property right now that I actually just put up for sale. Most of the homes over there are on the water and are going for $270,000. Well, this property is only going for $219,000. We bought this property for about $150,000 and only put $15,000 in it, so we'll do really well on it. Just that price of $219,000 in this neighborhood will make the house have a better chance than the 5 or 6 that are going for $280,000. It's really just about competition, who you're going up against.
Did you have any surprises in this process of buying the house?
Luckily, no. There was some foundation work, but I knew about that. We spent about $4,500. Usually you can tell when it comes to the foundation. Make sure to look at the major parts: foundations, HVAC, roof, etc. I try to be priced low enough so that it accounts for any surprises. That's the goal.
Give Us Some Advice…
What tips do you have for building relationships with private money lenders?
Well, I'm in Houston so I skip everywhere that says "Houston and nationwide." If the lender is in Kansas City, I'm going to have a hard time meeting them. If somebody's going to give me $200,000, they're definitely going to want to meet me. No one is going to give me money when I've never met them so I try to pick Houston only.
Then, I meet the lender. I always tell them the same line: "I wouldn't expect you to give any money to someone you've never met. This is your life savings. I would never expect you to give it without seeing the person I am. I'd love to meet you. Can we sit down for coffee?"
And if we meet, I make sure to say, "I'd like to see if we're a good fit for each other." When I say that, the lender immediately knows that I'm not just begging for money. They realize that I want to see if they qualify for me. It changes the mindset quite a bit for most of them. It's not that I'm just trying to convince them to invest with me. I need to see if they're good for me. I don't want somebody saying they're going to finance me and at the last second, back out. That's my reputation on the line.
Lenders also want to see that you're trustworthy. Did you just go to a real estate investing seminar last Saturday? Do you call yourself an expert off of three days of a real estate class? Nobody wants to put their life savings with a person like that.
Do you have any tips for estimating costs and prices?
Well, there are many online resources. When I first started, I looked at lists online to give me the ballpark range of prices for various things. The ability to estimate costs accurately also just comes with experience. You get a contractor you like and trust and he will start telling you the normal prices for things. You slowly pick up on what things should normally cost. Make sure to consult more contractors than just the one you first stick with. 
I had one contractor who did about four properties with us and each time he bid higher and higher. By the fourth bid, I had to just say, "This is outrageous." He was charging me about $15,000 to just paint and do a couple other minor things. He was just trying to take advantage of me. He thought that our relationship was so good that he could try charging me unreasonably. This happens occasionally and you just have to move on. I had to get a different contractor.
Unfortunately, some people are this way. They start a great relationship with you but then slowly over time start believing that you're making all the money while they're doing all the work. For that my advice is: never tell the contractors what you're making on the house. That's a terrible mistake.

That contractor who overcharged me overheard that I made $80,000 on one of my properties. It really ruined him to be honest with you. He made maybe $6,000 or $7,000 and I made $80,000. He started thinking, "I'm doing all the work yet this guy just made $80,000." It's nice to trust contractors, but I would try to keep what you're paying and making to yourself. That will really ruin them.
What tips do you have for finding reliable contractors?
Keep looking. Just take massive action. Everywhere you see a contractor, call them and get their references and any referrals. Talk to them and see if they know what they're doing. Ask them questions like, "What kind of work have you done? Do you have pictures? Let me talk to clients." You just need to make sure they're genuine and experienced.
The nice thing about real estate is that over time, you build your network. You build your connections with wholesalers. You build relationships with agents. I'll be better off five years from now because I'll have so many more contacts. That's my thought…build, build, build.
I do the same with real estate agents. I just say, "Look, this is what I do. If something comes up, I'd love to buy it. I can close quick. You can trust me." I just make a habit of talking to everyone like that. I have hundreds of people I talk to in that same way.
In my dad's business, we dealt with contractors all the time. We'd have a contract for two years, and then it was over. You'd have to bid again and if you're not the lowest bidder, you'll lose it. With real estate, it's not like that. You'll be much better off down the road if you're working and networking with contractors.
Do you have any advice for new investors?
There's a quote by Warren Buffet I like a lot. It says, "The most important thing in terms of your circle of competence is not how large it is but how well you define the perimeter." Essentially, it's knowing what you know and staying within that, but then over time, growing and learning.
You should continuously learn and grow and try to expand your circle of competence. Stay within that circle but you should try to grow it over time. I think that's how you do well in life. You should think, "I'm going to get smarter. I'm going to get a little wiser every day."

I like another quote by Charlie Munger, "If you think your IQ is 160 but it's 150, you're a disaster. It's much better to have a 130 IQ and think it's 120." People are always doing things beyond what they're capable of and sometimes that will get them in a lot of trouble. Stay within where you are right now, but then grow your abilities over time.
I also would recommend another thing: Read. Start with a few books. I'd recommend Ben Franklin's autobiography. Start with that book and just read 10 pages a day and slowly build up the habit of reading. I think most of the wealthiest of the wealthy read. Seriously. You've got Facebook and tons of other distractions in today's world. So, start slow and the habit will form. The difference between who you are right now and who you'll be in five years is the books you've read, the network you've developed, and the relationships you've had. Be a learner. Be a grower. Everything else will take care of itself.