Is Your Team Holding You Back?
The longer I've been investing in real estate, the more apparent it has become: You're no better than the people you surround yourself with.
This belief was further reinforced last night when I had dinner with the CEO of Morton's Steakhouse, Tom Baldwin. In case you're not familiar with Morton's, it's an ultra high-end steakhouse with locations in over 80 cities around the world and gross annual revenues topping $353 million. They're traded on the NYSE as MRT.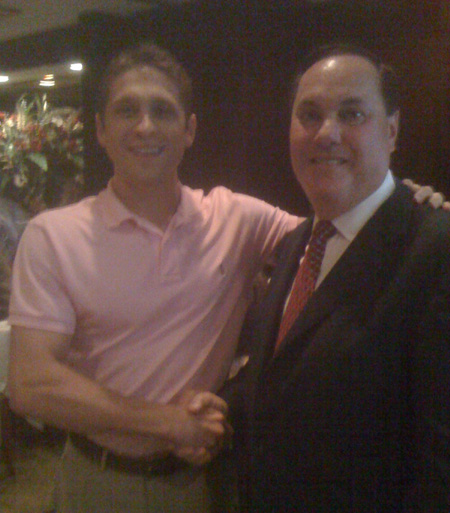 [Here's a pic of me and Tom. I'm on the left. Real men aren't afraid to wear pink!]
When I told Tom how impressed I was with what he's done with the company (they're posting record earnings while other high-end restaurants close up shop), he refused to take credit. He said, "It's not me. It's our people. They deserve all the credit."
I didn't think much of that comment at first, but as our dinner went on, I overheard his conversations with a couple other people. And he kept repeating it. "It's not me. We have an incredible team. All 5,000 of them."
He was so insistent that Morton's success was wholly attributed to its quality team, that it finally sunk in. I said to myself, "He's not just being humble. I truly believe him." And I went on to think, "Hey, it's just like in real estate. You're only as good as your team."
As I thought about it more, I realized that there are at least a dozen different people you must have on your real estate investing team. Here are just a few of the key "Must Haves" for your investing team:
– Closing Agent
– General Contractor
– Handyman
– Accountant
– Attorney
– Mentor
– Mailing House Rep
– Private Lender
– Property Manager
– Loan Officer
It's not so much that a good team solves your problems. The real issue is that a bad team will drive you nuts! And if you keep them around long enough, they'll drive you out of business.
Even if just ONE of these people is a weak link, it can cost you thousands in real dollars or lost opportunities. I should know because I suffered plenty of these losses before I re-assembled my team.
Here are some real life examples of what I've experienced, and I'm sure most other active investors have gone through…
If you have a bad closing agent, she will 1) often tell you, "Oh, we can't do that.", 2) postpone your closing because she hasn't assembled the closing docs yet, 3) mess up the HUD by putting expenses on your side that should be on the other party's (for some reason, the error always goes against you!), 4) include fees that a good closing agent would have waived.
If you have a bad general contractor, he will 1) start on your rehab three weeks late, 2) break your mirror while fixing your sink, 3) start at 10 AM and end at 3 PM, 4) only have two people working on your house at a time 5) turn a three-week rehab into a three-month rehab, 6) dispose of his cigarette butts in your front flower bed, 7) run off with your money (assuming you're naive enough to prepay).
If you have a bad property manager, he will 1) put his home or work phone number on the sign, which he doesn't answer on evenings or weekends (or callers get a busy signal), 2) let the grass and weeds grow tall while it's advertised for rent, 3) accept security deposits from tenants over a 2 or 3 month period (BIG NO NO!), 4) give under-qualified tenants a the "lucky break" they've been needing.
This one's easy: If you have a bad accountant, he will 1) file your 2007 taxes in December of 2008 (that's after he files extension after extension), 2) fail to advise you on other deductions you could be taking, 3) wait 1-2 weeks before returning your phone calls or emails, 4) send you a huge bill that includes fees for filing extensions that were HIS fault.
I could go on. But it hurts too much. It hurts because I used to have all of the WRONG people on my team.  And I've suffered all of the above consequences. And more. Much more! But one by one, I replaced these people. And investing is easier than it's ever been. It's true. There IS a light at the end of the tunnel.
If you've wound up tired and frustrated with your investing, stop for a second and ask yourself: Is the problem with me or my team? Often, it's the team. If it is, start re-assembling your power team the right way. Do it by asking other active investors who they use and if they're satisfied.
You'll find active investors at real estate investing meetings, on the property listings on myHouseDeals.com, by searching for "We Buy Houses [YourCity] on Google, and more. Ask around enough, and you'll have your power team assembled in no time.
Before you know it, investing will be so much easier that you actually have the time (and the sanity) to enjoy a big fat steak at Morton's while "your people" do all of the real work for you!
Until next time, happy (and profitable) investing!
Doug Smith
President
myHouseDeals.com
P.S. Assemble your power team the right way by networking with the wholesalers who post properties on myHouseDeals.com. Start your 30-day FREE Trial today at www.myhousedeals.com/freetrial.
P.P.S. We want to hear from you. Your comments are welcome!