"I'm addicted! Finding new deals every day." [Lisette's Story]
Like so many investors… Lisette became interested in real estate investing as a hobby and now it's her passion. She just got her FIRST Houston investment property deal and to say she was very prepared would be an understatement.
Before landing this deal, Lisette rode around with real estate agents to check out areas/properties, talked to as many investors as she could, consumed copious amounts of investing knowledge, determined her property criteria, and became well-versed in the area comps.
She ended up buying a property in a different market than her current location and hasn't been deterred by the distance. She knew exactly what she was looking for (think…a 3 bed/2 bath single family home in a stable or up and coming neighborhood). One of her "pro tips" to make a property appealing is NOT skimping on the landscape. Invest in landscaping and the property will be easier to sell.
At this point Lisette is looking for her next deal (she checks the MyHouseDeals website everyday!) and is working towards doing more wholesale deals and eventually becoming a full-time investor. She has goals and the drive to fulfill them. Can't wait to see what she does next!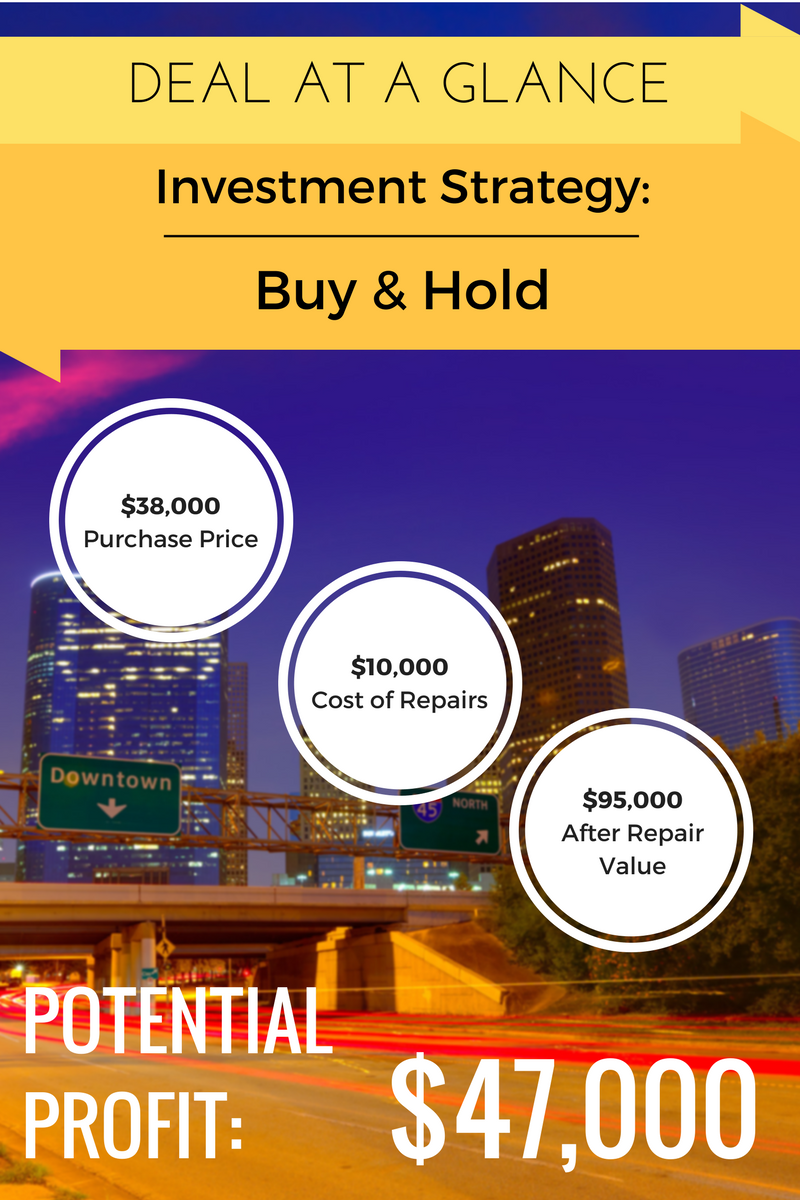 Listen to our conversation with Lisette in which she discusses her first deal plus…
Why you should consider properties outside of your market.
Exactly how to get started with your education.
How to find deals that will be easy to sell after a rehab.
NOTE: Since Lisette is a Premium Elite member, she received a FULL refund of her up-front membership fee for simply doing a deal! Find out more about our Premium Elite membership here.

Tell Me About Yourself…
How did you get started in investing?
I started watching a lot of videos on YouTube and I watched a lot of web seminars on the topic. I also started buying books and just reading all about investing and how to become a real estate investor and I also spent time learning from different people who had done deals before.
What made you become interested in investing?
I was never in real estate. My current field is actually healthcare. I was looking for jobs that were always going to be necessary and just happened to come across real estate investing. My real estate agent always tells me how successful she is in selling houses, especially with the market I live in, Austin. I just started to talk to her more often and I took interest in the industry that way.
It was pretty much a nontraditional job that I felt I would do well in. I just wanted to do something different than what I normally do and see if I could have fun doing it.
Were you dissatisfied with your career?
I'm not dissatisfied with my job. It's more like I went to school and I have been working in my career for 11 years now. While I do like my job, I don't know if I can call it my dream job. I know that I probably wanted to have a more creative career, or what I consider creative at least.
I just wanted to have a hobby first, a little something to do when I'm not working. It started with designing and reconstructing. I figured that real estate had those kinds of components to it. It just started off as a hobby and as I became more interested in it and the more research I did, I started to figure out that there is a bigger picture and a bigger side to real estate.
How long ago did you start thinking about real estate investing?
I would say about four years ago. That's when I initially started looking for investment properties. I went around with a real estate agent for a couple of months and started to look at places I wanted to rent in Austin and wasn't really having any luck and I wasn't really seeing any properties that would be an advantage to me. I would figure out the numbers to see if it was a risk worth taking and the numbers I was looking at didn't seem like a good investment.
After that I took a break. I was like most people, I thought, "Forget it. It's not for me…" and just stayed away from it. Then about eight months ago, I started to take interest in it again. I started to put in more time, effort, and attention towards investing. I wanted to see if I could actually start something this time around.
Tell Me About this Houston Investment Property Deal…
Is this your first deal?
Yes, this is my first deal. I bought a Houston investment property through a real estate agent. This first deal is also my first wholesale deal. This is probably the beginning of a new stage as far as not buying properties from the MLS or from a real estate agent. I will be looking for wholesale deals going forward and looking for investor deals more specifically.
Are you specifically focused on looking for rentals?
Initially I was focused on rentals, but now I don't have a major focus. I want to keep myself versatile. I would like to get into a rehab soon. As a matter of fact, the property that I just acquired is a rental since there is a lease on it. Once the lease is over in the fall, I plan on doing a rehab on the Houston investment property and making the equity back.
What were you specifically look for on the MyHouseDeals website?
I was looking for deals in Houston. The kind of house I was looking for is something that a typical, normal family would want to live in…a neighborhood that was either stable or up and coming. So as far as house specifications went, I was looking for a property that had minimum three bedrooms and at least two bathrooms.
This deal that I bought doesn't have two bathrooms, but it's in an area where most of the houses are like that and the area is picking up. I wanted to look for areas in which the purchase price had gone up significantly. There are a couple houses nearby that have been rehabbed and they are doing very well.
For my level of comfort, I wanted a house that was livable and had cosmetic needs. I didn't want to deal with a serious rehab, like reconstruction of the entire house. I wanted a house that just needed minor adjustments.

How did you research a market that you live outside of?
I relied on the comps a lot and also drove around the neighborhood, talked to real estate agents, and to people who live in Houston. I asked them where they thought would be a desirable place to live and asked them what places were coming up. Another thing I did was do a city data search. But the most important thing I looked for were the comps for houses that had sold in the past year. I looked at rental and sale comps. I then started seeing how the trends looked over the year.
Then I went further back when looking at the comps so that I can see how the trends were before and figure out the future outlooks. I also looked at taxes and building in the area. For example, I checked to see if the area had a nice grocery store or if they were near a major highway. I looked at the infrastructure of the area to see how far away it is from places of interest such as Downtown or the Galleria.
What type of cosmetic rehab are you doing on the house right now?
At first I thought it was going to be mostly cosmetic, but then once you dig in it gets more complicated than that.
I estimate that it's going to cost me about $10,000 for the rehab. Just three days ago I spent $2,000 upgrading the plumbing. With this particular house, I have to change the flooring. It has carpet right now but I would like to change that to vinyl, laminate, or tile. For the walls, I plan on putting some sheetrock and some drywall in a few areas.
Then I plan on repainting the entire house. After that I'll most likely patch the roof up a little. Even though the roof already looks good, I'll still do a little bit of roof patching. It also looks like I need to do fence work and some landscaping. I think selling the house is easier if it has beautiful landscaping. I will also upgrade the windows and the door in order to give the property the full rehab look.
How did you finance this Houston investment property deal?
For this deal, I paid cash. I had some of my own personal money just laying around. For quite some time I have been trying to invest in something.
I just ended up using my own cash to fund this deal. I was lucky that I was able to do this. Going forward, I will probably have to use hard money lending. I am also in the process of taking out equity from my own home in order to use it for investment purposes.
Tell Me About Your Future Plans…
How will you continue to finance your properties?
Going forward, I plan to refinance the investment properties themselves by pulling up the market value and taking out the equity. This is a better way as far as taxes are concerned. Going forward, I will definitely be using some hard money lenders if any deals look good. I would also like to find deals where I buy them from an owner instead of an investor. Someday I would like to get to the point where I can just sell to another investor without doing any rehab or using any money. My plan is to wholesale.
Do you have any plans for how you want to market your wholesale business?
As of now, no. However, I do have a website and I use Google AdWords along with direct marketing. I think once I get to that stage, I will have all these methods of advertising already in place that I will use for the wholesale deals.
Just recently I came across MyHouseDeals and I think that's a great way to advertise and buy houses. So I will definitely use the website.
Where do you see yourself in five years?
Hopefully in five years I'll have a few properties under my belt. I don't think I'll be able to quit my job but I'm hoping that I can do that part-time and do investing full-time. I see myself building up a lot of equity and making a lot of money that way. I'll probably just be more of a wholesaler or investor instead of doing all the hard work.
What advice do you have for new investors?
Do your research. There are a lot of references out there and there are a lot of people who have a lot to say about how they find their deals. That's how I started. It may not work out that way, but I do think that if I had the opportunity to go back I would start off with buying a wholesale deal. I think a lot of us, like a lot of my friends for example, they tend to go to the MLS and purchase houses at market value and then rent it out. I think if someone wants to do that, I would suggest going to a website and looking for properties to buy wholesale instead.
Also try to get a mentor. There are a lot of references on MyHouseDeals who might be able to help you. There are a lot of people who have seminars, talks, and webinars. That would be a good place to start building up research and information. It's also a great place to work with people who have done this in the past and who are excited to help out other people since it's their passion.