How to Avoid Getting "Screwed Over" by Contractors
This following is provided by Kevin Smith, a licensed inspector who has completed over 175 rehabs and 9,000 inspections.
Probably the best thing you can do with contractors is get referrals from people you know. And ask what kind of work they have done for them.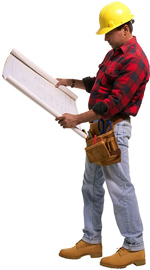 The second thing is to figure out what you want. That is going to be your scope of work. Know what you want … the general plan, the details, the budget, who is going to pay the materials, so on and so forth.
Next, explain to the contractor all your expectations. When I do rehabs and I have a contractor come in, I'll walk them through the house and show them even the smallest nit picky thing I want fixed and sometimes they'll laugh at me and say, "Yeah we do that." And I'll say, "Yeah I know but I've got to say it because its part of my job."
The most important thing you'll do with contractors is figure out your draw schedule. There are 2 kinds of draws. There are completion draws and percentage draws. Completion draws are: you put the new roof on and I'll pay you for it. Percentage draws are: well, I've got half the roof on, can I have half the money? This is important: DO NOT do percentage draws. Do completion draws because they motivate the contractor.
You'll want to outline the starting date and completion date. Tell them why it's important to finish on schedule because the clocks ticking on your money.
You'll want them to show up and man the job every day during normal business hours. Every day of the week you're going to want people on the job working. 
And the most important thing about paying these guys other than having a good draw schedule is: do not pay them until it is done.  Do not give them money up front.  If they need money for materials you can either meet them at Home Depot and buy them or tell them, You get the materials and I'll meet you this afternoon and reimburse you for the materials."
That's where most investors get taken advantage of. They get a contractor in there and he says, "I want half down and half on completion." Well if you have a good solid reference from somebody that you know and who knows this guy's work, then that may be ok. But I prefer completion draws because it keeps everybody on their toes, keeps the process moving along.
——————————————————
If you are in the Houston area and would like Kevin to inspect your next property, please call him at (713) 858-1330.
Need a house to rehab? If you're a member of myHouseDeals.com, login to the members area at www.myhousedeals.com/members. Else, sign up for a 30-day free trial at www.myhousedeals.com/freetrial and get access to hundreds of wholesale deals and motivated seller leads each month, plus $1,253 in free gifts.