Greg Used His 401(k) to Fund First Investment Property Deal
Although Greg is new to real estate investing, he acted with the confidence of a seasoned investor when completing his first investment property deal. Eager to take advantage of his local market, which happens to be booming for real estate, his only regret is having waited so long to get started.
Greg is a part-time investor who dedicates time to his real estate investing business outside of his full-time job. He spends countless hours researching and reading to gain knowledge about different properties and strategies. He practices "running the numbers", ensuring a potential deal will result in profits. Greg utilizes MyHouseDeals to find properties and explore funding opportunities.
As Greg plans for retirement, real estate investment just makes sense for his future financial stability. Rather than hesitate, he dives in! He researches and explores every resource he can get his hands on, while realizing that the real lessons are learned from actually doing deals.
Greg plans to grow his real estate portfolio through buy and hold deals and building up a rental portfolio. For now, he is focused on completing a handful on fix and resell deals. He's currently building experience that will expand his funding options for future deals.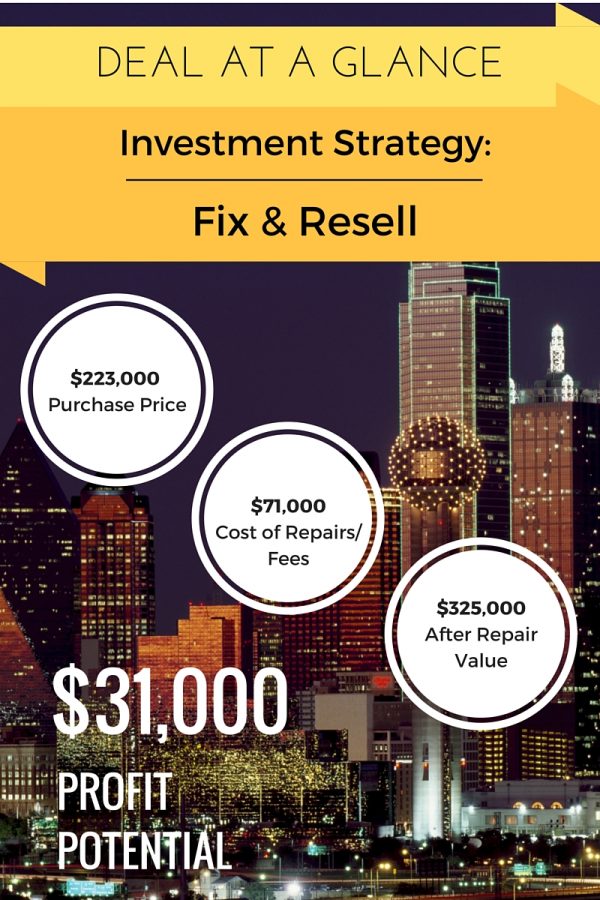 Listen to our conversation with Greg, during which we talked about his first deal, plus…
Why you should create an LLC for real estate investment purchases.
How to use "desktop analysis" to spend more time investing from home.
How to secure funding by using both retirement accounts and hard money.
MyHouseDeals.com Success Stories
NOTE: Since Greg is a Premium Elite member, he received a FULL refund of his upfront membership fee for simply doing a deal! Find out more about our Premium Elite membership here.

Check out Greg's fully story below.
Tell Us About Yourself…
What inspired you to invest in real estate?
I've always believed in real estate since I moved to the Dallas/Fort Worth market and Texas in general. Real estate has been strong since the 1980's because we're a strong market and properties are very cost effective here. It's just a great place to invest in real estate. I'm just sorry that I waited this long to get started.
How long have you been an investor and what activities do you focus on each week?
Actually, my wife and I just got started a couple months ago. I spend a lot of time on the computer doing research and doing my due diligence.
That's when I came across MyHouseDeals. I started looking for wholesale deals because we were interested in rehabbing. We have a long-term goal of getting into buy and holds and having rental properties at retirement. My plan is to find wholesale deals, rehab them, and then flip them. I want to get two or three of those done and then purchase a rental home. And then I will build a rental home portfolio that way.
I was fortunate enough to find your website. I dug into it and was able to find our first property. I was able to move some retirement funds around so I actually had the funds available to go ahead and get started. I probably jumped in a little quick, but it was like: What the heck? In this Dallas/Fort Worth market I don't think I'll ever lose money. As I learn and make mistakes I may not make a whole lot of money, but I'll be paying for the education. I'm looking forward to networking. I've been researching all the different REI's on the website because I would like to start attending some of those. I also work full times so I'm just doing this part time on the side right now. I feel like I'm working two full-time jobs. It's hard to find the time to get out to those meetings.
How do you use MyHouseDeals.com as a resource?
Right now I'm primarily just using it to learn. I'm going over the numbers with each one of the properties that I'm looking at and that I'm interested in. I'm also using the site as a resource for private money. I'm doing the research and trying to learn as I move forward. I feel like I'm doing my due diligence by spending hours and hours on the computer doing research.
Is there any research that you find particularly helpful?
The best thing is just learning the numbers. There are other websites where you can confirm a lot of the numbers. As I look at these properties, I look at the purchase price and the ARV and what they've calculated the repairs to be and run the numbers in my head. I also look at the financing costs and the holding costs. In just a couple months, I've learned a lot. When you start running those numbers, it's almost like you could do all of this from your desktop. You get to the point where you feel like you don't even have to actually go to the property. I'm going to call it desktop analysis.
Tell Us About The Investment Property Deal…
How did you get the right contracts in place for your deal?
I purchased this first property from a wholesaler who also uses your website. They actually had all the contracts and everything already in place. They were very helpful. They had a contractor who was familiar with what goes in the neighborhood and they had a lot of resources. Your one resource led to another resource, which led to another resource. It's actually been a very simple process for me.
Are you operating as a sole proprietor or as business entity and why?
We started a business, an LLC. We got the business started up and the funds moved over in that first 4-6 weeks so that we could purchase our first deal. This was to limit the liability. It just made sense to go ahead and do that. We purchased that first home in that company's name, not in our personal name.
In your initial analysis of the deal how did you verify the actual repair value (ARV) and the cost of repairs?
The ARV is very important. What we can sell the property for afterwards as well as the repair costs is the only way you can put together a formula to figure out whether or not you want to do this deal and whether or not it's going to be a good deal. Both of those numbers are very, very important.
Zillow, Trulia and other websites are available to run comps for a particular neighborhood so I was able to verify the numbers. You have to do your due diligence. That's exactly what I did. Actually, we walked the property with the gentleman I bought it from and then we had a contractor go through to double-check the repairs. We made a decision to go ahead and spend an extra $5,000 in repairs for some sizzle features. I feel like that will help the home sell faster.
So far, the numbers seem to be fairly accurate which is very important. That builds trust. Right now, we're using the free websites to gather comps information. My wife is actually taking a real estate course so that we can get on the MLS and be able to get our own comps that way. I do happen to know three or four realtors, and so on this first one, I asked them to run the comps for me as a favor.

What kind of funding did you use for this deal?
In part, I used my own funds, but I did go through a hard money lender. You pay a little more to go through that hard money lender, but it helps build a portfolio. If you get 2, 3, or 4 of these under your belt with successes, you can go to a private money lender which is cheaper. You can get private money for about 10%, whereas with the hard money lender you'll be between 12% or 14% with two or three points. It costs you a little bit more with a hard money lender, but that is what you have to do to get started. I was fortunate that I had some funds to use. I paid for the rehab out of my own pocket just to keep my interest payments down during the rehab.
What advice would you give to a new investor?
I think the route I took is a great way to get started. I started with your website, investigating properties, and with a hard money lender, which again costs a little bit more. I've learned so much from your group that I can't believe how much I've learned in the last couple of months. New investors should do the research on your website, look for properties, and go with a hard money lender to get started. With your resources, if I can buy right, I'm not worried about selling.