Fighter Pilots, Babe Ruth, and Real Estate Investing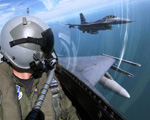 My friend Jeff is a Boeing 777 pilot and has been all over the world. He may be in Dubai, Johannesburg, Frankfurt, Mumbai or Seoul in the course of a month. He was a fighter pilot assigned to an carrier in the Gulf War. Stable guy. Nothing rattles him or gets him too far from calm, cool and collected.
I was talking to him the other day about the current world financial situation and how unstable everything has become. He told me a story that I found both simple and fascinating, and I'd like to share it with you.
After Jeff left the service, he accepted a contract to teach pilots in a foreign country how to fly and fight with a certain type of aircraft. It was the same plane Jeff flew in the Gulf War, and he had trained a lot of pilots to be proficient in its operations and handling.
He told me about one trainee that was having trouble putting the plane through certain maneuvers. This particular set of maneuvers was taking place at about 550 miles an hour, so the pilot had to be extremely aware and react quickly and with conviction.
During flight, the trainee was becoming more and more hesitant. My friend came over the intercom and asked the trainee, "Are you going to fly the plane, or is the plane going to fly you?"
I heard the bell ring as I immediately got the parallel between reacting in the cockpit at high speeds and successfully navigating through the world's current financial situation. As investors, we can either let the events ride us, or we can ride the events. We can either be pushed from pillar to post by conditions, or we can assess the situation, define a plan of action and move forward.
After you create a plan and move forward, you may later realize that it might not be the best plan after all. Then what? Well, you can make a change of course, adapting to the situation as it develops. No plan is ever perfect from the outset. But having an imperfect plan is better than having no plan at all.
What does that look like in the real world? Well, when everyone else is sitting around waiting for the noise to stop and the sun to come out, you should be lining up your sources of hard money and other investment capital. And you should be speaking with motivated sellers, inspecting properties, and closing on deals.
If you haven't realized it yet, now is a fantastic time to buy. There are more deals now than at any time in the last twenty or more years. Ask any investor who's actively buying, and they'll tell you the same thing.
Back in his day, Babe Ruth was the home run king. Not many people realize that he was also the strike out king. He went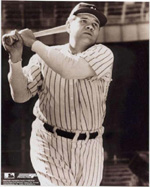 out there every time he went to bat and never knew whether he was going to hit a homer or go down swinging.
The point is that Babe Ruth was in the game. Hot or cold, fast or slow, he was in the game to win. He was always trying to knock it out of the park, and a lot of times he did just that. Sometimes he didn't accomplish his goal, but he always suited up for the next game and went out there to try again.
Do the same thing in your investment career. Don't sit on the bench and wait things out. Suit up and go after what you want, knowing that you won't always win every single time. A lot of people are sitting it out on the bench right now, coming up with reasons galore why real estate won't work right.
I see it differently. I see opportunity. Play into those opportunities. Keep your eye on the ball and swing for the bleachers with everything you've got. And have some fun while you're at it.
Until next time, happy (and profitable) investing!
Doug Smith
President
myHouseDeals.com
P.S. A great place to start your search is myHouseDeals.com. MLS fixer uppers, REO's, HUD Homes, and other bank foreclosures are only discounted by 10% to 15% at the most. But most of the deals on this site are discounted by 20% to 40%. If you're going to buy, might as well get the biggest discount possible! Access the deals by starting your free trial today at www.myHouseDeals.com/freetrial. See you there!