Are You Majoring in Minor Things?
I'm on all sorts of email lists that I'm not exactly sure how I got on. Apparently, one of these is Humana Dental's list. Today, they sent me an email with a subject line of "Summer 2008 BrushUp Newsletter". And in the email, they had tips on "How to Prepare for Dental Emergencies".
As if that topic weren't random enough, get this. The email concluded with a particularly interesting tip: Pack a "Dental Emergency Kit" and take it with you when you travel or participate in sporting events. Here's part of that email: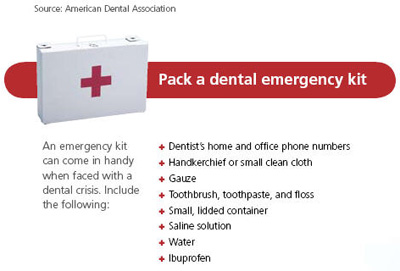 I'm all about being reasonably safe, but folks, following this advice is completely ridiculous! And I hope you realize it. Because if you don't, your odds of ever becoming a financially independent real estate investor are slim to none. And slim just left town.
Let me explain what I mean. If your goal is to amass a huge net worth and more importantly, financial freedom, you must spend your most precious resource (Time) focusing on the things that really matter. The things that will get you closer to your goal.
Every minute that you spend on some frivolous activity is a minute that your dreams will be delayed. Add enough of those minutes together, and you'll look up in 5 or 10 years and wonder why you're still living paycheck to paycheck.
With this in mind, let me give you some examples of activities that will lead you closer to long-term happiness and financial freedom. Do these things on a daily basis, and you'll most likely be financially free within 3 to 5 years. And THEN you can go back to doing frivolous activities if you so please.
ACTIVITES THAT BRING YOU CLOSER TO FINANCIAL FREEDOM:
– Analyzing deals and making offers. (If you aren't making any offers, how do you expect to buy anything?)
– Meeting with potential private lenders. (Locking in a good source of cheap money is like adding $2,000+ in profits to each deal.)
– Attending real estate meetings or courses. (These are your foundation.)
– Building rapport with motivated sellers. (People do business with people they know, like, and trust.)
– Talking to qualified buyers of your houses. (You make money when you buy, but you get PAID when you sell!)
On the flip side, if you spend your time on activities like the ones listed below, I guarantee you'll still be working for "The Man" 20 years from now.
ACTIVITES THAT TAKE YOU AWAY FROM FINANCIAL FREEDOM:
– Packing and carrying around a Dental Emergency Kit. (Don't even get me started on this one.)
– Studying 25 new ways to work out your abs. (One way is good enough. Work out, but don't overdo it.)
– Watching American Idol, Lost, Heroes, The Office (Entertaining, but you could be closing on a deal.)
– Tracking the daily status of Angelina Jolie's pregnancy. (Is this really going to impact your life?)
– Reading fiction books (Read real estate & self-improvement books instead.)
– Reading cnn.com (This not only takes time, but it pollutes your mind!)
I know it'll be painful for you to cut out some of these activities. But you MUST cut them out, at least for the next few years. That way, you can use your freed up time to GET RICH. And THEN invite them back into your life … but please don't pack a Dental Emergency Kit. I'm afraid we couldn't be friends!
Now go out there and buy a house! And until next time, happy (and profitable) investing!
Doug Smith
President
myHouseDeals.com
P.S. I can help you with the first success tip: "Analyze deals and make offers". Get access to dozens of wholesale deals and motivated seller leads in your area (and get $1,253 in FREE bonuses) today by signing up for a 30-day FREE Trial at www.myhousedeals.com/freetrial.
P.P.S. We want to hear from you. Your comments are welcome!