Who I Want To Be When I Grow Up
I finally figured it out! I figured out who I want to be when I grow up. And it's been right in front of my nose for the last 7 months. I can't believe I missed it for so long! When I grow up, I want to be …
MY DOG, ROCKY!
Yes, that's right. Rocky's got it made. He sleeps about 15 hours a day. Food and water just magically show up under his nose. He plays with his toys most of the day. And when he's not playing with his toys, he's catching some rays on the deck.
When I was a kid, my favorite time was recess. Sometimes, I thought. Man, I wish this would never end … and after an hour of playtime, it always did. But not for Rocky! His whole life is one big fat RECESS!
Now I'm not complaining about my life. By most standards, I have it pretty good. I could probably turn every day into recess if I wanted. My income would go down, but I'd still be just fine financially.
But I know that psychologically, I'd be a WRECK! Something inside my head makes me want to be PRODUCTIVE every weekday. Not just for money but because being productive makes me feel good at the end of the day. For example, after a few days of sun and fun on the beach, I'm ready to WORK!
So what I most admire about Rocky's lifestyle is that he can play all the time and he doesn't feel bad about it. The more he plays, the more fun it gets! Forget about the idea that work makes you enjoy the play. All the rules go out the window for this little tyke!
On Sunday, I was sitting there admiring Rocky's daily routine again when I got an idea. I decided to document it to show you all how ridiculous it is. This snoop is living in the lap of luxury! Check it out for yourself by clicking on the picture below. Enjoy the sneak peek into Rocky's life, and try not to get too jealous!
When you click on the picture below, a slide show will open. Once it's open, click on the lowercase i on each photo to view a description. And then click on the right arrow to view the next picture. Enjoy!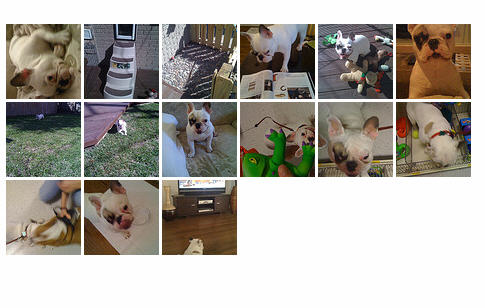 Until next time, happy (and profitable) investing!
Doug Smith
President
myHouseDeals.com
P.S. Get your free trial to access hundreds of wholesale deals and motivated seller leads in your area by going to www.myhousedeals.com/freetrial now. See you there!