Walk Like a St. Louisan!
It was quite a weekend for me and the staff at myhousedeals.com! We flew to St. Louis on Thursday evening and got back home late Sunday night. We were there for a 3-day seminar that taught us several ways to increase the value we provide to members of myhousedeals.com.
We are currently in the process of prioritizing our "to do" lists. But one thing we know for sure is that we'll soon be providing an additional search feature. You'll be able to search for properties that are in the part of town where you're looking to buy. Examples would be the Northwest and Northeast parts of town. This should save you a lot of time entering certain zip codes where you like to buy properties.
But it wasn't all work work work! I got to catch up with old friends, visit the famous St. Louis arch, and even meet the president. Here are some pictures from the trip. Enjoy!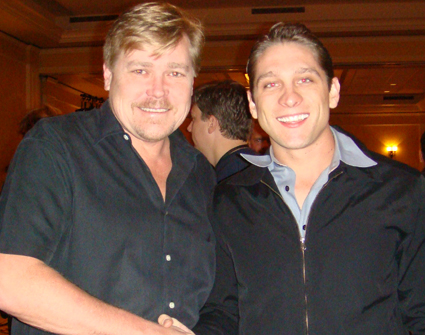 Me (right) and my friend, Richard Roop (left), national investing mentor. We talked about the state of the national real estate market and how this is the perfect time to buy and hold for long-term cash flow, equity build-up, tax write-offs, and appreciation. Check out his site at www.richardroop.com.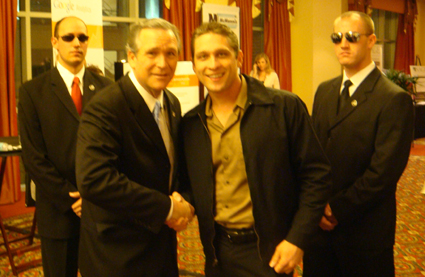 Me and President Bush. Ok, so he's an impersonator. Still, that's gotta count for something.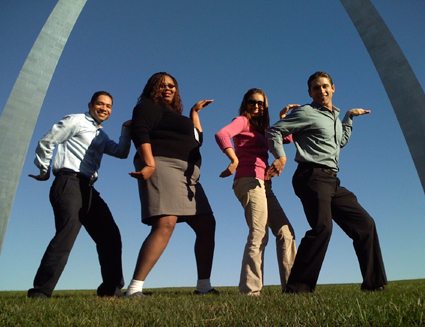 Walk like a St. Louisan! From left to right: Alex, Elise, Lauren, me. We're really under the arch. It almost looks like a fake backdrop because it's so perfect.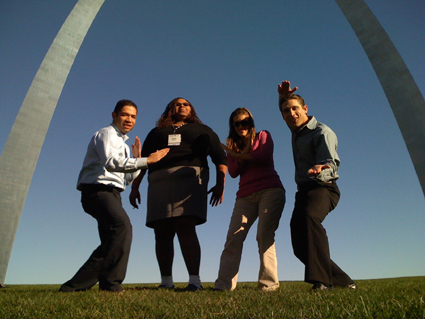 Want some? I didn't think so.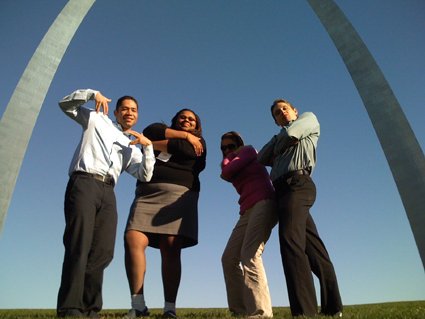 Livin' in a gangsta's paradise.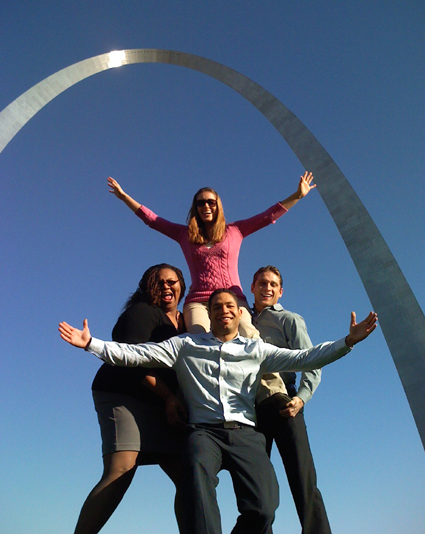 "I'll be there for you! 'Cause you're there for me too." (That's the Friends theme song incase you didn't get it.)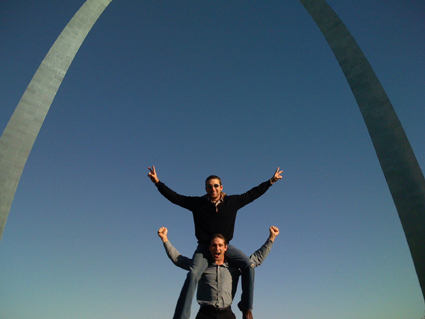 My twin brother was there too. He's on my shoulders in this pic. Check out his site at www.currentforeclosures.com.
Travis, the lead software developer, couldn't make it to St. Louis. But he sent a nice email while we were away. It reads, "Hey everyone, I just wanted to let you know that everything here at the office is going fine.  I snapped a picture just so that you can see what a typical, calm, organized friday I having….." We quickly cut our trip short and returned the office … to join the party!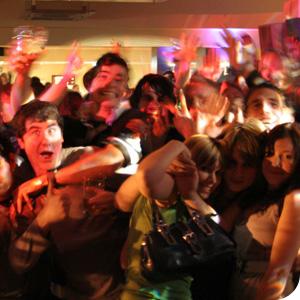 Well, that's all for now. Back to implementing all of the valuable improvements that we have in store for myhousedeals.com. Great things are coming!
Until next time, happy (and profitable) investing! 
Doug Smith
President
myHouseDeals.com
P.S. If you haven't signed up for a 30-day free trial to myHouseDeals.com, do so now by going to www.myhousedeals.com/freetrial. I've recently added $1,253 worth of free gifts that you get when you sign up. I know you'll love (and learn a lot from) them!
P.P.S. I know you guys are reading the blog because it's #31 in popularity out of over 150,000 blogs on Word Press. But for some reason, you quit leaving comments. I highly encourage you to leave comments and share your thoughts with us or the other readers – real estate related or not. Thanks! And let's have some fun with this!