The Graduate
Big news! After 8 weeks of intensive study, my dog Rocky has graduated from doggie school! I'm so proud of him. Doggie school has really turned him into a new dog. Here are some pictures from his pre-doggie school days…
Rocky barking at me…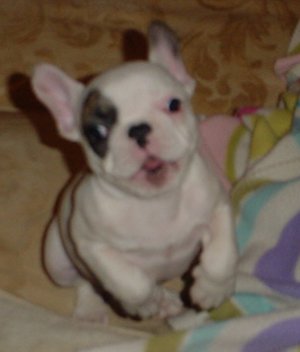 Rocky growling at me…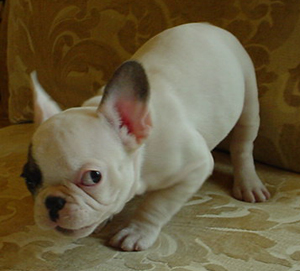 Rocky pooping all over the house…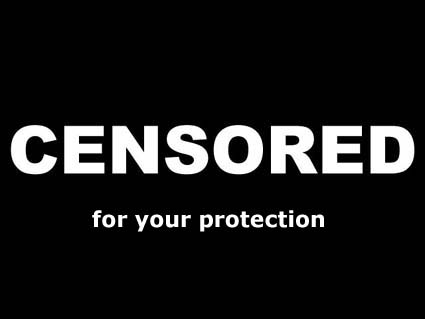 And now!…
Rocky sit!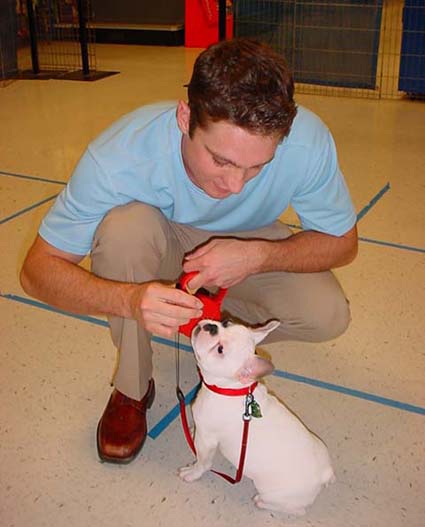 Good boy! Rocky down!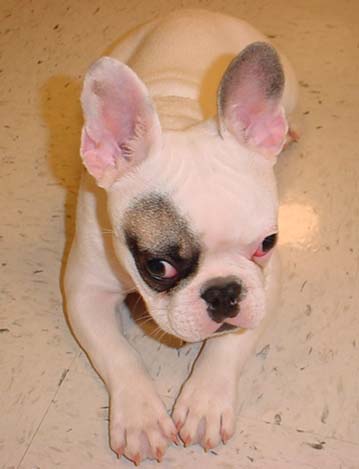 Good boy! Rocky shake!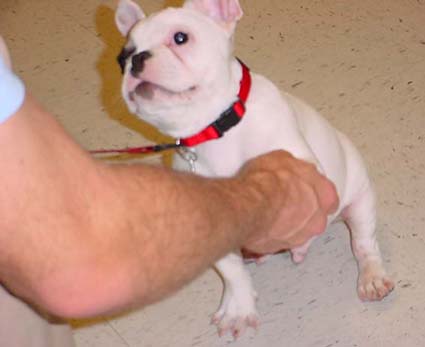 Good boy again! Now clean up your own poop! (dramatic reinactment)…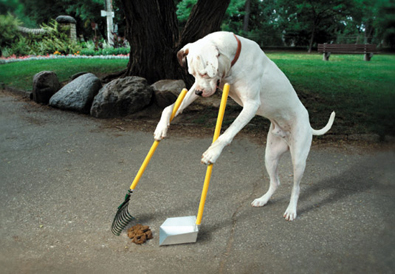 Excellent! You passed! Now smile for your graduation pic!…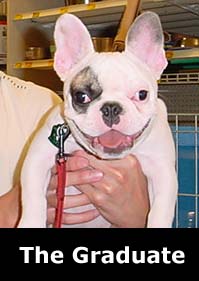 Good job! Now let's get one with you wearing the hat!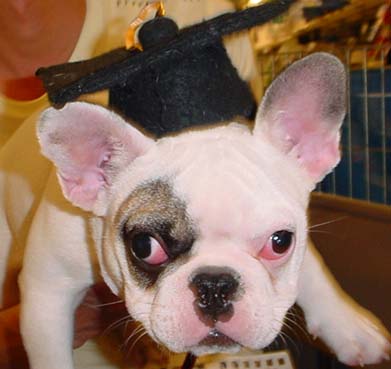 That was ok. Next time, pretend you're happy and that you know what's going on. Now let's see that diploma!…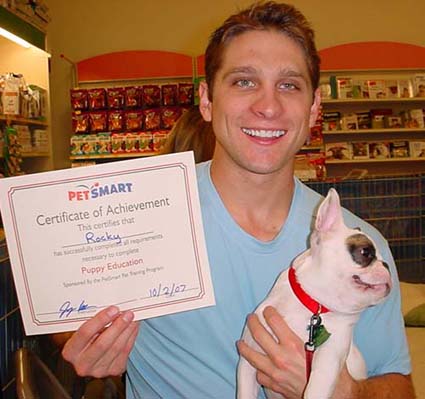 Look over here next time Rocky! 
Ahh, what a wonderful day! All of Rocky's hard work was finally acknowledged.
Again, I'm very proud of him. But I'm concerned that he's gained a little too much confidence in his doggie skills. After graduation, the instructor asked him what his future plans were.
And Rocky replied, "I pretty much know all there is to know about doggie tricks and doggie obedience. So I won't be participating in the advanced class. If anything, I should be teaching it. I plan to take the next few months off to reflect on my time here at school. All the treats I ate. All the dogs I sniffed. All the times I pooped on aisle 4. I also plan to spend more time exploring Doug's back yard, which is huge in comparison to my small body. There are a couple of new ant beds in the corner and a few mushrooms along the fence. Those should keep me busy for a few weeks. After that, who knows? The sky's the limit. Doug keeps telling me that real estate is where the big money is. But I'm pretty happy with a nice squeaky toy and the occasional love interest. I think my lady friend in the neighbor's back yard is sending me some signals if you now what I mean. For now, it's back to sleep for me. Can you believe I only got 12 hours of sleep last night! It's tough being me."
Ok, so Rocky has no plans. But that's ok. I love him anyways. After all, he's just a dog! … But you're not! You have bills and a job and dreams of quitting your job and obtaining financial freedom. So get off your butt and take some action! You only get out of real estate what you put in.
Your first step is getting a quality list of bargain-priced properties to work from. You can get that list by signing up for a 30-day free trial to myHouseDeals.com. Do so now by going to www.myhousedeals.com/freetrial. I've recently added $1,253 worth of free gifts that you get when you sign up. I know you'll love (and learn a lot from) them!
Until next time, happy (and profitable) investing!
Doug Smith
President
myHouseDeals.com