Rocky and I Goof Around
Hello again fellow investor!
Hope you had a nice Memorial Day weekend! I sure did. Plenty of fun in the sun … but also plenty of time to goof around with my best friend Rocky. Click into the image below to view some YouTube videos of Rocky, the "official" myHouseDeals.com mascot. I recorded these videos for my own entertainment, but here's a sneak peek into our world! My favorite is the one where he's afraid of the ice. But too bad YouTube disabled the sound on that one. Apparently, my TV was playing some copyrighted song in the background.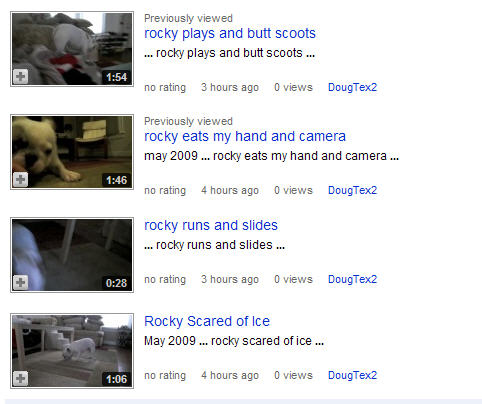 And if you haven't done so yet, be sure to to search for Rocky on this blog, and you'll find several pics of him … and a few wacky stories too. Enjoy!
Do you have any pics of your pet that you'd like to share? If so, just leave a comment on this blog posting so that all of us can meet your best friend!
Until next time, happy (and profitable) investing!
Doug Smith
Real Estate Investor
Founder of MyHouseDeals.com