Gone Fishin! Pics from My Trip to Utah
Hey there fellow investor!
I got tired of hearing all the chatter about the financial crisis and impending recession, so I decided it was time for a break. Time to re-connect with the beauty and serenity of the great outdoors! So I gathered up my family, and we headed out to one of the most beautiful places in the country … Park City, Utah. We spent much of the time fly fishing, but we also made room in our schedules for a little river rafting. Click on the image below to view the pictures. But before you do, enjoy these fishing jokes! …
No one in Park City could catch any fish except my brother, Trent. The game warden asked him how he did it so Trent told the game warden that he would take him fishing the next day… Once they got to the middle of the river Trent took out a stick of dynamite, lit it, and threw it in the water. After the explosion, fish started floating to the top of the water. Trent took out a net and started picking up the fish. The game warden told him that this was illegal. Trent took out another stick of dynamite and lit it. He then handed it to the game warden and said "are you going to fish or talk?"
The fishing season hadn't opened and my dad, Steve, who didn't have a license, was casting for trout as a stranger approached and asked "Any luck?"
"Any luck? This is a wonderful spot. I took 10 out of this stream yesterday" Steve boasted.
"Is that so? By the way, do you know who I am?" asked the stranger.
"Nope." "Well, meet the new game warden."
"Oh," gulped my dad. "Well, do you know who I am?"
"Nope".
"Meet the biggest liar in Utah."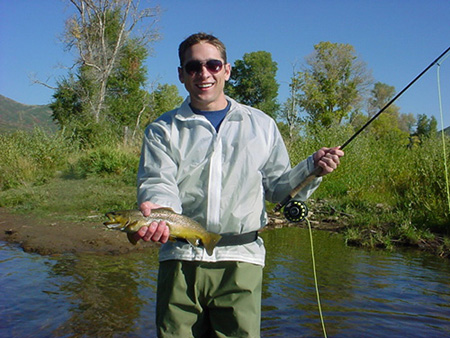 Click on the picture above to view more pictures.
Until next time, happy (and profitable) investing!
Doug Smith
President
myHouseDeals.com
P.S. Haven't started your free trial to myhousedeals.com yet? What are you waiting for? Here, you'll find deals that aren't on the MLS or the foreclosure list. And because they're lesser known, they're available at bigger discounts. In fact, they're often discounted by 20% to 50%. Start your free trial today by going to www.myhousedeals.com/freetrial, and start reeling in your share of the profits!