Doug Decides Not to Flee. Instead, Volunteers.
Hello again fellow investor!
Yes, I'm still around for those of you who read the last blog post and actually thought I had ditched the country to work and meditate on a banana farm! Life is still working out for me here in the good ole U.S. of A., so I plan to live and PROSPER here for many years to come.
Oh, and I'll also be doing one more thing while I'm here … I'll be volunteering my time in this great country of ours! You see, back in January, I made a New Year's Resolution to volunteer to teach little kiddos some business basics through a program known as Junior Achievement. Here's an excerpt from that blog posting…
January 2009: "I get so wrapped up in my own business that I forget to give back. In late 2006, I volunteered at the local cancer hospital once a week. I was the guy who pushed around the book cart so that patients could have something to read. But I got so busy with work and travel that I had to quit. It's time to give back again! This time, I'm going to do something a little different. I'll teach business and personal finance to young students. I'm excited already!"
I was determined to see this resolution through, so in February, I called up Junior Achievement and they assigned me to a fifth grade class at Mark Twain Elementary. I was excited about giving back, but I wasn't sure if I should expect some little hoodlums or angels … I was leaning toward hoodlums.
But I'm thankful that I was blessed with the best group of kids I could have ever imagined. And this whole thing has been a WONDERFUL experience. It feels so good to give back, especially by teaching subjects that I'm passionate about: business and entrepreneurship.
Below are some pics from a recent class that I taught. My parents and brother happened to be in town, so you'll see those troublemakers goofing off in the back row in one of the pics. Enjoy!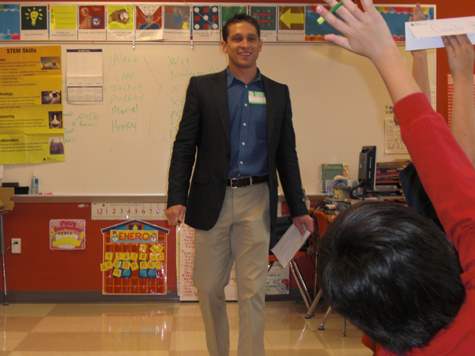 I started off by teaching the young tikes how capitalism is the greatest economic system to ever be placed on this earth. The kids raised their hands and gave input as to when (not if) we should deport the communists and socialists who roam amongst us. The options were: today, tomorrow, or this weekend.

My parents and brother sit at the back of the room with name tags that basically say, "Hello. I am not a child molester." I say that because they had to give everything but a urine sample just to get the tag.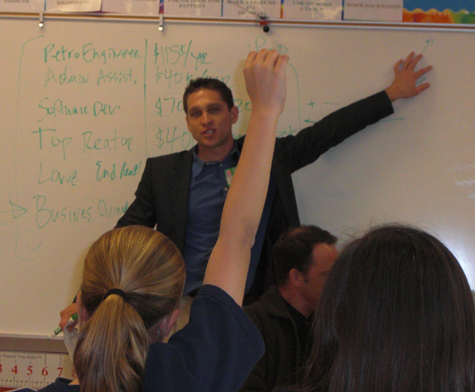 I show them a chart that illustrates how most entrepreneurs, business owners, and real estate investors start out by making less than someone on a salary but end up making exponentially more. By the end of the class, none of them wanted to get a job. I'm sure their parents love me. Not!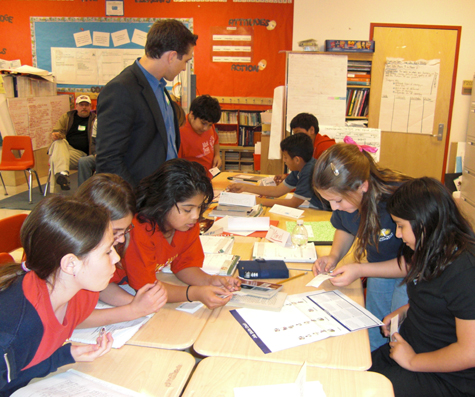 The kids break up into groups to play a game. Madeline explains the rules to the other kids and finishes first, as always. Josh puts the stickers on his forehead and runs in circles.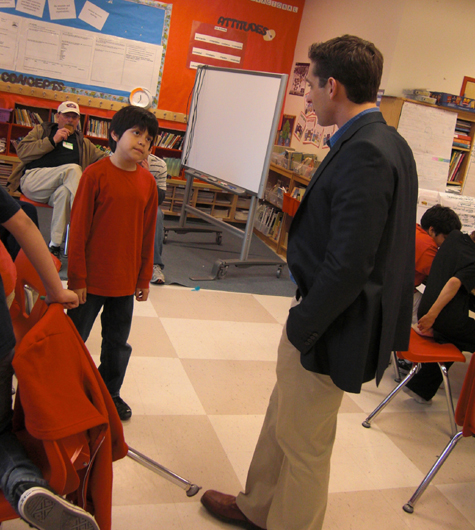 Joseph asks me how to make a lot of money without having to go to college. Five minutes later, he is a Platinum member of MyHouseDeals.com. Five hours later, his parents cancel his membership.

The teacher next door steps into the classroom to wish them good luck on their musical performance that night.  He gives them all high fives. I spend the next 10 minutes trying to calm them down. It would have been sooner, but the teacher said some parents would be upset if I gave them Tylenol PM as I had planned.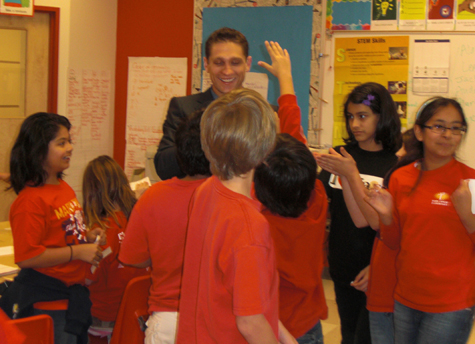 After the game is over, I give some stickers to one of the kids. Everyone else sees it and mobs me for more stickers. One kid said, "Mr. Smith, you don't understand. These stickers are like money to us!" I cracked up laughing … until he bought a duplex on 4th Street later that afternoon. A webinar on that in the near future.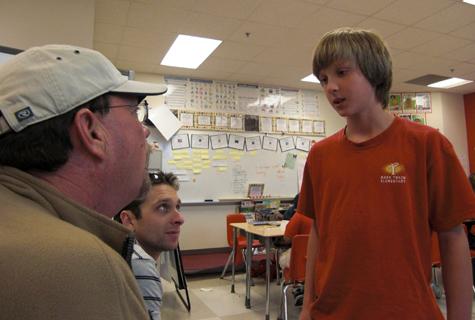 A guy named Chris Bell ran for governor of Texas but didn't win, and his son happens to be in my class. His son also happens to be a real-life miniature replica of his dad. Above, he schmoozes with my dad to garner support for his own campaign in 2030.
Well, that's all for now. Hope you enjoyed the posting! And consider volunteering for Junior Achievement yourself if you haven't already. Just go to www.ja.org. You'll be glad you did. You always get more than you give with these things.
Until next time, happy (and profitable) investing!
Doug Smith
Real Estate Investor and Founder of myHouseDeals.com
P.S. If you haven't done so yet, you can get a jump start on Joseph and the other kids by starting your free trial to myhousedeals.com today. Just go to www.myhousedeals.com/freetrial to access dozens of deals and free bonuses.