Doug Acquires a Vacation Home for Free
Hello again fellow investor!
It's already been a fantastic 2009 for me for a few reasons, but probably the most important reason is that I lucked into acquiring a vacation home in Austin, TX … for FREE! Ok, let me explain.
You see, my twin brother, Trent, has spent the majority of the last seven years living in Lubbock, TX. Lubbock has a special place in my heart since that's where I'm from, but unfortunately it doesn't make for a great vacation destination.
But things changed on January 2nd because that's when Trent moved to Austin. So now, I can drive to Austin anytime I want, stay with him for free, eat his food, drink his beer, explore the night life, enjoy the beautiful outdoor scenery, and relax on his balcony that overlooks the city. So in essence, I've just acquired a vacation home for free with a built-in entertainer and friend. Can't beat it!
I was actually there this weekend and had the time of my life. Below is a picture of the high-rise condo that he lives in. And other pictures that I took follow. Enjoy!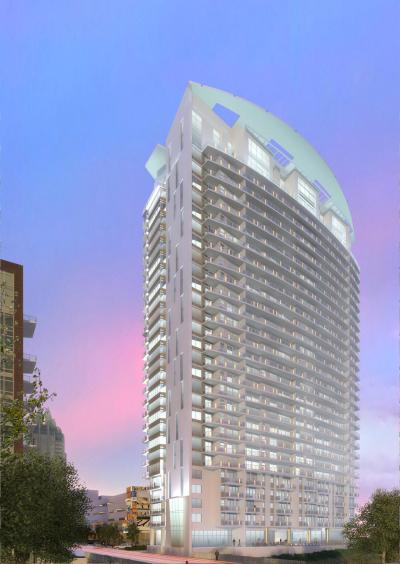 Yes, this is where he lives. It's one of the nicest condos available in all of Austin. Nice job bro!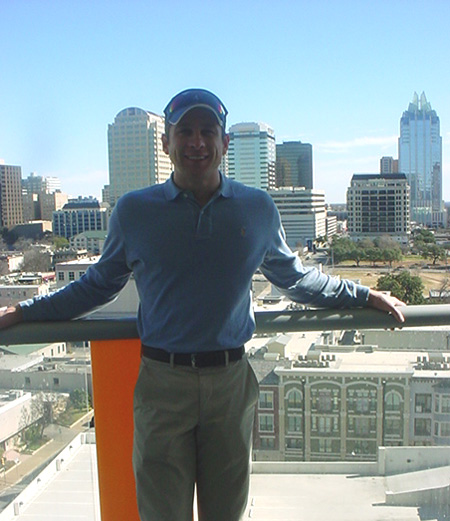 The view from the balcony of his condo. I can get used to this!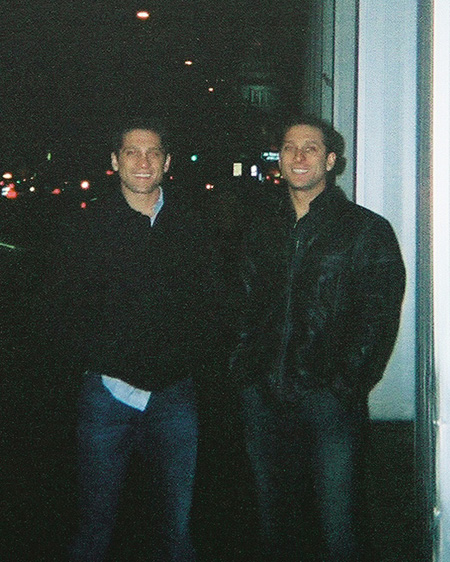 Trent (right) and I (left) crawl the streets on Saturday night in search of good food and live music. The state capitol is in the back.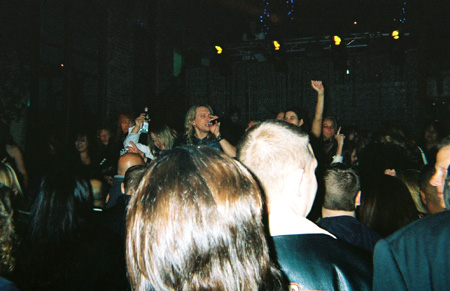 After pigging out on Mexican food for an hour, we found the live music. I don't know their name, but this band rocked the house. For a brief moment, Trent and I considered getting out of real estate and starting a band. Then someone reminded us that we can't carry a tune or keep a beat. Our dreams were dashed as quickly as they arrived.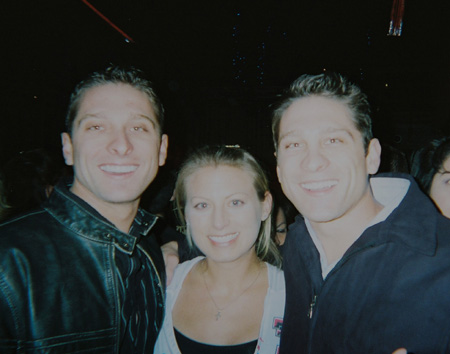 What are the odds? Out of 24.3 million Texas residents, we happen to run into an old friend, Audra, who we went to elementary, junior high, and high school with.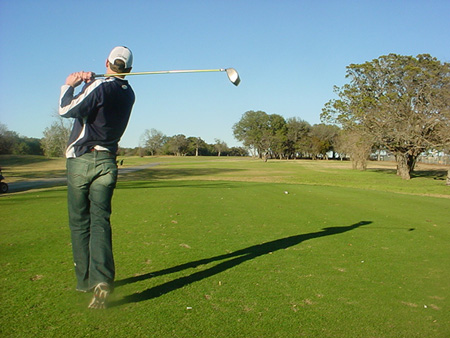 We called it a night pretty early, so we had plenty of energy to have some gold old fashioned daytime fun. Here's trent teeing off on a local golf course. Austin has a great climate so yes, you can play golf in January.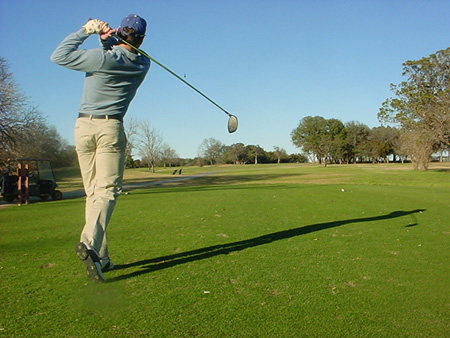 My turn! We quit keeping score after the first four holes because it's impossible to recover from four consecutive holes with 8+ strokes. Yes, we're that bad! But I did have a birdie on a par 3! Seems like I always have horrible scores but there's that one hole or one shot that keeps me coming back.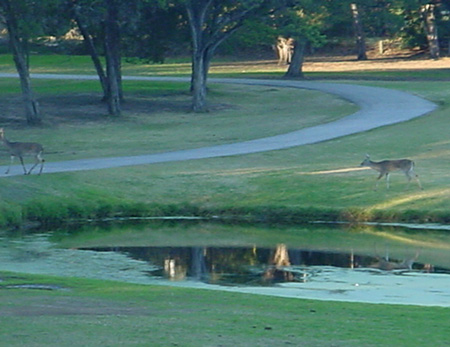 The course was in the heart of Austin, so we were surprised when a couple of deer walked across one of the holes right as we were teeing off. I took this pic right before Trent's golf ball landed two feet away from the deer on the right. Close call!
Well, that's all for now. I'm back in the office today, and we're getting ready to expand the site to a few more market areas, so I need to help out with that. Until next time, happy (and profitable) investing!
Doug Smith
President
myHouseDeals.com
P.S. I haven't seen properties discounted at this level since … ok, I've never seen properties discounted like they are today. We obviously have a buyers market, which means that you, the buyer, have much more power to dictate the terms of a transaction. Now is the perfect time to buy properties at huge discounts, hold onto them for a few years as you reap the cash flow, and eventually sell at a huge profit. Remember, what's the secret to successful investing? Buy low, sell high. And now's the perfect time to buy extremely low! Gain access to dozens of absurdly discounted properties in your area by starting your free trial at www.myhousedeals.com/freetrial today. You'll be kicking yourself a few years from now if you don't get in now while the gettin's good!