Want an Extra $900 a Month in Cash Flow? [Michael's Story]
Michael bought his first property several years ago for $16,000. Since it's already paid off, he pockets about $900 every month from that rental income! This Atlanta investment property deal sparked his real estate business and he's only grown it since then.
Michael can't emphasize enough how important it is to verify the numbers when you look at a potential deal. He believes sellers can be optimistic with potential equity or profit, so it's up the investor to vet the deal and do the research.
Since the beginning, Michael picked one market area and focused on rental properties, which helped him grow his business pretty easily. He knows that real estate investing can be very rewarding, but it's also risky. He encourages new investors to work with another investor who can guide them through the process to reduce their chance of losing money.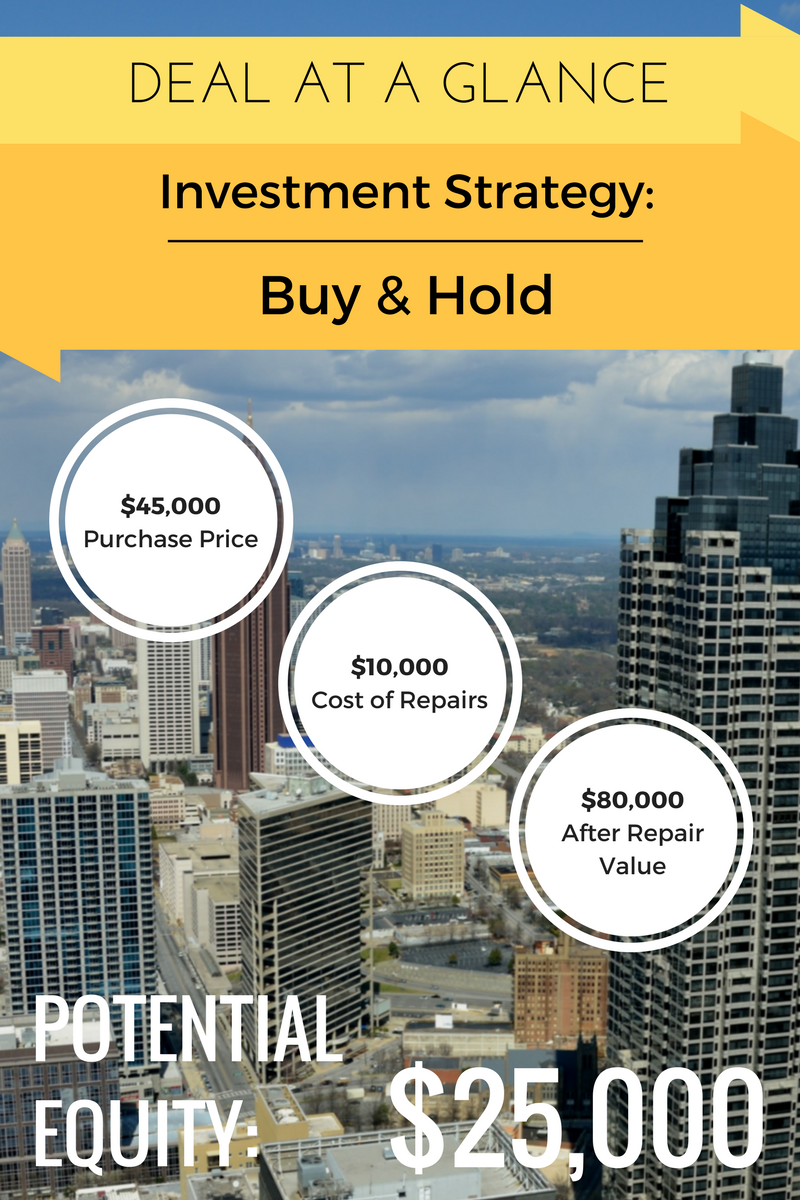 Listen to our conversation with Michael to learn how to he got started as an investor and how he uses the MyHouseDeals website, plus…
How to screen for high quality tenants

Why you should always do an inspection as part of your due diligence

How (and why) Michael adds "insurance" around the AC unit
NOTE: Since Michael is a Premium Elite member, he received a FULL refund of his up-front membership fee for simply doing a deal! Find out more about our Premium Elite membership here.

Tell Us About Yourself…
How did you get started in real estate investing?
In 2010, I saw a bunch of my friends buying these cheap homes in Atlanta. I immediately wanted in. I had a friend of mine find me my first home. I had $16,000 saved up from a business that I had sold. So, I used that $16,000 to pay for that first home.

I still own it and it's paid off. It rents for $974 a month. I financed it using cash. Since then, I've become a real estate agent. I've done lots and lots of deals. Personally, I have 13 units and 11 homes. Two are duplexes.
What made you want to get into investing?
I wanted to make money. I always wanted to be able to afford to pay my bills without having to dip into savings every month.
Tell Us About Your Investing Strategy…
What is your primary investing strategy?
Buying and holding. I don't do flips because everyone's chasing fast money and there's a lot more competition. It's more risky. I'm a hands on guy. I do my own property management which cuts down on the cost of doing these deals. I do my own leases and my own screenings too.
How are you financing your other properties?
They're all cash. To build up your cash flow, you can leverage or refinance your home. You can get a commercial loan. You can find a rich uncle. I'm mostly saving up cash from working my real estate agent job but I'm thinking about potentially cashing out my rental properties to buy more and leverage them.
Do you get a finder's fee for helping clients find properties on MyHouseDeals?
Yes. I add a finder's fee on top, so I'll get about a 3% commission. I make sure to look at almost all of the deals on MyHouseDeals – motivated seller leads, wholesale deals posted by investors, etc. If I find something on MyHouseDeals, I'll send them the specs but probably not the actual address.
What are your parameters for finding a deal?
I'm just looking for rate of return. It doesn't matter where it is, as long as I can drive to it within an hour. As long as the property will rent for certain and I can make my money back in five to ten years, I would consider any property, after expenses.

All my rentals are basically low-income rentals. When you have low-income rentals, you have properties that are in more transitional neighborhoods. Then, your rate of return is better.

What is the typical rehab you do on a rental property?
It's cleaning and coring. I fix all the little things. It all depends…maybe the property needs insulation, flooring, plumbing or an HVAC. One of the first things that we do is put a cage around the AC unit and the crawl space.

I always get a professional inspection during my due diligence. There was one property where I didn't do an inspection during my due diligence and that's what made me say, "I'm never going to buy a house again without an inspection." It's a learning curve.

You don't want to buy a property that rolls down from the street. You want to be on top, topography wise. You want to be higher than the street. This house had a lot of water issues when it rained. When the sewer is higher than the house, you have to pump the sewage from the house to the street. That's messy.
How do you determine the accuracy of numbers when you look at properties on MyHouseDeals?
I've noticed that a lot of the times, the numbers are not correct, especially on flip deals. I think people are optimistic.

For the rentals, I'm just looking at it all. I'm constantly scanning and looking at these ARVs that people throw out on these investment sites. Wholesalers in general are usually optimistic.
To test the accuracy, I run my own comparative market analysis. Then I'll look at rental comparison sites, like Pad Mapper or HotPads, and see what rents are in the area. I also look up the tax records and see how much taxes are every year.
I get a really good forecast once I can figure out how much the home is worth, how much I can buy it for, and how much money to put into it to get it rented. I plug all of those numbers into a spreadsheet and figure out if it's a good investment or not.
What's your strategy for getting tenants in your properties so quickly?
I use Craigslist to find people and then I screen them. You'll be surprised how fast things rent or how many calls I get. People are desperate for low-income homes. I vet my tenants by using the National Tenant Network screening. It's for rental screening and has fast service.

Basically I'm just looking for people with no evictions and people who make enough money to pay the rent. I like tenants who have a stable job for a long period of time and whose income makes sense for the amount of money they're going to be spending on rent.
Give Us Some Advice…
What advice do you have for new investors getting started?
My number one piece of advice is to verify your numbers. Don't go off ARVs that other people post. My second piece of advice would be to realize that you can lose money and that real estate investing isn't a sure thing. You really have to know what you're doing.

You should work with another investor who can guide you through the process. That way you can learn from others' mistakes so that you don't have to make them yourself.