Sonia has ONE Non-Negotiable for Investing (You'll Never Guess It)
We all can learn a lesson or two from Sonia…
She is a new investor who self-educates, uses her resources effectively, and manages her time wisely. Sonia and her husband are investing in real estate now to create a secure retirement in the future.
For now, Sonia focuses on building her real estate investing business at night and on the weekends. She looks for deals that will offer high equity. And she's smart enough to be skeptical of the listed repair costs. With her husband's background in construction, they are better able to identify realistic numbers.  
When it comes to business, Sonia is only interested in working with people who have shared values. Shared values are important in Sonia and her husband's personal life, and they couldn't imagine building a real investing business without the same practice. This is a guiding force in their continued success.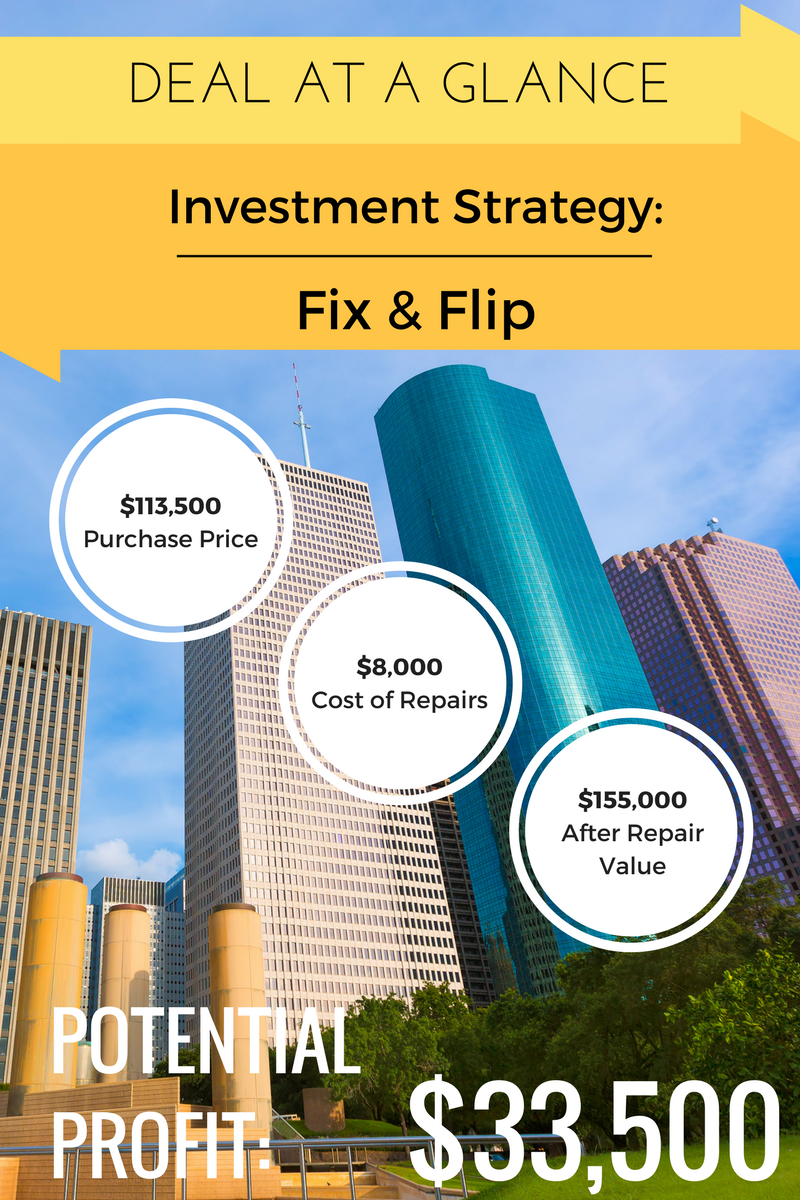 Listen to our conversation with Sonia to find out why you should always do an inspection before buying it and what to do if a property has current tenants plus…
MyHouseDeals.com Success Stories
Exactly what to look for when hiring construction workers

Advantages for using cash for a deal

Tips to reduce the risk of investing



NOTE: Since Sonia is a Premium Elite member, she received a FULL refund of her up-front membership fee for simply doing a deal! Find out more about our Premium Elite membership here

Tell us about yourself…
How did you get started in real estate investing?
We would like to start saving for our retirement and that's why we decided to concentrate on investing in properties. We don't plan to retire in the immediate future but at least within 10 to 15 years or so. That gives us enough time to properly create a portfolio so that we're ready for retirement. We have 4 properties right now. We're fixing them up and selling them.
What did you do to build up your knowledge before your first deal?
I didn't have any background experience. My husband has been working in construction and remodeling for about 15 years. In terms of investing, we didn't have any experience.
It was really helpful to find out about MyHouseDeals because I explored all the materials available on the site and found a lot of good training material and advice in the videos.
Those trainings helped me to understand the basics of what I was getting into. I also listened to and read many testimonials. MyHouseDeals allowed me to find related websites with more resources. I also did my own research online about various investment options.
Tell us about the deal…
What were you looking for when you found your first deal?
I found my first deal on MyHouseDeals. The property was in an area I was already familiar with and was in the part of city that we were trying to target.
I was looking for a property that would give us good equity after we fixed it up. This one seemed reasonable in terms of what we needed to pay for repairs, so we thought this property was best.
As I said earlier, my husband has experience with remodeling so that helped us to understand estimates for the repairs. The equity was the biggest factor in our decision – we wanted to maximize the money we could make out of the investment.
How did you estimate the numbers for this deal?
We did our own due diligence and sought advice on the equity spread. Quickly, we found that the cost and repairs provided on the posted deal were inaccurate. Actually, we ended up spending double the amount that was listed there. We even saved some labor money because my husband actually did the work himself. So we didn't have to pay many contractors.
Also, since the property was in an area we were familiar with, we were able to estimate the potential profit more accurately when searching for properties. We were also able to contact the seller and he gave us an opportunity to see the house before we bought it. Seeing the house gave us a chance to estimate a more reasonable price of how much it would cost to repair it.
It's very important to see the house first and hire an inspector to do an inspection. You can use the inspection report to estimate how much it will cost to make the repairs. When we were at the house, we were able to see all of the actual repairs that the house needed and estimate the cost of repairs ourselves (with the inspection report as well).
How do you finance your deals?
We sold another property that we had in the Sugar Land area. So we used the money from that sale to buy this one. So we did a cash purchase for this specific deal. The property in Sugar Land had good equity and we were able to sell it at a very good price. We actually used to live in the property in Sugar Land, so we had almost paid the whole house off which helped us get the cash without financing.

What are some of the advantages of using cash to finance deals?
Cash makes deals pretty quick and easy. You don't have to go through the hassle of working with a lender and providing all of the paperwork lenders normally require. All the costs that are involved with financing and interests really add up at the end. If you have the cash, you can make deals easily and you ended up saving money most of the time.
Did you have any surprises during the rehab of the house?
Since we had the opportunity to see the house first and inspect it, we were able to calculate an accurate amount of how much the rehab would cost and what repairs would be needed. We were surprised about cleanliness of the house. It was really bad. There was so much garbage in the house.
How do you plan to get the house sold quickly?
I listed the property on Craigslist initially while they were in the process of fixing it. At the time, I got a lot of calls but most of the people who were interested in the house required owner financing and that's not something we are considering.
We re-listed the house a day or two ago. It hasn't been sold yet. We have a sign that says, "For sale by owner" placed on the property. We also hired an agent and I'm contacting people and other investors on my own who may be interested.
Give us some advice…
Do you have any advice for looking for contractors?
First of all, you want to make sure that the contractor has good references. We want to hire a person we can rely on and who has extensive experience in the business. It's also important to compare contractors when choosing one.
A good tip is to interview the contractor first to make sure that they're knowledgeable about the the required repairs. We make sure that we get along with the contractor because my husband's going to be working closely with them.
The most critical thing that we think about is whether the contractor shares our same values. It's very important to us that the people we work with and the contractors who work for us share our values.
How do you manage your time?
So currently, I work my full-time job and I'm not planning on quitting it anytime soon, until we feel more advanced and experienced in the investing industry. The goal this year is to have at least five deals closed in a  year.
My advice is to have a schedule that you can stick to. I normally work at nights at home on deals. The work is normally researching online, submitting paperwork, etc. With my job, I have some flexibility as well. So if I need to call somebody or have an interview or schedule something, I can quickly make that call and it's not a big deal.
My priority is my full-time job, of course. But I like to work with the investment deals after hours and on the weekends. My husband stays home so that's also a big help. During the day, he is able to talk to people, see properties, and do any other business errands.
Do you have any advice for new investors?
Don't hesitate to do your own due diligence, inspections, and research before buying a property. It's really risky if you don't know enough about what you're getting into with the deal that you found. You can end up losing money and getting into trouble. So make sure to do your own diligence and have the right information.
One issue that we faced at the beginning with this particular property was that it was occupied. There were tenants in there and the seller had assured us that the tenants were moving out before the closing date. Unfortunately, we were not careful enough to put it in writing.
Sure enough, the closing date came and the tenants were still there. It was a bit of an issue because they weren't able to move until three weeks later. So if a property is not vacant, my advice would be to put it in writing that the property will be vacant at the time of the closing date.  
Of course this tenant situation just depends on the buyer's intention for the property. If you're looking to buy the property to sell it right away, tenants in the house will be an issue. But if you're looking to hold and rent it then it may be good to already have tenants.