Having a Plan B is the Secret to Debbie's Investing Success
Stepping out of your comfort zone is challenging — but that's the way it should be!
Debbie's real estate investing experience is that each Dallas investment property deal that she does gets easier. She has been flipping properties for the past six years and thrives off improving the quality of a house to make it a home that a buyer will enjoy.
Debbie's background as an agent helps her when identifying comparables for a property she is researching. She shies away from any deal she can't identify comparables for in the same subdivision or within a mile radius of the property.
At this point in Debbie's investing career, she practices flexibility in her investment strategies and always has a plan A as well as a plan B. Debbie learned that the reality of a rehab can sometimes mean that a property is better suited as a rental as opposed to an immediate sell.
Debbie has bought and sold properties on MyHouseDeals over the years and recently purchased a property on the site from another investor.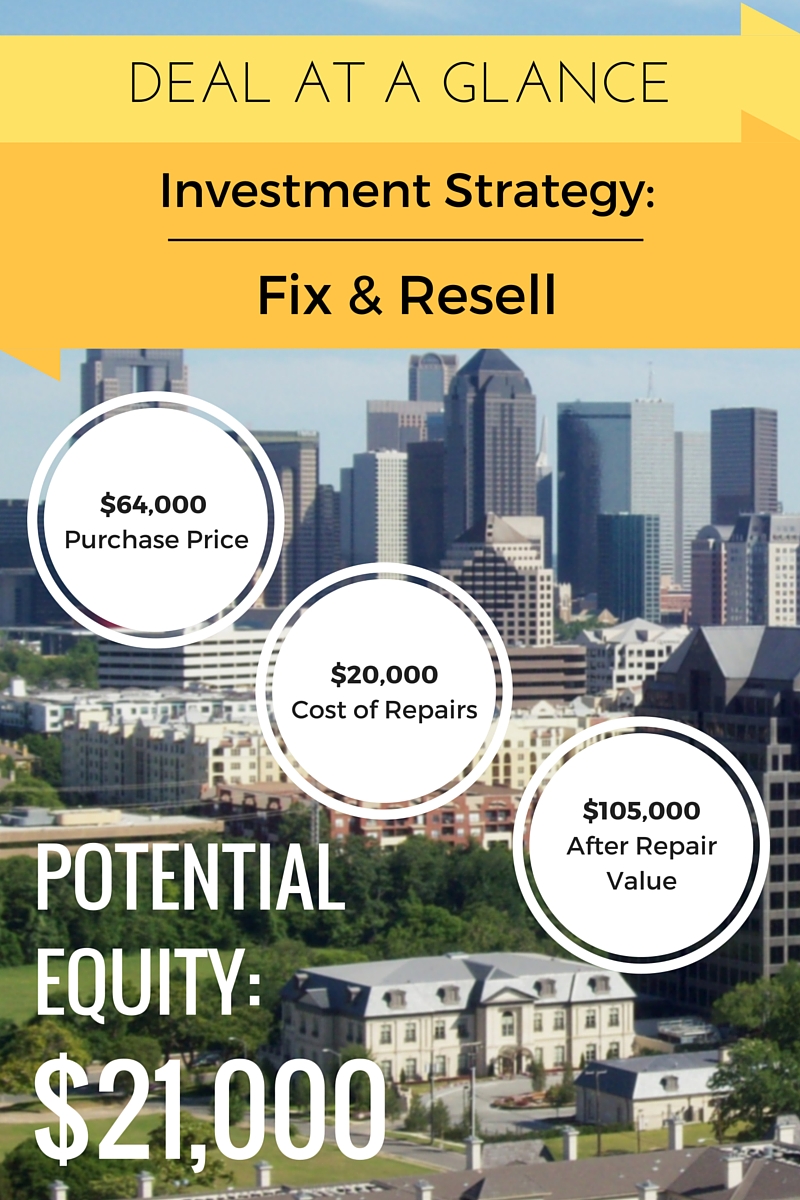 Listen to our conversation with Debbie, during which she talked about her recent deal, plus…
– How to assess a subdivision when pulling comparables
– How to determine whether to flip and sell or rent out a property
– Why you need a cash reserve for property rehabs
NOTE: Since Debbie is a Premium Elite member, she received a FULL refund of her up-front membership fee for simply doing a deal! Find out more about our Premium Elite membership here.

Read the full story here:
Tell Us More About Yourself…
Are you a part-time investor or a full-time investor? When did you start your investing career?
I'm a full-time investor. I became a realtor about eleven years ago. Then, we started out doing some rentals here and there. I did traditional real estate for about six years or so. Then, we got into investing when the short sale market hit. I started doing short sales for people who couldn't get out of their house. We started finding that we would purchase those properties ourselves, and fix them up, and sell them. Then, from there it got us into more flipping. Fixing up, selling, and reselling. Fixing up and reselling them. Then, from there that is what hooked us up with MyHouseDeals several years ago actually. We've bought and sold houses on the site. Then, this little house came along in Mesquite. It was actually another investor who purchased it. He did a little bit of rehab on it. We got ahold of him, looked at the property and purchased it. Now, we're going to actually just finish fixing up a rehab and rent it out. We've been flipping properties for about six years or so.
What inspired you to get into the investing side after being a realtor for several years?
I think the feeling of being able to put a great product out there and get it all fixed up and to offer such a great piece of property to our end user. It seems like most of the houses in the cost point that we deal with and their home buyers usually have to buy houses that aren't in great shape. They don't get to have a lot of great things when they purchase, so when we can go in and put granite in there, and put some laminate wood flooring, new carpet, paint, and everything is like a brand new house. There is pride in getting to sell that to an end user.
Were there any challenges in making the leap to doing investing full time?
I think when you step out of your comfort zone you're always nervous, as you should be. Something that you're not used to doing should be uncomfortable, but I think once you do the first house or once you buy that first rental then the next one and the next one, each one gets a little bit easier. It's a little stressful at first, but you just have to know your numbers. The whole thing is about knowing your numbers before you go in. You need to know what you are going to do and have an exit strategy for when you sell it. You have to have a plan B if plan A doesn't work.
Tell Us More About Your Investing Techniques…
When you were looking for a Dallas investment property, what specifically were you looking for?
We were looking for a property to completely rehab and flip. In this market it's so difficult to find those properties that qualify and the numbers work. I knew this property was in a great rental area, so we decided to purchase it, finish the rehab on it, and then put it back on the market. We should be able to rent it out for about $995 a month.
How many houses do you typically have to look at before you find a good deal?
I heard the other day in an investor meeting that a few years ago that you could search for four or five houses, and out of every four or five an investor would find one that he would want to purchase. In today's market, it's more like every fifteen houses you may find one that you want to purchase.
How did your investing strategy change with this recent deal?
Our intent was to flip it. When we realized there was more foundation work than we anticipated, it became a great rental property for us. Again, that's why we need a plan A and plan B in today's market because you do run into things that you have to get fixed. That eats up a lot of your profit. If you can't profit, just be able to work it out or you can rent it out. It looks like the last three years the Dallas/Fort Worth market has increased 10% a year. We anticipate that to go another year. We sell in another year we'll have another 10% equity in it just because of the market we're in.
How do you pull your comps when assessing a property?
I first want to look at the subdivision and I look at properties like the property. I look at properties that have been remodeled. Hopefully there'll be some in there. I know the quality of remodel that we do. Usually, we can comp our house after we finish it to the most expensive house in the neighborhood. We don't want to be the biggest house in the neighborhood, but if you're in a first time home buyer market and there are houses selling for a hundred and fifty, two hundred thousand dollars in that subdivision, I know I can get the top of the market when I get through with that rehab. When you add the appreciation that we're enjoying right now in the market, then I know that the house will typically appraise for and we can sell it. I look at the subdivision, look at the comps, definitely look at like property and see what's going on in that subdivision. If there's nothing going on there and I can't comp it in that subdivision, and I can't comp within a mile radius of the house then I may look somewhere else and not purchase that property.

Tell Us More About This Deal…
What's the story on the investor you purchased this property from?
I think he had several properties he was working on all at once. He was just in a position he needed the cash. Sometimes that happens too. An investor gets several properties under their belt. They start, they can get cash poor. That's another thing as an investor you have to make sure you have plenty of cash available to do rehab because you could be carrying them longer or the foundation could take a while. Right now getting a roof on our property is taking longer than we thought, just because of the weather. Lots of things come up and you may carry that property longer than you think.
Did you make him a full price offer or did you try to negotiate something with him?
I did negotiate a little bit. From what he had priced on MyHouseDeals, he did come down a little bit
How did you finance the deal?
Actually, we were able to pay cash for the property. Within today's market, the more cash you can pay for a Dallas investment property or if you've got private money, the better. I don't knock hard money, but I know it's expensive. But if you've got private money or cash, that's going to be your best bet or a line of credit, something like that.
Looking back on your career so far in real estate investing, are there any big lessons you learned or any big mistakes you made that you learned from?
I think the biggest lesson is to be very careful on the numbers going in and make sure you do your comps. Do drive-bys if you have to. Look at the other houses that you're comping to and make sure that your house is comparable to them. The numbers can be so tight you really don't have room for mistakes in what you're paying for the property and in your rehab.
Was there a situation where you paid too much on a house, like when the market first started changing?
We did have a house out in North Dallas that we remodeled. It was the first house we ever lost money on. We learned a lot. You know, it's just hidden things, from the foundation to the plumbing. The plumbing is what got us. We had to do a reroute on the entire house and we definitely did not account for that.
What do you think it is that makes you successful in real estate investing?
I think it is just making that decision and pulling the trigger to go do the first house, and having your ducks in a row. Do your homework. Make sure you do your comps. Make sure you have it all bid out and know exactly what your margins are. Have a plan A and plan B, should you not be able to flip it like you expect to flip or as quick as you want to flip it, and just go out and do one. I mean, the whole thing is get out of your comfort zone and go do it.
Do you have any final words of advice for new investors?
The only thing I can say is that it's a great business. I mean, it's fun. You definitely have to enjoy doing it. We love it and that's another reason why we do it, but you got to love what you're doing. Make sure you do your comps and have your plan A and B in place.