Mark Does NOT Think Real Estate Investing Is Sexy: Here's Why
For Mark, real estate investing is really just about math.
He hasn't fallen for the "sexiness" of real estate investing. If the numbers work, he goes for it. If they don't, he moves on to another deal.
Mark has built houses for the past 14 years and this experience is likely his greatest asset as a new investor. It means that he's not afraid to take on any house, no matter the condition. No rehab (big or small) is intimidating because he's done it all.
In the past year and a half, Mark has done 3 deals and his investing business keeps growing. He's worked with his local bank to secure financing and has relied on cash. Mark plans to shift to investing full-time, but will never stop building houses. He loves it too much.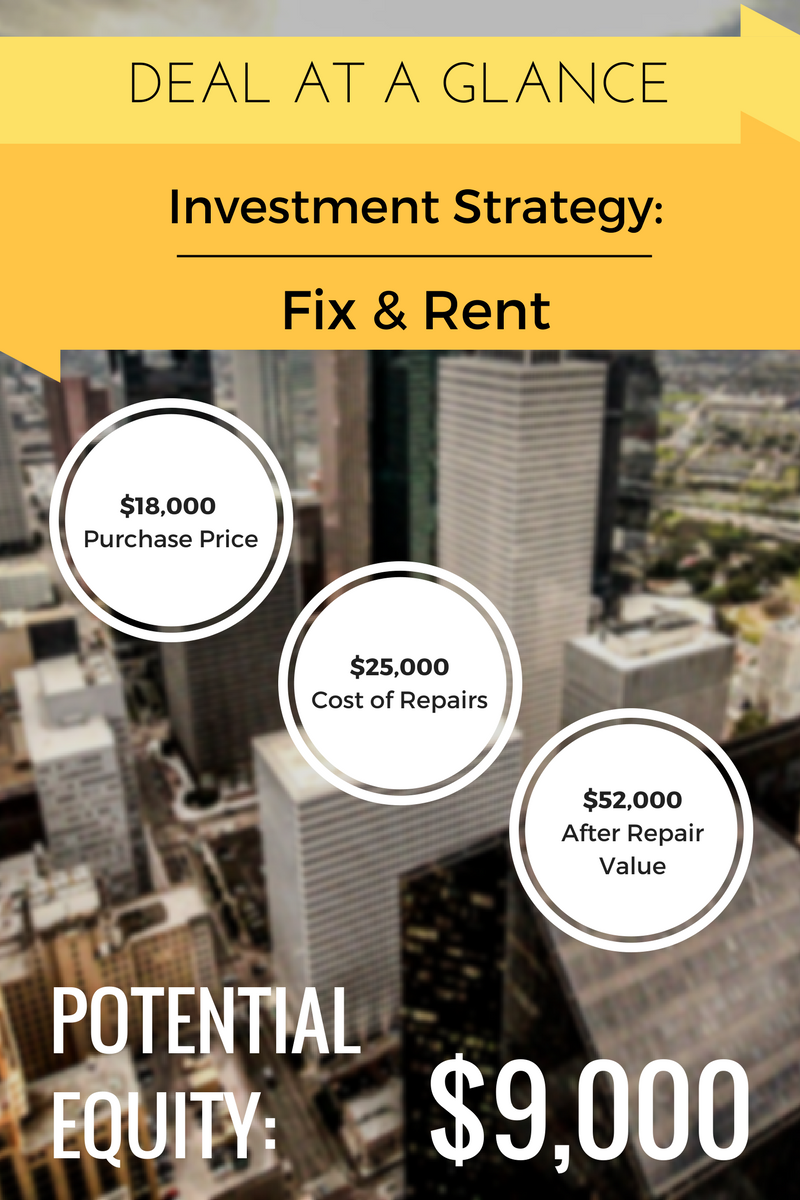 Listen to our conversation with Mark to find out more about the recent deal he found on MyHouseDeals, how he got started in real estate investing, his criteria for a potential deal, and his plans for the future, plus…
MyHouseDeals.com Success Stories
The formula to determine a good deal

Exactly how to decide on your rental income
Why you should use a general contractor instead of a specialist
NOTE: Since Mark is a Premium Elite member, he received a FULL refund of his up-front membership fee for simply doing a deal! Find out more about our Premium Elite Membership here.

Tell Us About Yourself…
Why did you decide to become a real estate investor?
I build houses for a living. I've been doing new construction for 14 years, but I've always wanted to get into flipping houses. It's fun to take something that's been destroyed and breathe new life in it, and I'm interested in passive income from rentals. Basically I want enough of a rental portfolio so I don't necessarily have to work ever again.
How did you decide on a financing method for your deal?
I use a local bank where I have a few accounts and where my business partner has a pretty substantial line of credit, so I started to talk to his contact over there. I found out that they loan 80% of appraised value, so I knew that if I could buy a house and have repairs and costs at 80% or less, I could essentially do a cash out refinance and be in it for zero money.
I did attend a few investment club meetings here and there, and they all kind of said the same thing—70% of ARV minus repairs is the standard mantra everyone goes with.
What is your criteria for a deal?
I'm afraid of anything over $150,000 because I want to be able to have a rental range of $1,400 or less, since I know those will stay rented. When you get into more expensive rentals, it becomes a little more iffy and you don't get as much of a return on your investment. As far as I can tell, most of this market area is about $100 per $10,000 of valuation. So, if you have a $150,000 house it's going to rent for about $1,500. But if you get up into a $300,000 house, it doesn't rent for $3,000. It rents for $2,200 or $2,300.
My first deal rents for $1,300 a month and it's worth about $115,000. I really just stay around cheaper homes, honestly. If you stay north of $175,000 you're not going to fight with landlords as much. If you're looking for rental properties, you can go less. Landlords will pay a lot more for the properties.
Tell Us More About Your Deal…
How did you find this deal on MyHouseDeals?
The property was really cheap and I could do it for cash without putting myself in danger. Even if I had to tear down the whole thing and redo it, I wouldn't have taken much of a hit. It was the first house I bid on and I got it.
What did you end up doing for the rehab?
I did a lot more than I should have because I knew I was going to keep it long term. I ended up raising it two feet because it was sitting in a hole and I wanted to be able to get under it to not have any termite or moisture-wicking issues. Then, I ended up recladding it, putting in new plumbing, and adding a new roof. It's pretty much a new house.
Did you make any mistakes on your first deal that you learned from?
When I bought the property I didn't intend to go as far as I did with it. I started tearing it apart when I could have just found a way to repair it. I could have (and probably should have) done a lot less to it, but I saw the square footage and thought, "We'll just eliminate all future problems."
I ended up with a little bit of termite damage and I ended up reframing a whole bunch of stuff. The thing is, the fact that I made it like a new house doesn't increase my rent. It's still going to rent for the same amount. It's in a lower income part of town, so there just isn't a market for it. I think that the mistake I made with that deal was that I overdid it on the rehab.

Tell Us About Your Background…
Does your experience building houses influence what houses you take on?
It basically means there's nothing I won't take on. Nothing is really intimidating, even things like burn houses. There isn't really a level of house that I wouldn't attempt.
Do you work on your own hold properties?
I do manage the rehabs on my own, because I'm already building houses and driving from house to house every day. I don't have a desk job or a place I have to go to each day, so it's not a big deal for me to do it.
But, I don't work on the properties at all. I have crews that do trim work and crews that do paint work. I have sheetrockers and plumbers.There's a separate trade for everything.
Do you recommend that people go with a specialist instead of a general contractor?
I don't. Specialists don't show up when you want them to and for most people that's too stressful. I had a painter today who didn't show up. Is he coming back? Well, I've been using the same painter for 12 years, so I know he's coming back. But that would really stress out most people who aren't in this business.
It's probably better to just let a general contractor handle it because he'll give you better prices and handle all the details. Otherwise you're out there every day managing every aspect of the project which probably isn't what most people want to do.
What tips do you have for people who have less construction experience?
I would just say to make an attempt to get really familiar with how much things cost to fix. If you buy a house and you think it's going to take you $50,000 and it ends up taking you $100,000, you're probably one-and-done at that time. If you aren't familiar with the cost, you're going to lose money and then never want to do this again. It's the worst feeling ever to do a project and lose money. Work your numbers, have a contingency line in your budget, and at least put yourself in a position to break even, as opposed to losing money.
Also, make sure you don't underestimate costs. Even an extra $500 here and there can put you $6,000-$8,000 dollars over budget. It adds up pretty quickly, so you need to watch every aspect of it. It's a game of inches, as they say.
Would you ever consider only being a full-time real estate investor?
I am actually moving toward doing investment properties full-time. I'm trying to get into flipping, but I'll never give up new construction completely because I enjoy it. I do plan on giving up building for customers completely and I'll probably move into a pure speculative role within the next year.
Doing custom homes just takes up a lot of time. There's a lot of hand-holding and it's a huge investment of time. With a spec house, it's fun. You don't have anyone telling you what to do and no one changing their mind. So yes, I am going to move completely into investment properties…a combination of new construction and flips, basically.
I'm going to pay off my own house and a couple other things before I do it, just so I don't have as much liability out there. I should be there within the next year. Basically I want to go into investing debt-free—that's the goal. As soon as that happens, which should be within the next year, I'll jump off with both feet right into investing.
What advice do you have for new investors?
Everyone should be trying to stay in their target market price range and buy property for 70% ARV minus repairs. The downfall for a lot of people is they have this fantasy attached to the idea of real estate investing.

They get into the real estate world because they think it's exciting and sexy and because they just want to do a deal. Even if they might lose money, they just want to do a deal. But really, it's a lot of math, and I personally don't have any emotional attachment to real estate. I don't come at it from a "this is going to be fun" kind of angle.
If it's not a deal, it's not a deal.
That's pretty much it. If the numbers work, go for it. Like I said, a lot of people think it's exciting and sexy, but then they jump into a house and lose money and are miserable. Just be really confident that it is a deal. But if it's not, it's not. You can't make it one, no matter how hard you try.